[Game] Family Farm Adventure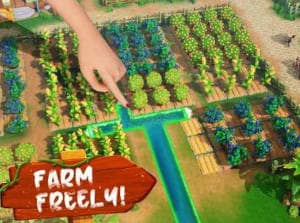 Game Description :
Welcome to Family Farm Adventure, a gorgeous farming simulator game where you can harvest various crops, explore mysterious islands and start your own prosperous farm town! Join Felicia and Toby on their adventures where they meet new friends and help them solve fun puzzles.
Pack your bags and roll up your sleeves. Start your journey in Family Farm Adventure now!
Game Features :
Story. Immerse yourself in the beautiful story in this simulator game, full of mysteries, surprises, romance, and friendship. Solve puzzles to continue the story and learn more about the farm town.
Explorations. Leave your town and explore mysterious tropical islands with the fearless photographer Felicia and the bright archaeologist Toby and help them solve puzzles along the way. Bring the treasures back to the farm.
Decorations. Decorate your flower farm! Restore houses, decorations, and centerpieces that are essential for the Festival of Flowers. Finish all preparations for this festival and celebrate it with everyone on the farm.
Farming. Start your own farm on a tropical island. Harvest crops, raise farm animals and produce food with your cooking skills. Turn your farm in this simulator into a cooking powerhouse.
Adventures. Complete challenging puzzles on your travels through these mysterious islands. Take a break from your adventures by checking on the animals on your farm.
People and Animals. Meet friendly and peculiar villagers, as well as quirky wild animals. Ask them to come visit your farm and do some cooking together.
Treasures. Discover hidden treasures and rare ancient artifacts by solving creative puzzles. Trade them in for all kinds of bonuses that will help you on your farm. Some puzzles will lead you to unexpected rewards to decorate your town!
Help Granny build up the farm that was destroyed by an earthquake. Show your farming skills, harvest crops, and build up what used to be a prosperous farm. The fertile soil makes it the perfect location for re-building the farm. Expand your farm life with all kinds of rare decorations from your adventures. This is not your ordinary farming game, this is a farm life simulator.
Family Farm Adventure is free to play and will always be free to play. Some in-game items can be purchased with money. This will help speed up the progress in the game but are not mandatory to participate in any of the content.
Enjoying Family Farm Adventure? Learn more about the game on our Facebook Fan Page:  www.facebook.com/FamilyFarmAdventure
Additional Information :
Size 496.6 MB
Requires iOS 10.0 or later.
User Reviews :
Great game with lots of features!
I've played a lot of these style games and haven't found one that's a great as this one. You can play this game for a long time with running out of energy and there's several ways to get more and make more without spending real money. It also incorporates many styles of games into one. It has farming, merging, exploring, making products, animals, storylines, choosing character actions, completing collections, and I'm sure much more that I've not discovered yet. There's also ability to watch adds to earn things but it's not required, and if you follow their Facebook page you can get updates and they give players things as well. You won't find yourself bombarded with ads while you try to play either.

If you enjoy this style game you won't be disappointed, in fact you'll see it beats expectations. Also the add-ons you can purchase are fairly priced and by no means required to enjoy the game. I found this game through an ad in another game and I have to say the ad represented the game well. I've only had this game a couple days and I'm already addicted. I'm looking forward to getting farther into the game and seeing future updates.

I don't write reviews often but this one made me want to share my thoughts about the game. Definitely one I'll be enjoying and playing often.
Pretty fun and well balanced
I like this game! The ads are completely misleading, but the game itself is still fun. The pacing can feel a little too slow if you don't pay real money, but that's how the app makers make money so I can't hate on it. It feels fair, I can still play without paying, but if I want to speed it up I'd have to pay. Only thing I don't like is that it feels super weird to have a white character show up to a tropical island and start chopping down all the natural foliage and planting crops instead, very colonizer-like and very bad for the environment. We need to protect natural ecosystems, and usually jungles aren't very fertile for farming once you remove the trees, which are essential for providing nitrogen to the soil and holding the soil in place. I thought it would be maybe a more traditional North American style homestead, but maybe it's based on the developers' own country. Regardless, the game itself is fun! Just some notes on design choices.
Get Family Farm Adventure from App Store
What is your opinion about Family Farm Adventure
Bitcoin
Ethereum
MetaMask (ETH)
Xrp
Polkadot
Binance coin
Stellar
Dogecoin
Tron
Elrond
Donate Bitcoin to this address
Scan the QR code or copy the address below into your wallet to send some Bitcoin
Donate Ethereum to this address
Scan the QR code or copy the address below into your wallet to send some Ethereum
Donate Xrp to this address
Scan the QR code or copy the address below into your wallet to send some Xrp
Donate Polkadot to this address
Scan the QR code or copy the address below into your wallet to send some Polkadot
Donate Binance coin to this address
Scan the QR code or copy the address below into your wallet to send some Binance coin
Donate Stellar to this address
Scan the QR code or copy the address below into your wallet to send some Stellar
Donate Dogecoin to this address
Scan the QR code or copy the address below into your wallet to send some Dogecoin
Donate Tron to this address
Scan the QR code or copy the address below into your wallet to send some Tron
Donate Elrond to this address
Scan the QR code or copy the address below into your wallet to send some Elrond