Kpop Hop – Magic Music Tiles game by Phong Hua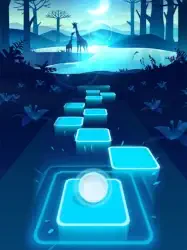 Game Description :
Game For Kpop Fandom!
Magic Hop: Kpop Music Tiles! is a game that challenges your reflexes and reaction time.
Play now and feel new KPOP music challenges wherever you are.
Game Features :
1. Touch, hold and drag to 2 sides to control the ball to jump on the tiles.
2. Don't "fall" off the track!
3. Relax, enjoy KPOP music and challenges designed specifically for each song.
The ball will dance to the beat of KPOP music. Listen to the music, follow the melody and use your abilities to control the ball and overcome the challenge. Don't release your hand while playing!
All free! Play Magic Hop: Kpop Music Tiles! today!
Additional Information :
Age Rating 4+
Size 101.9 MB
Requires iOS 11.0 or later.
User Reviews :
It's a good game but…
The ads are horrible. If I fail something and I choose not to watch an ad guess what. It gives me an ad right after that. It's ridiculous. Also, why do the levels cost so much? I don't even know. I know that I'm given money when I start play but I'm not that good so-….

Another thing is that why are almost all of the things BlackPink and BTS( not really Twice )??? Why can't we have other groups?? It's getting kinda boring. Can we have some Itzy or Everglow??? Even NMIXX??? We need some more groups up on this app. But it's a really good game. If you turn your WiFi off and lay down- it's a very fun no ad game. And you're gonna be sweating while trying to do the hardest one.
Love the game!
I love the game a lot! It's really fun and helps pass the time. However there are a few things ne players should know before playing. One is that the songs aren't the actual songs. They are remixes with different background music(still really good songs). If you want to play "Permission to Dance" for example, it has different music but the same lyrics. Two is that the rankings for how hard it is isn't super accurate. This might be just for me but the ones labeled "easy" and faster paced and the ones labeled "hard" or "expert" are a little easier. Three is that not all the songs are kpop. They have some other songs that aren't kpop you provably know. It doesn't effect the game but I thought I'd let you know.

Overall I love the game and recommend it to kpop fans. Cya
read before downloading
okay so i love how they have a version of this game but with Kpop, however there are so many ads. also most of the songs are blackpink and bts, i do love these groups but there's not much of the other group like twice, txt, nct, nmixx, aespa or others. i know that blackpink and bts are the two biggest kpop groups in the world but after reading so reviews other people had the same issue as me. the audios from the songs also sound weird, it's like a remix i prefer the original audio, it may have something to due with copyright, and the titles are not correct (for some of them) for example boombayah by blackpink, the song name they typed was "boombayak" like i said this could also be because of copyright.

if any of the creators read this, please remove some of the ads, i'm not saying get rid of them fully but less ads would be great. also maybe add some more songs by other groups.
Helpful
For me this app is addicting but there are some downsides to it to(And there is some good stuff too)

GOOD

1. I love how the music is EDM version of the K-Pop song, which is really cool

2. The amount of songs there are, from when I looked there was 107 K-pop songs(not groups)

3. You can battle with other players for this you don't need to sign in to like change your icon and name when battling(you can still play if I aren't signed in) but for this you can freely add a name and a picture from your camera roll and you don't have to sign in or anything which I think it's really cool

BAD

1. There is ad when u enter the app, I honestly don't mind it bc it is a short ad, but I just wanted to add it for the people who do.

2. The Other ads are LONGGG, they probably take about 20-30 seconds bc each one is 2 ads.

There aren't a lot of K-Pop groups like Stray Kids or Seventeen(last time I looked) There was only BTS, Blackpink, Twice and some Exo.

Plz fix this when u able to plz

P.S. I love BTS so that's why it's addicting for me
Get Kpop Hop from App Store
What is your opinion about Kpop Hop
Bitcoin
Ethereum
MetaMask (ETH)
Xrp
Polkadot
Binance coin
Stellar
Dogecoin
Tron
Elrond
Donate Bitcoin to this address
Scan the QR code or copy the address below into your wallet to send some Bitcoin
Donate Ethereum to this address
Scan the QR code or copy the address below into your wallet to send some Ethereum
Donate Xrp to this address
Scan the QR code or copy the address below into your wallet to send some Xrp
Donate Polkadot to this address
Scan the QR code or copy the address below into your wallet to send some Polkadot
Donate Binance coin to this address
Scan the QR code or copy the address below into your wallet to send some Binance coin
Donate Stellar to this address
Scan the QR code or copy the address below into your wallet to send some Stellar
Donate Dogecoin to this address
Scan the QR code or copy the address below into your wallet to send some Dogecoin
Donate Tron to this address
Scan the QR code or copy the address below into your wallet to send some Tron
Donate Elrond to this address
Scan the QR code or copy the address below into your wallet to send some Elrond