Kids Balloon Pop game App Family AB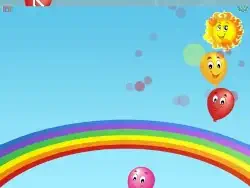 Game Description :
Learn letters, numbers, colors and shapes! An educational balloon popping game for toddlers, with great graphics and cute animals – available in 9 languages!
A fun and educational balloon-popping game for toddlers and pre-school kids that want to learn something new and exciting!
Pop the balloons to learn the alphabet, how to count numbers, recognize colors and identify shapes. Five different game modes available in 9 different languages.
Trains cognitive, motor, and memory skills. Free version with NO ADS.
Game Features :
Five game modes (in 9 languages)
Normal – Fun and simple balloon popping. Great for teaching toddlers motor skills, coordination, and keeping them entertained
A – Z – Learn how the alphabet is written and spoken in different languages. See and hear the letters when balloons are popped
1 – 20 – Learn numbers and how to count. See and hear numbers when balloons are popped
Colors – Explore the world of colors. See and hear the name of colors when balloons are popped
Shapes – Learn basic geometric shapes. Requires in-app purchase.
Make the exercise as challenging as you want to keep your toddler stimulated and entertained! Simple – with large and slow balloons – or more difficult with small and fast ones.
For babies or kids with visual impairments such as CVI you can disable background images and increase the size of the balloons in order to make them easier to pop
For more fun, check out our other games for kids!
Music: "Malt Shop Bop"
Kevin MacLeod (incompetech.com)
Licensed under Creative Commons: By Attribution 3.0
creativecommons.org/licenses/by/3.0/
Additional Information :
Age Rating 4+
Size 36.4 MB
Requires iOS 8.0 or later.
User Reviews :
Unlock didn't work on multiple devices
My one year old loves playing this game. I finally unlocked it on my phone while we were out and about but unfortunately it didn't apply to my iPad or husbands phone. It says upgrades work with family sharing but for whatever reason we are prompted to pay to upgrade on each device. Otherwise the baby likes the game.
Developer Response,
Hi Sarah. Unfortunately in-app purchases don't automatically carry over between devices. However, just proceed to the payment screen on your new devices and there will be an option to "Restore previous purchases" which will unlock the game on your other devices (so long as you are logged in with the same username/profile used when purchasing the game the first time). Please feel free to contact us if you have any further questions (hello@appfamily.se).

Chris
My son loves this app
Initially, I stopped allowing my black son to use this app because the voice for the colors was joyful except when saying "black." The developer updated the app so that black did not sound so sad, dreary and unacceptable. My son really does get excited when he finishes the colors or numbers exercises, so I'm glad he can use this learning app again. Black is beautiful.
Developer Response,
Hi there! I'm actually just uploading version 20.3, where the words "Black" and "White" have been adjusted as you suggest.
Fixed sound issue !
For ppl having issues with the sound on iPad that doesn't have a mute switch on the iPad to toggle. Go to setting. General and change where it says "use side switch to" from mute to lock rotation. And then the sound works again … cheers
Sounds don't work anymore
Voice and sound effects no longer work for this app, rendering it useless for the learning aspect of it. I have tried reinstalling, turning the settings for both audios off and back on, restarting the app multiple times. This app is no longer what it advertises as a learning tool.
Developer Response,
Hi!

I realize that by now you've probably cursed me loudly and deleted the app – sorry for such a slow reply. But the sound is 99% of the time because the little physical 'toggle' switch on the side of the iPad (by the volume rocker) is set to 'mute' the sound. Many apps ignore this toggle but mine respects it (unfortunately?). Please, if you still have the app, try toggling the switch and see how it goes!

Cheers,

Per
I'm going to be a big half brother soon
So she is going to need to learn to count, her colors, and the abcs so I think this will be good but for 3 dollars that's a lot of iTunes for special effects and more animals but I guess I'll deal with it and it says you can restore ur perchase but so far I haven't found the option.
CVI Friendly
My daughter LOVES this app and it's perfect for cause/effect as well as those with visual impairments such as CVI (cortical visual impairment). I just wish it were a little harder to change the language. She taps all over and eventually ends up switching the language.
Get Kids Balloon Pop from App Store
What is your opinion about Kids Balloon Pop
Bitcoin
Ethereum
MetaMask (ETH)
Xrp
Polkadot
Binance coin
Stellar
Dogecoin
Tron
Elrond
Donate Bitcoin to this address
Scan the QR code or copy the address below into your wallet to send some Bitcoin
Donate Ethereum to this address
Scan the QR code or copy the address below into your wallet to send some Ethereum
Donate Xrp to this address
Scan the QR code or copy the address below into your wallet to send some Xrp
Donate Polkadot to this address
Scan the QR code or copy the address below into your wallet to send some Polkadot
Donate Binance coin to this address
Scan the QR code or copy the address below into your wallet to send some Binance coin
Donate Stellar to this address
Scan the QR code or copy the address below into your wallet to send some Stellar
Donate Dogecoin to this address
Scan the QR code or copy the address below into your wallet to send some Dogecoin
Donate Tron to this address
Scan the QR code or copy the address below into your wallet to send some Tron
Donate Elrond to this address
Scan the QR code or copy the address below into your wallet to send some Elrond