(Game) Jewel Sliding – Block Puzzle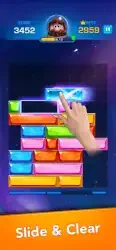 Game Description :
Jewel Sliding – Puzzle Game is an addictive and easy game to play. Take a break at any time with this puzzle game!
How to play:
1. Slide the block to fill the blank and elinimate.
2. Multiple elimination makes a combo.
3. Fire stone elinimates blocks of the same color.
4. The game ends when the blocks reach the top.
Game Features :
This game is totally free.
No WiFi required. Play whenever and whereever you want!
Easy to play and hard to master. Perfect for killing time!
Download Jewel Sliding – Puzzle Game now and have fun!
Additional Information :
Size 146.9 MB
Requires iOS 10.0 or later.
User reviews :
Great until recent crashes
Love this game except for a few minor issues. I enjoyed it enough to justify purchasing the remove ads, except there is no remove ads feature. Please look into this.

Second, I would appreciate the ability to turn on/off the move assistance that shows the correct block to move after like 3 seconds.. I mean what is the point of having a puzzle game if it shows you the move every turn??

Lastly the game has been crashing recently about 1 second after opening. I have a feeling this is my phone and will troubleshoot a little before I blame the game.

Other than that, great game. Came to App Store looking for another like it, and there doesn't seem to be one as good. Which led me here, to the reviews, to hope for an update. Thanks

EDIT: thanks for the response, I will keep the game and update my rating because the crash has been fixed. I will gladly pay 0.99 for no ads, if that ever becomes an option. Thanks
Developer Response,
Hi Km5, Thank you very much for playing our game! Have a nice day!
The Playability Though
In concept, I really like this game and, despite serious flaws, I play it a lot. But there are a few annoyances that if fixed would make this game a lot better. First, the hints come too soon and too often. What fun is it trying to figure out moves when they are given to you before having the chance to think it through? Please add an option to turn off hints. Second, the blocks that cause popups – this was added at some point and it detracts substantially from the game. Third, there are times when big blocks are added repeatedly such that there are no good moves at all. And, guess what? No hints come either because there are no moves at all… Losing can't be helped then and when you're up to 50,000 or more and that happens, it's maddening! Fourth, it would be better to add just 1 new row at a time. Again, with 3 or 4 rows added all at once, losing often is the only possible outcome. Fifth, and most annoying, I have lost games when only one row from the top is left and I complete a row, but the new row is added before my completed row is removed! Completed rows should always be removed first!!! Finally, even making the stack 1 or 2 rows taller would help the playability.

EDIT: Today I got an ad in the MIDDLE of playing the game! I couldn't continue until it finished. Today is the day I stopped playing and will be deleting this app. That's the last straw. The developers ruined this game.
Great game, but not a casual puzzle
I really enjoy this puzzler, I've spent tons of hours knocking out rows. Like other reviewers, I would pay for a no-ad version of the game, and would appreciate the option to remove the move-assist feature.

One other note: I have a high score of half a million, which I got somewhere in level 17 or 18, but since recent updates, the algorithm in this game has become wicked difficult. I now have difficulty getting past level 5 or 6. I actually appreciate the fiercer challenge, but the game difficulty might be a turn off for new players.
Genuinely fun and unique game!
I love this game!! Like another reviewer I came to the App Store to buy anything the developer had to offer because I like it so much. Unique and challenging gameplay makes it feel amazing when you best your high score. I feel like I could play it for a real long time. Pretty great, will be watching this game designer to see what other wonderful things they'll put out!
Good but no explanation of scoring
I do enjoy playing the game but I don't see any explanation of the scoring system. For example, the description indicates that the colorful jewels are better, and I see that they seem to knockout other jewels, but how EXACTLY are they better? It also appears that when on higher levels, the scoring amounts increase, but if so, by how much, and what does one need to do to level up?

For me, this information would make the game so much more enjoyable.

Finally, to the player annoyed by the commercials (as I am), I have found that quitting the app after a game and then immediately restarting it saves me a LOT of time.
Developer Response,
Hi Aging Stryker, thanks for your great suggestions! Your suggestions have been submitted to the developers. We are always trying to make a fun puzzle game with new ideas. Thank you for your support and have a nice day!
Get Jewel Sliding from App Store
What is your opinion about Jewel Sliding
Bitcoin
Ethereum
MetaMask (ETH)
Xrp
Polkadot
Binance coin
Stellar
Dogecoin
Tron
Elrond
Donate Bitcoin to this address
Scan the QR code or copy the address below into your wallet to send some Bitcoin
Donate Ethereum to this address
Scan the QR code or copy the address below into your wallet to send some Ethereum
Donate Xrp to this address
Scan the QR code or copy the address below into your wallet to send some Xrp
Donate Polkadot to this address
Scan the QR code or copy the address below into your wallet to send some Polkadot
Donate Binance coin to this address
Scan the QR code or copy the address below into your wallet to send some Binance coin
Donate Stellar to this address
Scan the QR code or copy the address below into your wallet to send some Stellar
Donate Dogecoin to this address
Scan the QR code or copy the address below into your wallet to send some Dogecoin
Donate Tron to this address
Scan the QR code or copy the address below into your wallet to send some Tron
Donate Elrond to this address
Scan the QR code or copy the address below into your wallet to send some Elrond