InPulse – Heart Rate Monitor app by AIBY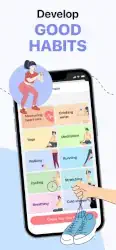 App Description :
DAILY HEART HEALTH MONITORING IS YOUR WAY TO HEALTH AND BEAUTY
Never miss a beat with InPulse! Check your heart rate, track your blood pressure and oxygen saturation with your iPhone.
Simply place your finger on the camera to measure your heart rate. Monitor your pulse, blood pressure, and oxygen saturation. Receive reminders to check your pulse and track your vitals on a daily basis so you can stay healthy and fit. Get your stress levels under control and your negative emotional reactions identified and leveled.
App Features :
The Main Advantages of the App:
Measure your heart rate using your fingertip and camera
Use Journal to monitor your blood pressure and oxygen saturation
Get daily health assessment and lifestyle advice
Develop healthy habits with Habit Tracker
Manage your emotional wellbeing with Mental Health Tests
Follow Self-Love Program to achieve harmony and peace of mind
Add tags and comments to your measurements
Integrate with Apple Health, and your pulse measurements will be sent to the Health app, making it even easier for you to keep track of your heart and overall health.
How to Check Pulse Using Finger:
First, make sure your fingers aren't cold. When checking your pulse, be sure your fingertip covers the camera lens and camera flashlight completely.
Press gently with your finger. Pressing too hard may result in reduced blood flow, which will make it more difficult to get an accurate result.
The app requires iOS 14.0 or later. You can choose a free trial with all features available.
UNLIMITED ACCESS TO ALL FEATURES
You can subscribe for unlimited access to all app's features.
Subscriptions are billed automatically at the rate depending on the selected subscription plan.
Important Note
The app is not designed for medical purposes. It is meant only for fitness use and as a source of general health information.
By using the app, you are agreeing to our Privacy Policy and Terms of Use:
aiby.mobi/pulse/terms/
aiby.mobi/pulse/privacy/
Have questions? Check out the FAQ page at http://aiby.mobi/pulse/
Or contact our support team: aiby.mobi/pulse/support/
Heartly yours,
AIBY team
Additional Information :
Size 117.6 MB
Requires iOS 14.5 or later.
User Reviews :
Great app!!
I downloaded a few apps before this one, the very first one did not work which made me disappointed, then came this app and wow! I opened the app, continued to the heart rate and instantly the flash light turned on (which did not happen on the first app) and started to calculate my pulse, it indicated the time I should wait and finally it gave me my results! Also they mentioned if my pulse was normal or not. I was very satisfied.
Thanks
Inaccurate and will give you anxiety
I got this app to track my heart rate as I have some health anxiety from time to time. I've had this app for a few weeks and I've recognized and talked to doctors that the numbers are inaccurate. I had the worst anxiety attack that put me in the ER because I kept on relying on this app for my heart rate only to pile up on my anxiety and make me feel like something was wrong whenever it got really high. I did one last check on my chest and used the app and proved that my heart rate was just fine and the app exaggerates from time to time. I highly recommend just using your hand or a medical professional as they'll have a more accurate rate for you.
Developer Response,
Hello! Thank you for your review. We are sorry that you're disappointed with our app. Please drop us an email at support[at]aiby.com to sort it out. Thank you in advance.
Not the best.
Starting off, whenever I open this app it says its not connecting, I hit button and it lets me in. Keep in mind I'm on wifi 24/7 and when I'm not it automatically uses my cellular. Next, when checking my heart rate it always go up. You might be saying, "Well yea, our heart rates fluctuate as human beings," no. It goes up because I guess I have like anxiety or something because the heart beat noise and vibration it plays makes me nervous and the rate goes up. Btw I did not pay for a subscription.
Inaccurate on iPhone 11 Pro Max
UPDATE: MY CHEFS KNIFE HAS GOT A PULSE YALL! APP IS FAKE FOR SURE.

I ONLY GIVE IT 2 STARS FOR THE REPORTS FEATURE. I rely on my phone to accurately monitor my heart rate. This app is wrong every time I check my pulse. My average resting heart rate is usually high and this app when compared to HeartRate and Apple Watch is ALWAYS lower than the accurate rate…by A LOT. For example right now my ACTUAL HEART RATE IS 109. ACCORDING TO THIS APP HEART RATE IS 97. This is unsafe inaccurate measurements. This was compared once again to HeartRate, Apple Watch monitor and a pulse oximeter. This is the only method that measured that low.
Developer Response,
Hello! Thank you for your review. We are sorry that we didn't meet your expectations. Our app is based on contact photoplethysmography. You may find this information in the FAQ section of the application. The algorithm detects variations of light absorption caused by arterial blood-volume pulsations. Your results may vary due to your stress levels, general state of your body, etc. Please note that the app is not designed for medical purposes. It is meant only for fitness use and as a source of general health information. Don't hesitate to reach out to us at support@aiby.com, if you have any questions.
Get InPulse from App Store
What is your opinion about InPulse
Bitcoin
Ethereum
MetaMask (ETH)
Xrp
Polkadot
Binance coin
Stellar
Dogecoin
Tron
Elrond
Donate Bitcoin to this address
Scan the QR code or copy the address below into your wallet to send some Bitcoin
Donate Ethereum to this address
Scan the QR code or copy the address below into your wallet to send some Ethereum
Donate Xrp to this address
Scan the QR code or copy the address below into your wallet to send some Xrp
Donate Polkadot to this address
Scan the QR code or copy the address below into your wallet to send some Polkadot
Donate Binance coin to this address
Scan the QR code or copy the address below into your wallet to send some Binance coin
Donate Stellar to this address
Scan the QR code or copy the address below into your wallet to send some Stellar
Donate Dogecoin to this address
Scan the QR code or copy the address below into your wallet to send some Dogecoin
Donate Tron to this address
Scan the QR code or copy the address below into your wallet to send some Tron
Donate Elrond to this address
Scan the QR code or copy the address below into your wallet to send some Elrond