Psych! Outwit Your Friends game by Warner Bros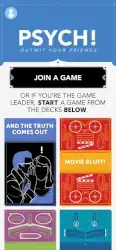 Game Description :
Get Psyched! From the creators of "Heads Up!" comes "PSYCH!" – an exciting new party game to play with friends!
Game Features :
PSYCH! is a fun guessing game by Ellen DeGeneres, where trivia meets Cards Against Humanity. Choose from a variety of fun and hilarious categories, such as "The Truth Comes Out," in which you and your friends become the game! Get ready to answer funny and ridiculous questions about one another, like "What's the last thing David googled?" and "What does Jasmine spend too much time thinking about?" or  "What's Maria's hidden talent?" Find out right here!
You can also play one of our trivia categories like "Word Up" or "Movie Bluff," in which each player makes up fake answers to real trivia questions! Can you outwit your friends and choose the outrageous real answer among your friends' fakes? Get points for choosing the right answer in this tricky guessing game and for each player you PSYCH! into choosing yours.
PSYCH! is the perfect app for family game night, Zoom calls, road trips, or even waiting in line! Grab your phones, gather 'round, and get ready for a gaming experience unlike any other house party game you've ever played!
1. Ad Choices: policies.warnerbros.com/privacy/en-us/#adchoice
2. Terms of Use: policies.warnerbros.com/terms/en-us
3. Do Not Sell My Personal Information: privacycenter.wb.com/donotsell
Additional Information :
Size 170.7 MB
Requires iOS 11.0 or later.
User Reviews :
This is the a great game!
Psych! Is a great game to play with your family and friends, I especially love the movie bluff! It's funny and creative, and easy to do! Even though it's a good game we (my sisters and I) found a couple of things that aren't quite working well…firstly it takes an eternity to load, and it's constantly kicking us out, were sure the problem isn't with our wifi since we tried it 50 times with 3 bars of wifi and celular. Another thing that didn't work is that when we were doing the movie bluff, there where usually creative titles of movies , but when we had already hit submit the title changed making obvious to which movie title was the correct one…besides it being laggy and having a couple of mistakes I would recommend this game to anyone who wants to play with their friends or have quality time with their family! I liked this game very much, it was honestly amazing!
I love it!!
i love this game!! it's a great icebreaker as well as getting back in touch group game that is fun for everyone!! with different topics, you can explore everyone's interests while having a fun, positive environment. the only 2 things i wanted to bring up was 1) the game glitches a lot (they'll have to bug fix that), and 2) they should add a message feature in-game. it should be available while you're in a round, and there should be an option of group chat (with all of the players) and 1 on 1 chat with only one other player. that way, players can communicate and comment their outputs while still playing the game. thank you for this amazing game, and please take my insights in consideration!!
Not Working
It sounds like a fun game… except for the fact that it doesn't work. My sisters and I downloaded this to play together while we were bored at home, and we were excited since it looked really interesting. The game didn't work properly for any of us. We all had problems while creating games, joining games and even just loading the actual app itself. It kept freezing and exiting out for no reason. We tried everything, from getting a better internet connection, to using cellular data, to restarting our phones, and it still didn't function. We didn't even get to play a single round because of all these bugs. I still really want to play since I love Ellen and I love these types of games, and this one seems really cool. We just wanted to know if there was anything we could do to fix these problems and actually play the game. Please let us know how we can fix this!! Thank you
I love this app!!!!!!!!
I play this app with my friends all the time! It is so fun. I love getting to make of movie plots, and silly words. It's hilarious to see your friends and family get psyched from a stupid thing you made up on the top of your head. Its a great app to play at a sleepover, or any occasion. This is one of my favorite apps,I'd head over heels recommend this.

But there's only one tiny thing I'd like to tweak. When you create a game, and add,"Ellen", why doesn't Ellen have to pick a choice. It's not that annoying by sometimes it makes the game unfair.

Despite that, this app is really amazing, and very well created. If you are thinking about downloading an app that's fun to play with your family and friends, psych I the app. Trust me on this, you'll love it!!
Get Psych from App Store
What is your opinion about Psych
Bitcoin
Ethereum
MetaMask (ETH)
Xrp
Polkadot
Binance coin
Stellar
Dogecoin
Tron
Elrond
Donate Bitcoin to this address
Scan the QR code or copy the address below into your wallet to send some Bitcoin
Donate Ethereum to this address
Scan the QR code or copy the address below into your wallet to send some Ethereum
Donate Xrp to this address
Scan the QR code or copy the address below into your wallet to send some Xrp
Donate Polkadot to this address
Scan the QR code or copy the address below into your wallet to send some Polkadot
Donate Binance coin to this address
Scan the QR code or copy the address below into your wallet to send some Binance coin
Donate Stellar to this address
Scan the QR code or copy the address below into your wallet to send some Stellar
Donate Dogecoin to this address
Scan the QR code or copy the address below into your wallet to send some Dogecoin
Donate Tron to this address
Scan the QR code or copy the address below into your wallet to send some Tron
Donate Elrond to this address
Scan the QR code or copy the address below into your wallet to send some Elrond