Gossip Harbor – Merge & Story game Microfun Limited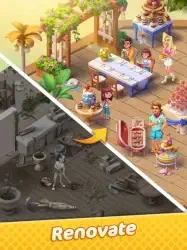 Game Description :
Welcome to Gossip Harbor
Follow Quinn Castillo as her picture perfect life on Brimwave Island crumbles around her. Divorce, sabotage and secrets. Help answer the question everyone's thinking: Who's trying to ruin her life?
Merge flavorful dishes, restore and decorate Quinn's restaurant and watch the mystery unfold.
But who can you trust in Brimwave?
Game Features :
Whip Up Tasty Dishes
Serve coffee, sandwiches, seafood, and a range of other dishes, to your customers. The more you play, the more dishes you'll find to add to your menu!
Restore the Restaurant
Rebuild and design the best beach restaurant around! Choose the flooring, wallpaper and furniture to restore restaurant to its former glory!
Build Relationships
Converse with customers and hang out with old friends. Or explore the possibility of a new budding romance.
Catch up on the Gossip
You'll renovate and merged to reveal clues, and uncover hidden secrets of the residents on Brimwave Island. And perhaps even unveil the Castillo's hidden secrets…
Enjoying Gossip Harbor? Learn more about the game on our Facebook Fan Page!
www.facebook.com/GossipHarbor
Need help? Contact us by sending an email to serviceMergemerge[at]gmail.com
We're here to help you!
Privacy Policy: diary.cdn.mergesigma.com/resources/privacy/privacy_2.0.html
Terms of Service: diary.cdn.mergesigma.com/resources/privacy/user_license_2.0.html
Additional Information :
Age Rating 12+
Size 720.2 MB
Requires iOS 11.0 or later.
User Reviews :
one of the best merge games out there.
this is a game very similar to love & pies, which is exactly what i was looking for. when im waiting for my energy to refill in gossip harbor, ill play love & pies, and vice versa.

im an ocean lover and as an autistic person its one of my hyperfixations, so i absolutely love the ocean theme (so is space, so olivia's obsession with space makes me so happy too!). the characters are adorable and interesting, and i absolutely LOVE how theres actually good LGBTQ+ representation! the story is actually surprisingly interesting. i usually skip a lot of stories in games like this, but this one got me hooked right away. im so curious to see how everything ends up!

i love the art style, and the decor of the cafe. sometimes in games like these the options are so limited and not very interesting, but this game is just so pretty.

the events are also very fun, and actually quite challenging! but i like it that way. its a good balance of being rewarding yet still keeping you competitive and interested in the game. i just wish some of the events would last a little longer so we have more time to earn rewards, but its not a huge deal, as they cycle quite quickly and you are always getting new rewards from new events.

overall this is a great game! between this and love & pies theyre the only merge games i actually enjoy.
Honestly no complaints… ok maybe 1
I was surprised to find that this game is actually quite fun. I've played my fair share of merge games and so I've become a little picky w them so I didn't expect much. The game itself is adorable and there's this mystery that's trying to be solved as you complete tasks which is honestly quite clever. It's not flooded w ads like some other merge games and starts u off w a significant amount of energy. I haven't had it for long tho so I might find something that rlly annoys me later on but so far so good. The only real complaint I do have is the decorations you are given to choose from are (in my opinion) tacky, each of them are designed to fit a certain color scheme like green or blue or orange/red (I think those are the colors) which means if there's a style of table u like there's no way for it to work w other things you've chosen bc everything is a different color. I'm only on the cafe part right now and honestly I'm struggling to decorate things bc everything is a specific color. the designs of things aren't the greatest either but that ofc is just my opinion. So in conclusion a cute little merge mystery game, something to try out it rlly helps occupy ur time when ur bored or waiting, just don't get ur hopes up on the decorations
Best game ever!!!!
I have been playing this game for a couple months now, and i never get bored of it. Most merge games make you watch so many ads, or they just take forever. This one gives you good amount of energy at first and really only takes a hour or so to get 100 energy again which you can go eat or clean or anything. You could watch a quick ad for some energy or spend your gems, which isn't a issue because you do get a good amount of gems here and there. The challenges are so fun and pretty easy, and the variety of things you can merge and create is nice. altogether the game is great, but the only downside is the decoration. It's very tacky and hard to kind of match all around the cafe, but it doesn't bother me as much. the story line is amazing and i don't mind spending money on this game to get a few more goodies. The game is fun and unique. definitely worth the time i have put into it!!! i'm addicted to it, the more you play the more stuff you unlock and reveal.
Get Gossip Harbor from App Store
What is your opinion about Gossip Harbor
Bitcoin
Ethereum
MetaMask (ETH)
Xrp
Polkadot
Binance coin
Stellar
Dogecoin
Tron
Elrond
Donate Bitcoin to this address
Scan the QR code or copy the address below into your wallet to send some Bitcoin
Donate Ethereum to this address
Scan the QR code or copy the address below into your wallet to send some Ethereum
Donate Xrp to this address
Scan the QR code or copy the address below into your wallet to send some Xrp
Donate Polkadot to this address
Scan the QR code or copy the address below into your wallet to send some Polkadot
Donate Binance coin to this address
Scan the QR code or copy the address below into your wallet to send some Binance coin
Donate Stellar to this address
Scan the QR code or copy the address below into your wallet to send some Stellar
Donate Dogecoin to this address
Scan the QR code or copy the address below into your wallet to send some Dogecoin
Donate Tron to this address
Scan the QR code or copy the address below into your wallet to send some Tron
Donate Elrond to this address
Scan the QR code or copy the address below into your wallet to send some Elrond