(App) Google Cardboard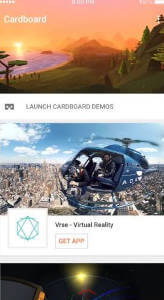 App Description :
Cardboard puts virtual reality on your iPhone. The Google Cardboard app helps you set up a Cardboard viewer and includes a few experiences to get you started
App Features :
Explorer: Explore exciting environments.
Exhibit: View 3D objects from a museum collection.
Urban Hike: Take a hike through iconic cities around the world.
Kaleidoscope: Enjoy a fun stereoscopic take on the old classic.
Arctic Journey: Fly alongside Arctic terns, create your own flower garden, relax under the northern lights and more.
To fully enjoy this app you'll need a Cardboard viewer. Learn more and get your own Cardboard viewer at g.co/cardboard.
Supported devices: iPhone 6 Plus, iPhone 6, iPhone 5s, iPhone 5, iPhone 5c.
Do not use this app while driving, walking, or otherwise by being distracted or disoriented from real world situations that prevent you from obeying traffic or safety laws.
Additional Information :
Size 128.9 MB
Requires iOS 8.0 or later.
User Reviews :
Needs more!
When I say it needs more I mean it needs more fixes, more demos, and more choices. I would like to mention the biggest problem. I have my headset set up. It knows what I'm using but I've spent up to ten minutes at the "Place your phone into your viewer" and "rotate to navigate back screens". Also I found the demos hard to use. When I got to them of course. However, I like the graphics on the realistic and the kind of "crystalline and 3D figure" style. But I think the flying one is amazing when I can do it. Although I get 15 seconds and that's it. I which it was longer because I have to spend 20 minutes trying to get into the demo only to go flying for 20 seconds. Left a bad taste in my mouth to the point where I've debated to keep it or not.
Excellent!
I use this app with an iPhone 6, for anybody wondering and the app works fine.

All of the 1 star reviews are all very ignorant reviews, such as somebody trying to use glasses with this? Also, people are saying they can't get past the home screen, but they don't know how to use the app.

I use some of the recommendations and they're ok, I guess, but the Arctic Journey section is amazing! Although the graphics aren't awesome and my v1 viewer has a pretty low FOV, I love using their simple, yet addictive simulations.

Although, with a few apps the button doesn't work to move, but that may just be the ad placement. As a whole, this product/app would be 4.85/5 stars. Phenomenal!
Great app but…
Great app! Has a list of virtual reality apps. I would give it five stars but there is only one big problem for me. The button at the top of a google cardboard virtual reality headset. That would be so easy to press except for the fact that I don't have a google cardboard headset. I have a different brand of virtual reality. It's hard for me to select stuff in the apps because I have to take off the headset and take my phone out, to just select something. Please figure out another way to select an option, or else my review must stay the same for now 🙁 Other then that, great app!
Amazing peak at a VR future
Google cardboard paired with any inexpensive VR cardboard device creates an immersive experience unlike any other app you've downloaded. I bought the 360fly cardboard VR headset at bestbuy and it worked wonderfully with this product. I scared my siblings with the sisters app, and did a virtual street view tour of my childhood home. The possibilities are endless. I can't wait to see what future apps take advantage of cardboard. The best part is, the button featured on my VR headset works flawlessly, it seems unlikely that it would be compatible since its apple but everything works as advertised. Playing on iPhone 6s Plus.
Feature Request: Support for Volume Controls as an Input
First of all, I love Google Cardboard. It performs fairly well on my iPhone 6s, but while using a Cardboard compatible headset, I of course cannot touch the screen; the only way I can interact is by passing a magnet over the front of the headset.

All that being said, one thing I would like to see in the future, is support for external volume controls (e.g. inline volume controls for headphones). This would allow us users to more easily and conveniently interact with Cardboard via things like Bluetooth selfie buttons, among other accessories. Other than that, keep up the good work.
Love this!
I love this app! It works great with a Utopia 360° and of course the google cardboard because this app was made for that! Can't wait till these demos become finished and then fully released! That will be something to look forward to!! The graphics are amazing on this app and everything works! The only thing I wished is that on the Arctic VR Demo is that while flying you could do it as long as you want and whatever you look you'll go with the other Arctic Terns. But I still love this app!
Get Google Cardboard from App Store
What is your opinion about Google Cardboard
Bitcoin
Ethereum
MetaMask (ETH)
Xrp
Polkadot
Binance coin
Stellar
Dogecoin
Tron
Elrond
Donate Bitcoin to this address
Scan the QR code or copy the address below into your wallet to send some Bitcoin
Donate Ethereum to this address
Scan the QR code or copy the address below into your wallet to send some Ethereum
Donate Xrp to this address
Scan the QR code or copy the address below into your wallet to send some Xrp
Donate Polkadot to this address
Scan the QR code or copy the address below into your wallet to send some Polkadot
Donate Binance coin to this address
Scan the QR code or copy the address below into your wallet to send some Binance coin
Donate Stellar to this address
Scan the QR code or copy the address below into your wallet to send some Stellar
Donate Dogecoin to this address
Scan the QR code or copy the address below into your wallet to send some Dogecoin
Donate Tron to this address
Scan the QR code or copy the address below into your wallet to send some Tron
Donate Elrond to this address
Scan the QR code or copy the address below into your wallet to send some Elrond