(Game) FRAG Pro Shooter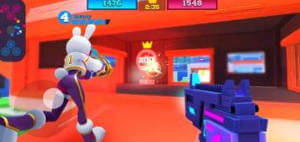 Game Description :
Get ready to play the BEST EVER HERO SHOOTER! DESIGNED for mobile devices, FRAG is the perfect FPS experience for your phone or tablet!
Game Features :
REAL-TIME TEAM DUELS!!
Challenge thousands of players in FAST and INTENSE real-time 1v1 & 2V2 matches!
Control your character in First-Person or Third-Person View – they will shoot AUTOMATICALLY!
SWITCH RAPIDLY between your heroes and get the advantage!
Dying isn't that bad: RESPAWN INSTANTLY as another character!
ASSEMBLE THE MIGHTIEST TEAM!!
Build your BATTLE DECK to fit your game style: offensive, defensive or balanced!
Over 90 UNIQUE CHARACTERS to choose from to make your Battle deck!
Each character has a UNIQUE POWER to turn the tides of a fight: try them all to find combos!
UPGRADE your character to make them even more awesome!
MAKE FRIENDS, RIVALS, AND BECOME A SUPER STAR!!
Expand your FAN BASE to become POPULAR!!
Join a CLUB or create your own to become a famous team!
RECORD AND SHARE your games and decks, and check others to become better!
TIPS
Every character has their strengths and weaknesses: try them all to see which are best for you!
Attack the enemy shields to get a lot of points, but beware of ambushes!
Check your missions for amazing rewards!
Privacy policy: www.ohbibi.com/privacy-policy
Terms of Service: www.ohbibi.com/terms-services
Follow us to get news and updates!
www.facebook.com/FRAGTheGame/
twitter.com/FRAGTheGame
Additional Information :
Size 403.2 MB
Requires iOS 10.0 or later.
User Reviews :
This game is great but…
Fragman in this game is wayy too strong, his range is just not fitting for the gun and his strong special ability is or too strong or has way less cooldown then it should have, RON1N is also way too strong, he has too much hp to his speed and strength so or slow him down pr make him less strong or lower his hp plus u guys are putting me upfront people with a deck of legendaries while i have one and also upfront ppl with crazy leveled cards, please fix this fast and i saw that someone else complaint about the placement and nothing was done about it so plz not only for me but for also other ppl fix this ASAP thanks ahead
Need to repair
The is cool but there is so many glitches that make the game unplayable one of those glitches is in the sound when I'm playing suddenly there is no sounds at all and i have to close the game and open it again and that's annoying another glitch that is wort than the first one is that when i play a competition and i win so many times i don't get the reward and that's very annoying hope you fix this glitches and the game will be a thousand times better.
Bug
I love this game always been No.1 for me but since update September 2020 there's been a constant lag that takes me out of the app every 5 mins pls fix thnxs
Nice.
Game is cool but when I try to backup my progress it takes 10 minutes just to upload it to the cloud.
Amazing game
I love the fact that you could unlock amazing or bad characters in the same chest
Amazing.
Very fun and you can play with your friends
QAP
It is not fair when a player with 1,000/2,000+ points wins in a play and me with 2865 points lost 22+ points like where's the logic so do try and fix it cause it's really annoying THX
Yoyopery
Amazing game but you need to Update more levels
Rick
Good game but need more types of games end map.
Gal
There is more advertisements then play .. you changed it to every little chest ! This is crazy . used to enjoy your game !

I understand you need to do it . but its way too much
Match making
Why would you let me play against someone much better or much worst then I am??? Why would you match me with someone who has way better cards then I do? It's obvious I will lose and it's just as obvious I will win against someone who is 200/300 points under me!

It's so much more interesting to play against someone at my score level. Like in the waterfall world right now. Everybody is the same level
Get FRAG Pro Shooter from App Store
What is your opinion about FRAG Pro Shooter
Bitcoin
Ethereum
MetaMask (ETH)
Xrp
Polkadot
Binance coin
Stellar
Dogecoin
Tron
Elrond
Donate Bitcoin to this address
Scan the QR code or copy the address below into your wallet to send some Bitcoin
Donate Ethereum to this address
Scan the QR code or copy the address below into your wallet to send some Ethereum
Donate Xrp to this address
Scan the QR code or copy the address below into your wallet to send some Xrp
Donate Polkadot to this address
Scan the QR code or copy the address below into your wallet to send some Polkadot
Donate Binance coin to this address
Scan the QR code or copy the address below into your wallet to send some Binance coin
Donate Stellar to this address
Scan the QR code or copy the address below into your wallet to send some Stellar
Donate Dogecoin to this address
Scan the QR code or copy the address below into your wallet to send some Dogecoin
Donate Tron to this address
Scan the QR code or copy the address below into your wallet to send some Tron
Donate Elrond to this address
Scan the QR code or copy the address below into your wallet to send some Elrond