Geometry Dash SubZero game by RobTop Games AB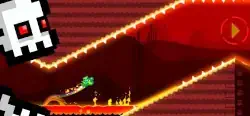 Game Description :
Geometry Dash is back with a brand new adventure!
Jump in, brace yourself, and get ready for a real challenge! This won't be easy…
Game Features :
Rhythm-based Action Platforming!
Three unique levels with amazing music from MDK, Bossfight and Boom Kitty!
Unlock unique SubZero icons to customize your character!
Use practice mode to sharpen your skills!
Challenge yourself with the near impossible!
Approved by RubRub
Additional Information :
Age Rating 4+
Size 134.1 MB
Requires iOS 10.0 or later.
User Reviews :
Great, But Needs Tweaking
All of these levels are very well designed very well, I like how in knock em in the last wave, 1st spider-2nd spider had that weird effect and I like the boss fight in press start even if it was very easy but here's the thing, I'm a mobile player and on knock em the 2nd coin with the ball, in yt vids it's shows a path but when I try it, it doesn't, And yes I have gotten the key on the ship part and it still doesn't work :/.Also I HATE how in power trip it makes you progress go backwards and how it constantly flips you, especially with the wave at the begging of the lvl. And when the jump pads constantly make you go flip flop. In a day in age where fortnite is the most popular game (I don't like it) That makes me like this game even more. if I had to rate the lvls I would rate 1: Knock Em 2: Press Start 3: Power trip. And also yes I have beaten every lvl with all 3 coins except for the ball with the invisible path for the 2nd coin in Knock Em… Even though this game has a lot of problems it's still a good game. Not as good as regular geometry Dash But 2nd best. 8.6/10 Also on power trip on the 2nd section I missed a green jump ring I my screen glitched so the robot I was using went out of the screen and I beat the lvl :/, I have beaten power trip ligit now but that was a weird experience.
Geometry fun
This is a good version of geometry dash press start is fun and catchy nock em witch i only beat in practice mode power trip is a harder difficulty and i hate the beginning because it makes you go flip flop like crazy and I really appreciate "mdk" and Bossfight for making these wonderful songs! The boss fight in press start is really fun even though it was super easy like there's no tomorrow also press start was too catchy i kept having remixes of it ALOT and i even told my neighbor about it we had played for a long time and i reviewed lots of games like Roblox and Pokemon this game was so fun i gave it a 5 star review Hahahha anyway more about the levels witch are hard but they are still fun again with press start i wish they released the full version of press start because i really want to play it there are also other levels that are remixes and one of them are called press start x and i tryed one of them and it was way too hard next to nock em was when it try's to smash you with the spikes then power trip the wave part is super hard I can't beat it i haven't beat it in practice mode yet and this is it for this review byeeeee
Please Read
Ok so this game is actually really fun and I honestly think that this game has better levels than the normal geometry dash. So the normal one costs money and my parents won't let me get games that cost money so I play it on my friend's iPad sometimes, but I have this one and geometry dash MELTDOWN. Subzero is fun because it has really good songs and better effects that the normal version. So does meltdown. I love this game. It is very enjoyable. I play it on the bus ride home from school. There are only a few bad things about this app. 1.) there's only three levels!!!!!! The fourth level is a "coming soon" sign. I've had this game for years and there has not been a new level for so long. It's getting really annoying. 2.) yk how you can change the look and colors of you little block thing, some of the colors and shapes are Only unlock-able in the normal game. 3.) the title screen music is the same as the normal version, same with meltdown. Maybe they could add a new type of title music? Alr that's it my friend. Hope you hall have a good day! Remember: you are all loved. ( TOTALY recommend this game btw)

Also in press start, somewhere in the middle of it, the background is red, an 8-bit skull pops up and says, " OH D*MN". Just a warning for little kids out there wanting to play this game.
Get Geometry Dash SubZero from App Store
What is your opinion about Geometry Dash SubZero
Bitcoin
Ethereum
MetaMask (ETH)
Xrp
Polkadot
Binance coin
Stellar
Dogecoin
Tron
Elrond
Donate Bitcoin to this address
Scan the QR code or copy the address below into your wallet to send some Bitcoin
Donate Ethereum to this address
Scan the QR code or copy the address below into your wallet to send some Ethereum
Donate Xrp to this address
Scan the QR code or copy the address below into your wallet to send some Xrp
Donate Polkadot to this address
Scan the QR code or copy the address below into your wallet to send some Polkadot
Donate Binance coin to this address
Scan the QR code or copy the address below into your wallet to send some Binance coin
Donate Stellar to this address
Scan the QR code or copy the address below into your wallet to send some Stellar
Donate Dogecoin to this address
Scan the QR code or copy the address below into your wallet to send some Dogecoin
Donate Tron to this address
Scan the QR code or copy the address below into your wallet to send some Tron
Donate Elrond to this address
Scan the QR code or copy the address below into your wallet to send some Elrond