Gardenscapes game by Playrix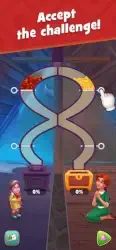 Game Description :
Welcome to Gardenscapes—the first hit from Playrix's Scapes™ series! Solve match-3 puzzles to restore a wonderful garden to its former glory!
Embark on an adventurous journey: beat match-3 levels, restore and decorate different areas in the garden, get to the bottom of the secrets it holds, and enjoy the company of amusing in-game characters, including Austin, your butler! What are you waiting for? Build your dream garden!
Game Features :
Unique gameplay: swap and match, restore and decorate the garden, and enjoy a novel storyline—all in one place!
Hundreds of unique match-3 levels
Dozens of in-game characters you can make friends with
A lovely pet that is always there to cheer you up
An in-game social network you can use to keep up on all the latest
Different areas in the garden with unique structures: broken fountains, mysterious mazes, and many more
A community that comes first—become neighbors with your Facebook friends!
Gardenscapes is free to play, though some in-game items can also be purchased for real money. If you don't want to use this option, simply turn it off in your device's "Restrictions" menu.
Enjoying Gardenscapes? Learn more about the game!
Facebook: www.facebook.com/Gardenscapes
Instagram: www.instagram.com/gardenscapes_mobile/
Twitter: twitter.com/garden_scapes
Questions? Contact our Tech Support at playrix.helpshift.com/a/gardenscapes/?p=web&contact=1
Privacy Policy: playrix.com/en/privacy/index.html
Terms of Service: playrix.com/en/terms/index.html
Additional Information :
Age Rating 4+
Size 283.2 MB
Requires iOS 11.0 or later
User Reviews :
Please fix
Great game, been playing for a couple years and is awesome at burning up time. I literally have only one complaint. I don't know if it's a phone issue or something else but whenever I leave the app, not close it, to check something else and come back it's always right where I was, either in the middle of a round or waiting somewhere in the garden to start the next round. However recently I have noticed that if I leave the app, not close it, I can open and use any app and come back to play where ever I left off except for when I open and use my camera. Once I've done that doesn't matter if I'm in the middle of a round or not the app completely reloads upon coming back to it like opening it it for the first time. Like I said I don't know if there is a way around this or if I'm just stuck with this issue or it's an issue that o my I'm dealing with, however with how long this game has been on the market and it's following it's odd to see that it doesn't have a refresh/resume option upon returning/re-opening the app, like a " would you like to continue where you left off " option like so many other apps on the market have. I don't know what it takes to add this or if it's even possible with this app but it's an issue/nuisance, especially if you invest a couple dollars into getting power ups to get you through a level or have beaten enough levels in a row to build up a nice bundle of free power ups ie the chest or magic hat.
Developer Response,
Hi!

Thanks so much for your review! We understand that this can be bothersome for some players To avoid this, we recommend you finish a level before you leave the game!

We appreciate all your feedback and support!
Mom, Counselor, Gardenscaper
I'm almost to level 10,000. The game has slowed down a bit. There are some levels that are pretty hard and I'll spend weeks on them, or buy the power up disk with extra firecrackers. This game got me through graduate school. It gave me the mental break I needed to refocus and get back to work.

I wish a couple of things were different. There used to be a place we could pick to watch ads to get more money. On a hard level, I'd spend days getting more coins through ads and more power ups and now I cannot have the ads. It would build up to lots of power ups and 900 coins so I could have extra lives and finally beat a level that took so long. It's not something I thought about for a long time because I would just play this game, but I recently downloaded another game and there are tons of Gardenscapes ads. We don't have ads…but you advertise.

Another thing, why aren't your loyal players given the chance to play mini games? I want to help the lady and her daughter stay warm after that jerk face ex ran off to marry someone else. The've never shown up in my play. All we have are those excursions that are impossible to beat without lots of money. I spend around $10 a month on my payday to play your game. I've been playing about 5 years and I did try to start a new edition of the game on the iPad so I could play mini games but it was so frustrating to start over. I linked my progress back to Facebook and the games were gone. 🙁
Developer Response,
Hi!

Thanks for sharing your interest in mini-games and ads. They are available to players, randomly chosen by our automated system from time to time and we hope you get to participate in another one soon! We can help retrieve your lost game progress Please get in touch with our support team directly and we will do our best to help!
Get Gardenscapes from App Store
What is your opinion about Gardenscapes
Bitcoin
Ethereum
MetaMask (ETH)
Xrp
Polkadot
Binance coin
Stellar
Dogecoin
Tron
Elrond
Donate Bitcoin to this address
Scan the QR code or copy the address below into your wallet to send some Bitcoin
Donate Ethereum to this address
Scan the QR code or copy the address below into your wallet to send some Ethereum
Donate Xrp to this address
Scan the QR code or copy the address below into your wallet to send some Xrp
Donate Polkadot to this address
Scan the QR code or copy the address below into your wallet to send some Polkadot
Donate Binance coin to this address
Scan the QR code or copy the address below into your wallet to send some Binance coin
Donate Stellar to this address
Scan the QR code or copy the address below into your wallet to send some Stellar
Donate Dogecoin to this address
Scan the QR code or copy the address below into your wallet to send some Dogecoin
Donate Tron to this address
Scan the QR code or copy the address below into your wallet to send some Tron
Donate Elrond to this address
Scan the QR code or copy the address below into your wallet to send some Elrond