ShiftKey – PRN Healthcare Jobs app by ShiftKey, LLC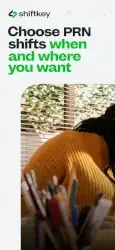 App Description :
ShiftKey gives you the FREEDOM to work when and where you want. Open up your world – and connect with available nursing, therapy, and dental shifts near you*.
App Features :
ShiftKey connects CNAs, LPNs, RNs, RTs, PTs and other healthcare professionals with open shifts at facilities in your area. Select the shifts you want to work and how much you want to make. ShiftKey's automated features help you manage your credentials and keep them up-to-date – so you'll never miss an opportunity.
* Not all specialties available in all states
WORK WHERE YOU WANT
Gain access to our nationwide network of clients with hundreds of PRN shifts in your area.
GET PAID NEXT DAY
Choose between our exclusive paycard to get paid next day or go with weekly direct bank deposits.
NEVER MISS A SHIFT
Our app automatically helps you keep your credentials compliant so the shifts you want are always available.
Healthcare Professionals have scheduled millions of hours throughout the US.
Join the movement!
Additional Information :
Age Rating 4+
Size 47.1 MB
Requires iOS 15.0 or later.
User Reviews :
I will never work full time CNA AGAIN!
I love everything about this app, especially love that they changed to daily pay using the pay card. Shifts are easy to pickup as well. BUT I do have a suggestion. I work nights (10pm-6am) and it's a little annoying to have to change the filter every time I open the app. It sets to 150 miles away and I have to change that every time as well. If that can be changed to where it keeps your filters rather than resetting every time, I would be fulfilled with the app. Or also when premium shifts pop up, if you can choose in the app to be notified about only the shifts that you want to be notified about. Ex. I work 10pm-6am, then I can set only premium shifts that pop up for that time as my notifications since the premium shifts show up aaallllll day (while I'm trying to sleep during the day).
Developer Response,
Hi there! Thank you for taking the time to write a review. We love that the ShiftKey app is able to provide great caregivers like you control of their schedule, flexibility and, ultimately, peace of mind.As a growing organization, we're always open to feedback & suggestions. You're feedback has been passed along to our Development team. Please feel free to email us at resolutions[at]shiftkey.com with any other suggestions that you may have!
Not sure how to feel
Haven't been able to secure a shift yet. Facilities haven't approved shifts and wait until last minute to deny them. I think they should make it rule where facilities have to approve or deny a shift no later than 8 hours before it's supposed to start. Tired of picking up five days in advance for a morning shift with no word or approval on if I'm working. Also tired of going to bed the night before and having to wake up early just to not have my shift approved. Also they need to add either the scheduler's or the DON's contact info. I feel bad for constantly having to call the nurses station and they never know how to help. The help option should be available 24/7. We work all hours of the day not just 9-5. Overall it's just really annoying trying to navigate. I shouldn't have to call facilities to have my shift approved they should be required to look at it as soon as they get it. I also don't understand the premium shifts. I understood they pay more because they're last minute help, but even those still take forever to be approved. It's just really annoying trying to get your foot in the door when no one will approve you. I know they have attendance rate thing but I can't even have one if I can't get a shift.
Developer Response,
Hello, Thank you for bringing this issue to our attention! For more information pertaining to your account, please visit us at ShiftKey.com and engage with one of our chat reps 24 hours a day, 7 days a week! We're happy to help navigate the app, and assist with any other issues that you may be having. Thank you for taking the time to leave a review and we hope to see you on the ShiftKey platform!
Developer response requested
I would like to say I use the app a lot and I am very familiar with the interface. I love what it has to offer. I have a valid suggestion that would benefit both the user and Shiftkey! I am a dual license holder, RN and LVN. The app allows you to only utilize one license. You can contact Shiftkey and request to be switched between license but if you have any current bookings the app will not allow you to work those and switch to the other license. On the next update please develop a way dual license holders (RN/LVN or CNA/CMA) can utilize the app with both license or certifications. This can maximize the usage for us dual license holders. Please feel free to reach out to me as I have seen this work seamlessly on similar nursing shift apps. Thanks for your time.
Developer Response,
Good afternoon!! Thank you for sharing your experience with ShiftKey! As a growing organization, we're always open to feedback & suggestions. We've passed along the feedback you have provided regarding using multiple licenses to our development team. If there is anything we can do to better your experience with ShiftKey, please let us know at resolutions[at]shiftkey.com.
Get ShiftKey from App Store
What is your opinion about ShiftKey
Bitcoin
Ethereum
MetaMask (ETH)
Xrp
Polkadot
Binance coin
Stellar
Dogecoin
Tron
Elrond
Donate Bitcoin to this address
Scan the QR code or copy the address below into your wallet to send some Bitcoin
Donate Ethereum to this address
Scan the QR code or copy the address below into your wallet to send some Ethereum
Donate Xrp to this address
Scan the QR code or copy the address below into your wallet to send some Xrp
Donate Polkadot to this address
Scan the QR code or copy the address below into your wallet to send some Polkadot
Donate Binance coin to this address
Scan the QR code or copy the address below into your wallet to send some Binance coin
Donate Stellar to this address
Scan the QR code or copy the address below into your wallet to send some Stellar
Donate Dogecoin to this address
Scan the QR code or copy the address below into your wallet to send some Dogecoin
Donate Tron to this address
Scan the QR code or copy the address below into your wallet to send some Tron
Donate Elrond to this address
Scan the QR code or copy the address below into your wallet to send some Elrond