AdventHealth app by Adventist Health System Sunbelt Healthcare Corp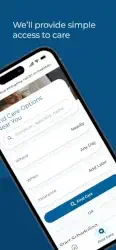 App Description :
AdventHealth's app offers a range of helpful features.
App Features :
See a doctor wherever you need one, no matter the time of day. Receive lab results in your pocket, renew prescriptions from the comfort of your couch, pay your bill conveniently and have your medical records at hand. You can even book an appointment while watching the big game.
A growing number of Primary Care Patients can chat with a Care Advocate to assist in many areas related to their health journey. Document your progress using the Health Journal or Health Tracking feature. Care Advocacy integrates the AdventHealth App with Apple Health Kit.
With AdventHealth's easy-to-use app, getting care on your terms is simpler than ever. Get the cure for the common app.
Additional Information :
Age Rating 17+
Size 207.8 MB
Requires iOS 16.0 or later.
User Reviews :
Best Patient Portal Hands Down!!
This patient portal is the most amazing one out there. You are able to navigate quickly and easily. When you log in you are give your custom portal that is linked to your physician. You don't have to rummage around to find your physician and then try to figure out how to do what you need to do. I love this app!! I feel so close to every aspect of my care as well as to my physician. When I send a message with a question or request, it is answered by my physician, not an automated service. I have even had my physician answer a question on the weekend!! Wow!! I only asked the question to be answered on Monday and to my surprise I had the answer within an hour. This app takes my care to a whole new level. I am so blessed to be a part of this through Advent Health.
Developer Response,
Thank you so much for letting us know, Sagiglio! We're happy to hear the app has been helpful and easy to use. – Emma
Nothing works
Recently downloaded this app at the request of AdventHealth's scheduling for my son to see the ortho after injuring his knee… they said fill out the papers in the app. Every page crashed. I couldn't even fill out half the papers. After we went to the appt, I only got one little printout with LESS THAN the bare minimum of info needed to make decisions for my son's care… they want us to use the app for everything from seeing his discharge papers (which that section doesn't work) to virtual visit in 2 wks for a follow up, which ALSO (surprise!) THAT section of the app doesn't work either!! Half the stuff I try to look at says to go on my computer to see because it's not optimized for the app. What?! I don't have a computer. This app is garbage and since dr's INSIST on pushing forward with putting all this info on technology… we the people who need the PAPERS, the physical appointments, the real life aspect of dr's… we get the short end. I might as well just delete this app because literally nothing works. Horrible. 0 stars. BRING BACK THE OLD WAYS OF APPOINTMENTS AND PATIENT MANAGEMENT.
AdventHealth app
As much as I'd like to give this app a good review, I just can't! It's far from user friendly, I have trouble getting in to the parts I need to use, I can't seem to find a way to get messages to Drs. other than Dr. Guthrie, and I usually have trouble even getting to him! My wife and I share an email address, and that fact seems to really throw your app for a loop! It can't seem to wrap it's brain around the idea that two people would want to share an address-share street addresses, why not share email addresses?

When I asked for help at a doctors' office, I was told to call the tech line, so I did. They told me I needed to ask my question at the doctors' front office, which I tried to do, and was told to call the tech line! Come on, people, get it figured out! If you want us to use your app, you'll need to make it usable!

BTW, I recently needed a surgery which had to be done at ORMC, and I needed to set up and use their app. It was so smooth, and so easy to use, it was actually usable! What a concept!
Developer Response,
We're very sorry to hear about the trouble you've had using the app, PedalerJim. We'd like to have our team look into the issues you mentioned. Would you please send us an email at techsupport@adventhealth.com with some more information? Thanks, Emma
Get AdventHealth from App Store
What is your opinion about AdventHealth
Bitcoin
Ethereum
MetaMask (ETH)
Xrp
Polkadot
Binance coin
Stellar
Dogecoin
Tron
Elrond
Donate Bitcoin to this address
Scan the QR code or copy the address below into your wallet to send some Bitcoin
Donate Ethereum to this address
Scan the QR code or copy the address below into your wallet to send some Ethereum
Donate Xrp to this address
Scan the QR code or copy the address below into your wallet to send some Xrp
Donate Polkadot to this address
Scan the QR code or copy the address below into your wallet to send some Polkadot
Donate Binance coin to this address
Scan the QR code or copy the address below into your wallet to send some Binance coin
Donate Stellar to this address
Scan the QR code or copy the address below into your wallet to send some Stellar
Donate Dogecoin to this address
Scan the QR code or copy the address below into your wallet to send some Dogecoin
Donate Tron to this address
Scan the QR code or copy the address below into your wallet to send some Tron
Donate Elrond to this address
Scan the QR code or copy the address below into your wallet to send some Elrond