Game of Song – All music games by Amanotes Pte. Ltd.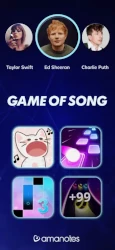 Game Description :
Experience the next level of Rhythm games with Game of Song. The music never stops on Game of Song land. Whenever you were happy, relaxed, or upset, just play the game and "rhythm" your mood.
Launch Game of Song and have great moments with our Music Game Hub. You can play a bunch of games in one place. No need to download multiple apps, all games in one!
Game Features :
Enjoy and play:
Top music games of all time: Magic Tiles 3, Tiles Hop, Dancing Road, and more!
New games update frequently.
Authentic games from Amanotes developer.
Battle mode available: Compete with other players and become the champion!
Join the biggest Music Gamehub:
Enjoy the music experience on our platform.
Find your favorite artists on Game of songs.
Top songs now available: Glimpse of us, Shiver, Made you Look, How you like that,..
All music genres: Pop, EDM, Alternative, Rock N Roll, Dance, Country, Jazz, Ballad, Classical, Chill, Blues, R&B, and more.
Discover playlists from your favorite singer:
You can find Billboard hot 100 artists here: Ed Sheeran, Sia, Black Pink, Joji, Charlie Puth, Taylor Swift, and more.
Hundreds of the best artists today have collaborated to make the ultimate playlist.
New and top-hit songs will be updated in frequency.
Game of songs makes your favorite songs unforgettable.
Go viral:
Climbing your way up on the leaderboard and beat all the challenges.
Get the premium subscription
No Ads. No Disturb.
Unlock 1 Million songs and the hottest artist.
Free Revives. Nonstop playing.
Let the Music touch and heal your soul. Gamify your Music experience, and never get bored with Game of Song – Music Gamehub. Get your mood uplifted at the funniest time of the year!
Important note:
Game of Song is compatible best with iPhone 6s and above. Playing with the lower version can lead to low performance.
Terms and conditions: www.amanotes.com/gos-term-and-conditions
Privacy policy: www.amanotes.com/gos-privacy-policy
Support email:
dat.tq[at]amanotes.com
support[at]amanotes.com
Additional Information :
Age Rating 4+
Size 324.3 MB
Requires iOS 13.0 or later.
User Reviews :
Wow so awesome!!
I absolutely love this app but there were some issues I am having idk if it's just me or…? The problem I'm having is that I cant upload a photo from my photo library:( but that's about the only problem I'm having other than that there are so many options to play and you can go against people and so much more in one app than if you were to get all of the games inside of this one! VIP if prettyyyy expensive tho- (3.99 a week) but you can still play the game perfectly fine without VIP unlike some games where to actually play the game you HAVE to buy vip or things that cost money but either way I do have some recommendations for things that I believe should be added for example- I think when you are going against someone and you lose I think there should be a way to watch there screen and I also think they should add a way to make friends and be able to add ppl so you can keep up with them in a way so you could complete with them or if you have a family member or a friend in rl you could add /AKA/ friend them. But that's just my opinion I totally recommend this game of you need something to keep your fingers moving, if you love music, if you like competition, ECT!! This game is so fun I love to play it all the time!
My personal favorite but one thing…
So this game is my personal favorite, and I love how I don't have to download all those other apps, because I can just get this, but there a little to many ads, and that's ok but still. Also one the bright side I don't have to watch an ad to unlock songs! (Unlike tiles hop where you have to pay money) So game creators pleas please lower the amount of ads because it's starting to get a tiny bit annoying, and one more thing, when you like like touch the wrong ball in like dancing road, it's the tiniest bit to dramatic, but again that's alright, and it's my favorite game of all time!! Like seriously consider downloading this, it's a great game so that you don't have to download all the music apps, seriously if I hadn't found about this soon I would have all my storage GONE, I mean it, so download this because it's really fun, and some of it can be relaxing, (like really relaxing) so yeah download, and game creators if you can work on the ads stuff. Thank you, have a good day!
Awesome game, except for the glitches that ruin it
I love this game… except for the glitches. So sometimes when I'm trying to play a song it will get half way to three quarters of the way loaded then it will pause second then say "Couldn't load song please select a different song" and it will do this for almost any song. And it will do this for competitions to, so I can't even join even if it's my favorite song. Then there's also a game where no matter which song it will do this immediately and I'm like, seriously phone you're not even trying. Then for the times where I can get into the song half way through it will just stop playing the song at all which ruins the whole point of the game, and one of the songs they removed from the magic tiles 3 app itself (which doesn't glitch for me) so I can't even play it anymore which makes me really sad and very much discourages me to actually finish the song since I'm basically just taping random rectangles or moving a ball onto a platform, anyways I don't know if anyone else has these problems or if it's just me but PLEASE FIX THIS. Other than that I would rate this five star, thank you for reading this whole thing and other than that it's an amazing game but yeah I guess that's all so bye.
Get Game of Song from App Store
What is your opinion about Game of Song
Bitcoin
Ethereum
MetaMask (ETH)
Xrp
Polkadot
Binance coin
Stellar
Dogecoin
Tron
Elrond
Donate Bitcoin to this address
Scan the QR code or copy the address below into your wallet to send some Bitcoin
Donate Ethereum to this address
Scan the QR code or copy the address below into your wallet to send some Ethereum
Donate Xrp to this address
Scan the QR code or copy the address below into your wallet to send some Xrp
Donate Polkadot to this address
Scan the QR code or copy the address below into your wallet to send some Polkadot
Donate Binance coin to this address
Scan the QR code or copy the address below into your wallet to send some Binance coin
Donate Stellar to this address
Scan the QR code or copy the address below into your wallet to send some Stellar
Donate Dogecoin to this address
Scan the QR code or copy the address below into your wallet to send some Dogecoin
Donate Tron to this address
Scan the QR code or copy the address below into your wallet to send some Tron
Donate Elrond to this address
Scan the QR code or copy the address below into your wallet to send some Elrond