(App) FortBox for Fortnite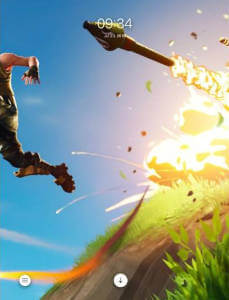 App Description :
Drop in and check out all the latest Fortnite wallpapers today!
App Features :
The Fortnite Wallpapers app offers a massive collection of HD backgrounds from the #1 Battle Royale 100 player survivor game. The Fortnite Wallpapers app compiles a massive collection of free stunning backgrounds from the last man standing game. Whether it be different areas of the map, cool skins, esports, guns, gameplay or crazy buildings, the Fortnite Wallpapers app offers tons of exciting views of the game, including the Save the World campaign. Take a break from completing your season weekly challenges and Battle Pass to explore this wide selection of wallpapers.
Let the dance battle begins!
Learn all the super cool moves and show them off to your friends!
Or you can even send a dance to your friends to cheer them up .
The possibilities are unimaginable, simply just go with the flow!
Portions of the materials used are trademarks and/or copyrighted works of Epic Games, Inc. All rights reserved by Epic. This material is not official and is not endorsed by Epic.
Additional Information :
Size 225.1 MB
Requires iOS 11.0 or later.
User Reviews :
The best fortnight wallpaper
So I was on my phone then I saw this app and I was like hmm I am looking for wallpapers then when I got it I was like omg other people should know about this and I told my brother and he said so cool I told my big sis so now we all use this app to look for a new wallpaper
Amazing
It was an amazing app there is a dance that I would like to be put it there emotes it is scenario if you read this can you add scenario pls thank you have a great day
Gg
Ghetto is the one I have ever had to do that and then you can get it from the house or the other place and then I can just say I don't know how much it would cost me and then you have a new car to go with me then I have a car car then you have a problem then you have a lot to tiko and then you can get it done then I have a lot to tiko and I can have you come get it and I have a car I
Great App! But…
I love this app! Its so fun to browse through wallpapers and emotes! But the problem is it needs to be updated to season 5 and a lot of emotes start on the wrong part of the song, please fix that! Although its awesome!
Love you guys I hope you feel well you're going to love you
Best game I've ever played so nice I love my new wallpaper
Amazing app for wallpapers
This app is amazing for wallpapers if you are looking for a fortnite wallpapers this it the wallpapers are in amazing graphs I suggest getting it it's worth it
I love it
You can take pictures and see cool stuff
Best wallpaper ever
Thank you for making this app I really appreciate the effort thanks by jordyn Widdifield
Great app
I got the app just for the soundboard and the soundboard is great then I realized that there are wallpapers and the wallpapers are also great
I Love this app
I love it how long did it take to this????
Good game for people who like this.
I play FORTNITE so it is a good game for me but i play FORTNITE so other people that play this app might not have fun playing FORTNITE
I really love it
I love it they have fortnite videos,wallpapers,dance emotes,
Fortnite
I like it because the lava is cool and the is awesome.
I love fortnite
I learn skins I didn't know about #I love Fred
Review
It is pretty good. Barely any problems
I love the wallpapers and skins
FortBox
It has so many cool wallpapers
Good
Gooooooooooooooood app has good graphics
Fortnite
U are the best app ever!!!
You don't have all the skins
Get FortBox for Fortnite from App Store
What is your opinion about FortBox for Fortnite
Bitcoin
Ethereum
MetaMask (ETH)
Xrp
Polkadot
Binance coin
Stellar
Dogecoin
Tron
Elrond
Donate Bitcoin to this address
Scan the QR code or copy the address below into your wallet to send some Bitcoin
Donate Ethereum to this address
Scan the QR code or copy the address below into your wallet to send some Ethereum
Donate Xrp to this address
Scan the QR code or copy the address below into your wallet to send some Xrp
Donate Polkadot to this address
Scan the QR code or copy the address below into your wallet to send some Polkadot
Donate Binance coin to this address
Scan the QR code or copy the address below into your wallet to send some Binance coin
Donate Stellar to this address
Scan the QR code or copy the address below into your wallet to send some Stellar
Donate Dogecoin to this address
Scan the QR code or copy the address below into your wallet to send some Dogecoin
Donate Tron to this address
Scan the QR code or copy the address below into your wallet to send some Tron
Donate Elrond to this address
Scan the QR code or copy the address below into your wallet to send some Elrond