(App) FloatMe – Payday Cash Advance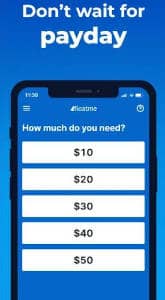 App Description :
Pay bills, pay rent, or buy groceries. Get cash when you need it most. No credit check and no interest.
App Features :
FloatMe does not support Chime, Varo, or prepaid cards at this moment.*
The best friend your bank never had.
Access to cash when you need it most.
Stop overdrafts.
FloatMe helps hard-working employees get ahead on their finances with overdraft alerts and access to emergency cash.
For just $1.99/ mo, plus a free 30-day trial, you can access a variety of features, including small cash advances of up to $50, overdraft alerts, and FloatMeEDU.
Our advances are interest-free, our sign-up process is simple, and we work with Bank of America, Wells Fargo, Chase, Navy Federal Credit Union, USAA, and over 9,600+ more banking institutions to make the process as seamless as possible using 256-bit bank-grade security.
Get started with a free trial in just 2 minutes.
Our mission is to help people make better financial decisions and this is just the start. Welcome to a better financial future with FloatMe!
Questions?
You can contact us through our support portal at floatme.zendesk.com
Additional Information :
Size 118.8 MB

Requires iOS 10.3 or later.
User Reviews :
Not there when you need it most
There are times when my main accounts get SO low (we're in the middle of a pandemic) that and extra $20 offered by FM would make all the difference in the world. It could feed us and allow us a couple of dollars of gas. In my circumstance,only reason for accessing apps such as float Me is to get that receive and that $20 last a couple of days until my scheduled payday. With the restrictions shown on the app with regard to bank balances, that check to see if you have money in your account or not, will automatically deny your request for a $20 float. The irony is that if I HAD money in my bank account, the necessity to use Float Me wouldn't exist. As a frequent user, Float Me needs to update their rules in order to help those of us who do not currently have money in their account for a couple of days until payday. We are struggling out here and that $20 could and does keep us from struggling or literally being hungry. My opinion? A bank balance containing cash makes using Float Me rather redundant. This rule should be rethought. This app is useless if a zero balance is the determining factor Thanks for taking the time to read my opinion.
Developer Response ,
Hi Daphne, thank you so much for your valuable feedback! We've lowered the required bank balance to -$20 to request a Float. If you have any more feedback or concerns, we'd love to hear it at floatme.zendesk.com; we're always looking for ways to improve
Account
I had closed my account because I couldn't get a hold of anyone because I had switched to a new bank account. I was receiving money into my new account from Float Me but about a week ago I was told there were no deposits from my payroll found in my account. By this time I was already on two deposits into the new account and the Friday in the same week would have been my third deposit. I didn't understand why I could receive floats in my new account but when I tried to take another out they couldn't find new deposits from my payroll there was already two deposits from them. That same week would have been three reoccurring deposits. For the record, $1.99 was taken out of my bank account for Float Me Services's can my account be unblocked? I paid already and cannot use the service.
Developer Response ,
Hi Burse88, thank you for reaching out. We unfortunately are having a hard time identifying who you are. Could you please submit a support ticket to us with "burse88" as the subject line? A member of our team will be happy to look into this for you. Tickets can be submitted at floatme.zendesk.com

Thank you for being part of our community!
Good in a pinch for small needs, but the fee needs to GO
I only receive $20, I wish it was more but it's better than nothing, right? I'd give it 5 stars if that were the case, and also they charge $4 for an instant float, which I think is a pretty steep charge for $20. $2 would be sufficient, I feel like it's kind of taking advantage of people who really need the cash, especially in the COVID era. I will keep using it though, and so will people like me, which is what this company knows, which is why they charge the steep fee. I'f they raised it to $6 people would still use it, unfortunately, because people like me really do need emergency cash. Maybe I should start my own similar business and only charge $1 for instant cash, or utilize other means to get the instant cash, like completing a survey, or completing certain tasks or what not. Check on me in a year, I may just be rich with my fantastic ideas!! Until then, I will still be getting price gouged on these sites 🙁
Developer Response ,
Hi Melissa, thank you for your feedback! We unfortunately are not able to find any users or support requests matching this name. The FloatMe membership provides free Standard Floats. In addition, members can also choose to use Instant Floats; which have a small transaction fee due to the higher transaction costs. Please contact us at floatme.zendesk.com if you have anymore questions or concerns.
Get FloatMe from App Store
What is your opinion about FloatMe
Bitcoin
Ethereum
MetaMask (ETH)
Xrp
Polkadot
Binance coin
Stellar
Dogecoin
Tron
Elrond
Donate Bitcoin to this address
Scan the QR code or copy the address below into your wallet to send some Bitcoin
Donate Ethereum to this address
Scan the QR code or copy the address below into your wallet to send some Ethereum
Donate Xrp to this address
Scan the QR code or copy the address below into your wallet to send some Xrp
Donate Polkadot to this address
Scan the QR code or copy the address below into your wallet to send some Polkadot
Donate Binance coin to this address
Scan the QR code or copy the address below into your wallet to send some Binance coin
Donate Stellar to this address
Scan the QR code or copy the address below into your wallet to send some Stellar
Donate Dogecoin to this address
Scan the QR code or copy the address below into your wallet to send some Dogecoin
Donate Tron to this address
Scan the QR code or copy the address below into your wallet to send some Tron
Donate Elrond to this address
Scan the QR code or copy the address below into your wallet to send some Elrond