(Game) Obey Me – Anime Otome Sim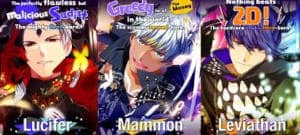 Game Description :
Get ready for some ikemen anime games!
This otome game dating simulator will blow your mind.
Time to experience some anime love.
Game Features :
A Brand New Gaming Experience
What if the characters could come by your side, laugh and cry together with you, and become your friend?
Obey Me! is a simulation game that makes the characters a part of your everyday life.
You regularly get text messages and phone calls from the charming characters.
There is an intimacy level system in the game. The way you interact with the characters will affect your relationship with them.
There is no gender selected for the main character, so anyone can play.
Story
Become the master who brings the handsome demon brothers down to their knees and enjoy life at the Academy in the Devildom!
You have been selected to become an exchange student at RAD, a school for demons. Awaiting you are 7 demon brothers and a mountain of tasks…?!
There is only 1 rule you have to remember to survive…
One Master to RULE them all!
Entertaining Card Battles
Evil demons in the Devildom are after your soul! With the help from the 7 brothers, you can defeat them in an exciting card battle. Choose your own team and see the different chibi characters appear on-screen as you listen to the music that varies each stage. Collect cards, level them up, and win the battles!
VIP membership (Subscription)
・Pricing and membership period
$9.99/month
Your subscription will automatically be renewed 1 month after the start date.
・Automatic renewal
If you do not cancel the paid VIP membership or free trial at least 24 hours before the subscription's expiration date, your subscription will automatically be renewed. You will be billed for the automatic renewal within 24 hours of the subscription's expiration date.
・VIP membership benefits
VIP login bonus!
Your maximum AP will increase by 20.
You will get 2 extra slots in 😀 JOBS!
Higher drop rate in 😀 JOBS!
Gain access to VIP-exclusive items in the shop.
・Billing
Your Apple account will be charged when making a purchase.
・Free trial period
The free trial period is 7 days.
Only first-time subscribers are eligible for the free trial.
・If you cancel your subscription before the renewal date, you will still be able to enjoy the benefits until the end of your membership period.
・To find out more about payment and cancelation, please open the game and go to Options > Help > FAQ.
・If you change to a different platform and wish to subscribe to the VIP membership again, please cancel the membership on the platform you previously used before subscribing again.
・You can confirm the VIP membership period as well as cancel automatic renewal for your subscription in Options> iTunes & App Store > Apple ID > View Apple ID> Subscriptions
Privacy Policy: www.nttsolmare.com/e/privacy/
Terms of Use: shallwedate.jp/en/fb/terms_of_use_obeyme.html
Official Website
Get the latest news on "Obey Me!" from our official website.
shallwedate.jp/obeyme/en/
SNS
Facebook: www.facebook.com/obeyme.solmare/
Twitter: twitter.com/ObeyMeOfficial1
Instagram: www.instagram.com/obey_me_official/
YouTube: www.youtube.com/channel/UCuc9VahafB1dWv7mUX5X_ZA
This app is compatible with:
iOS 11.0 or later
For best results, we recommend playing this app with:
1. An internet connection with a download speed of 2 Mbps
2. A device with more than 2 GB RAM:
iPhone 6s (2015) or newer
iPhone 6s plus (2015) or newer
iPad Air 2 (2014) or newer
iPad mini 4 (2014) or newer
Obey Me! is recommended for those who…
Want to play an otome dating sim with a love story about ikemen.
Are looking for a brand new anime otome dating sim.
Want to have a relationship with ikemen demons in a lovely anime otome dating sim.
Are interested in playing an anime dating sim
Have played other anime otome games, dating sims or otome roleplay before.
Additional Information :
Size 201.8 MB
Requires iOS 11.0 or later.
User Reviews :
SO ADDICTING, I LOVE IT
I love everything about this game. You can get devil points and grim so easily and you don't have to spend actual money! Not only that but they can text and call you!! You can also replay the texts or calls to listen to them over and over again! You can interact with the characters and the game is gender neutral so it can be for anyone!!! another thing I love about the game is that the home screen is like an actual phone and there are different apps. Some of the apps on the phone are based off of real apps. Not only that but when you have a choice you don't have to pay something for the choices and they are free. There are also events that you can play which is different from the main story and you can obtain cards or outfits or even backgrounds to customize the characters in the game itself to your liking. Also one of the newer things in this game is that you can date the other characters and it's not just the seven demon brothers. Something new that I recently found out was that in Devilgram for the stories or for like certain cards, the voice actors will say the entire sentence instead of just making a sound!!! One thing that I would really like added to this game is to be able to see your friended peoples Home Screen. I think that would be really cool and I would be able to see my friends home screen and what it looks like. I love this game so much and I got my friend to play it and she is also addicted. THANK YOU SO MUCH FOR THIS GAME
Amazing
This game is sooo addicting I never leave it alone and when I can get devil points so easily and story keys not to mention grimm is so amazing. The grimm and devil points take time but totally worth it the story is so amazing honestly Im on lesson 16-17 and it was such a plot twist. The creators deserve so much love and the toxic fans just lost an amazing game. I hope this game gets so many more downloads I cant believe the people who think the rumours and things on how Leviathan is a lolicon or Pedo is just so wrong if they payed attention they would know he isn't. This game deserves so much love and even if I get random notifications voiced is so cool even if they come at the wrong time LOL. I still can't believe what happened with Leviathan though as long as I don't undownload this game I'm fine. I took time out of my day to write this review and I don't regret it cause this game deserves more hype except the toxic fans can leave they don't deserve this wonderful game. Although if there was also a route to be able to hang out with the side characters more would be amazing like Simeon,Lord Diavolo,Luke,Solomon, and Barbatos. Other than that this game is so amazing deserves so much more love…I hope this game can becomes even better this is my first otome game and I love it. I totally think others should download it if they aren't rude and toxic like the ones who whitewash mammon,simeon,and lord diavolo and the people who think leviathan is a lolicon/pedo.
Get Obey Me from App Store
What is your opinion about Obey Me
Bitcoin
Ethereum
MetaMask (ETH)
Xrp
Polkadot
Binance coin
Stellar
Dogecoin
Tron
Elrond
Donate Bitcoin to this address
Scan the QR code or copy the address below into your wallet to send some Bitcoin
Donate Ethereum to this address
Scan the QR code or copy the address below into your wallet to send some Ethereum
Donate Xrp to this address
Scan the QR code or copy the address below into your wallet to send some Xrp
Donate Polkadot to this address
Scan the QR code or copy the address below into your wallet to send some Polkadot
Donate Binance coin to this address
Scan the QR code or copy the address below into your wallet to send some Binance coin
Donate Stellar to this address
Scan the QR code or copy the address below into your wallet to send some Stellar
Donate Dogecoin to this address
Scan the QR code or copy the address below into your wallet to send some Dogecoin
Donate Tron to this address
Scan the QR code or copy the address below into your wallet to send some Tron
Donate Elrond to this address
Scan the QR code or copy the address below into your wallet to send some Elrond