(App) FlipaClip – Create 2D Animation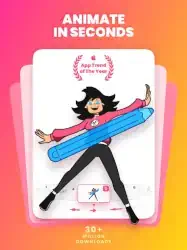 App Description :
Bring animations to life with the new and improved FlipaClip, perfect for pros and newcomers alike! Check out our new home page, animation tools & more and get inspired!
Animate your dreams and bring them to life! FlipaClip's powerful and fun animation tools make frame-by-frame animation easy.
Make amazing animations with the newly redesigned FlipaClip! Track your projects with a beautiful new home page and easy stacks, switch between light and dark mode, and discover new possibilities from FlipaClip video creators.
Join our growing community of animators and artists creating unique and exciting animations every day! Share your creations with the world on YouTube, Instagram, TikTok and other popular platforms, and search for FlipaClip animations to get inspired!
Whether you're sketching, storyboarding, animating or learning, FlipaClip provides the best drawing and animating experience. The simple and intuitive controls are easy to learn and powerful enough to bring your ideas to life!
Learn frame-by-frame animation, draw pictures and turn them into animated gifs, or draw over videos to create a rotoscope video. Quickly select content with the lasso tool and adjust the colors easily with the new paint bucket.
Check out your animation frame by frame or jump to the beginning or end with a tap. You'll be creating animated videos and cartoons like a pro with FlipaClip!
FlipaClip comes with everything you need to start animating. Draw cartoons with frame-by-frame animation to bring them to life, add audio (including up to eight tracks!) and share your animated works with the world!
Challenge your animation skills and participate in our contests! You could win exciting prizes just by having fun!
Download FlipaClip today and start animating!
App Features :
DRAWING TOOLS
Draw with practical tools like Brushes, Lasso, Fill, Paint Buckets, Eraser, Ruler shapes, and insert Text with multiple font options all for free!
Custom canvas sizes – up to 1920×1920!
Apple Pencil is supported.
ANIMATION LAYERS
Use up to 3 layers for free!
Go pro and add up to 10 layers!
Yes, we've listened to you and added more layers but please note app may experience performance issues after adding more than 6 layers.
ANIMATION TOOLS
Animating frame-by-frame is super easy with an intuitive animation timeline and practical tools
Onion skin animating tool
Frames viewer
Overlay grids to guide your animations
Back/forward animation controls
And more!
ADD AUDIO
Easily add and edit audio clips using up to eight audio tracks for free.
Add dialogue to your animation with voice recording!
Import your own audio files for a low cost.
Get creative with our popular curated sound fx audio packages.
INSERT IMAGES & VIDEOS
Animate images you import or draw on top of your videos.
Add rotoscopes to your videos.
Drag and drop images on your canvas. (Only on iPadOS 11 and higher)
MAKE MOVIES
Save your animated movies as MP4 or GIF files.
PNG sequences with transparency are supported.
Post your animated videos to YouTube.
SHARE MOVIES
Share your animation anywhere!
Post to TikTok, YouTube, Instagram, Facebook, or Tumblr.
• Discover videos by FlipaClip creators and get inspired!
CONTEST EVENTS!
Participate for free in all kinds of challenges we put out.
Win exciting prizes while having fun!
GET INSPIRED
See what FlipaClip users are creating! Search #FlipaClip on Instagram, or find these creators featured in our App Store screenshots:
@harshit0325
@t_.man
@fr0stz_
@all_dat_mani
@lambtarl
And more!
Follow us on Instagram:
www.instagram.com/flipaclip/
Subscribe to our YouTube channel:
www.youtube.com/flipaclip
GET SUPPORT
Have any app issues or want to share ideas?
Go to  support.flipaclip.us/
Additional Information :
Size 126.1 MB
Requires iOS 12.0 or later.
User Reviews :
An amazing app, just a few more suggestions that could make it better…
I've been using FlipaClip for about a year now and let me just say this is one of the BEST mobile animating softwares. There is a pretty much easy to use UI and and many good features like adding sounds and videos/pictures. What I think that would make FlipaClip much of an easier app to edit animations further, is by adding a blur pen tool, that allows you to blur anything at any opacity. This would definitely save more time from shrinking and blowing up drawn images to blur them. Another thing that should be added is a camera pan and zoom. This can make an animation that looks flat, look more realistic! I know that FlipaClip isn't specifically made for editing animations, more so creating them, but it would be very awesome to have. I also know that this would take lots of time to program, which is why blur tool and specific functions of the camera pan and zoom could be bought in a bundle pack! One last thing that would make our animations look better is a tool that allows our lines to be straighter. Sometimes I will draw a figure and the lines of it would look scraggly so this would also really help! This could also be part of a flipaclip bundle pack. Overall, though, the app is a very great one, and I recommend this to all beginners out there! It's actually really good for average animators out there as well. I really hope you guys notice this and I want to thank you for this amazing app
Developer Response,
Thank you for your detailed review of FlipaClip. It is very much appreciated. Feedback like yours is a great help for us to know what our users want in the app. We will review this in detail with our development team for consideration. If you have any other suggestions we would love to hear them! If you haven't already joined, please come visit our community ( discord.gg/flipaclip) and share your ideas in our App Suggestions channel!
Best App Ever
This app is so amazing and useful if you want to be good at animating, especially because it has layers, and if you have the premium version like me, it can also give you the option to add an unlimited number of layers instead of just 3, I also like that they have onion skin, which is a ghost version of the previous drawing if you didn't know, and not only that, but it can also be colored red and green depending on how you set the "layers before" and "layers after" thing higher, there is just one more thing that I'd like to mention, I can do other cool things like adding voice, music, or just any old type of audio from my files, and I can copy keyframes very easily, and if you guys have that problem where you end up not copying every single layer, you can always hold a keyframe down and then you'll have the option to add a frame onto the next frame or the previous frame and even add a blank frame on the next frame or previous frame, this is a perfect way to add in -betweens on your animation, so anyway, that's it for my rating. I would like to suggest a few things for an update, for example, when you use the fill bucket tool, you can decide how transparent the color will be. I'd also like to make a suggestion, I was thinking it would be a good idea to add a button that says " lip-sync". When you press that button, the app listens to the audio you added to your animation, and then it adds a set of mouths that will match the sound you're making.
Developer Response,
Thank you for your detailed review. Feedback like yours is a great help for us to know what our users want in the app. We will review this in detail with our development team for consideration. Do you have more suggestions? Come visit our community ( discord.gg/flipaclip) and share your ideas in our App Suggestions channel!
Get FlipaClip from App Store
What is your opinion about FlipaClip
Bitcoin
Ethereum
MetaMask (ETH)
Xrp
Polkadot
Binance coin
Stellar
Dogecoin
Tron
Elrond
Donate Bitcoin to this address
Scan the QR code or copy the address below into your wallet to send some Bitcoin
Donate Ethereum to this address
Scan the QR code or copy the address below into your wallet to send some Ethereum
Donate Xrp to this address
Scan the QR code or copy the address below into your wallet to send some Xrp
Donate Polkadot to this address
Scan the QR code or copy the address below into your wallet to send some Polkadot
Donate Binance coin to this address
Scan the QR code or copy the address below into your wallet to send some Binance coin
Donate Stellar to this address
Scan the QR code or copy the address below into your wallet to send some Stellar
Donate Dogecoin to this address
Scan the QR code or copy the address below into your wallet to send some Dogecoin
Donate Tron to this address
Scan the QR code or copy the address below into your wallet to send some Tron
Donate Elrond to this address
Scan the QR code or copy the address below into your wallet to send some Elrond