(Game) Cashier 3D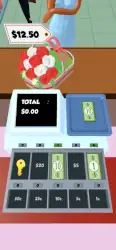 Game Description :
Would you like to run your own store and be a manager? It's super fun and easy with Cashier 3D which is a supermarket simulation and cashier simulation!
Game Features :
Forget all other restaurant management and hyper job games you've played before, Cashier 3D is the best hypermarket simulation game! You'll enjoy buying and selling items as your store grows and customers come in!
In this game you are a supermarket cashier in a supermarket mania! So do not keep your customer waiting too long! Manage your cash register correctly and count money quickly! Get ready to be rich and upgrade your store. Just like idle supermarket games, your customers are in a race, running around the store looking for more! Sell old items and buy new ones. Unlock new 3D items; grocery, games for kids, fruit ranch, booze, phone charge, instruments for sale, selective clothes and designer shoes!
Imagine the registers in a store or bankers, they are so good at counting money. Cashier 3D is also a super fun money game for kids to learn counting money and calculating change. Just like a hyper teacher.
Join our cashiers, become the employee of the month, and show them who's the best hypermarket manager!
Additional information :
Size 472.1 MB
Requires iOS 10.0 or later.
User Reviews :
Great game but…
This is game is fun, entertaining, and some what educational. I usually play it in my free time, but there is one issue. The Ads.

I didn't expect much because games like this usually have many ads, but this is a bit far. After almost every customer is an ad. And if you try turning on airplane mode it doesn't help. This game has far to many ads and it gets highly annoying at times.

It's still a good game. It's simple but it's time consuming. I truly do like the game and I do recommend it, but the ads bother me a lot. And not to mention I haven't even seen something that lets you pay to remove the ads. Great game, but the ads went too far.
Helps with math a lot
I love this game! It helps me with my math I'm one of these ppl that are learning about it so it's very helpful I literally just downloaded this a bc d it's amazing here are some cons and pros. Pros I like that the price the person asks for and you help them you get the same amount of money that they asks for for the item! Also it definitely helps my math pro number 2… I like that there are VIP customers who will pay a LOT of money for there items and all that money goes to you amazing! 3rd and last pro… i love the way you can make you building better and that you can unlock stuff just by playing!! Cons… lol there are no cons I love the game so much it's addictive parents if y'all are reading this I wanna say that this is not a inappropriate game it is very fun helps with math and you don't get bored easily super fun I definitely recommend this app for anyone who likes math or needs a little help bye thx for reading my review
No Ads? Yeah right.
The game is fun, but very annoyed that I purchased the no ads upgrade and I'm having to sit through just as many ads as before or I'll lose things. You have to watch an ad to welcome a celebrity. You have to watch an ad if you want to triple any winnings. You have to watch an ad to start special levels. You have to watch an ad to get your tips. And when you do need to watch an ad, half the time it gives you an "ad not ready" message and you need to hit the button a dozen times before one pops up. Plus it's the same ad over and over and over again. I've gotten Project Makeover ads a couple dozen times in a row now. I pay to remove ads so I can have a quick game on my lunch break, not so I still have to sit through ads and fight to bring one up. Feeling ripped off.
Overall good, just needs a few changes
This is one of the few mobile app games that I can say is at least a little fun. While I do enjoy the concept and the content, I've noticed that it gets repetitive. I haven't played more than 15 levels, but the confetti after every single customer seems to be a little much. I also think that the game would be more interesting if there was someway you could fail, and it's be even better if there were multiple customers in a single level. I will reiterate that I haven't played more than 5 minutes, so the game could give me more than expected later on, but this is my first reaction to it and I wanted to share it.
Get Cashier 3D from App Store
What is your opinion about Cashier 3D
Bitcoin
Ethereum
MetaMask (ETH)
Xrp
Polkadot
Binance coin
Stellar
Dogecoin
Tron
Elrond
Donate Bitcoin to this address
Scan the QR code or copy the address below into your wallet to send some Bitcoin
Donate Ethereum to this address
Scan the QR code or copy the address below into your wallet to send some Ethereum
Donate Xrp to this address
Scan the QR code or copy the address below into your wallet to send some Xrp
Donate Polkadot to this address
Scan the QR code or copy the address below into your wallet to send some Polkadot
Donate Binance coin to this address
Scan the QR code or copy the address below into your wallet to send some Binance coin
Donate Stellar to this address
Scan the QR code or copy the address below into your wallet to send some Stellar
Donate Dogecoin to this address
Scan the QR code or copy the address below into your wallet to send some Dogecoin
Donate Tron to this address
Scan the QR code or copy the address below into your wallet to send some Tron
Donate Elrond to this address
Scan the QR code or copy the address below into your wallet to send some Elrond