Fill The Fridge game by Rollic Games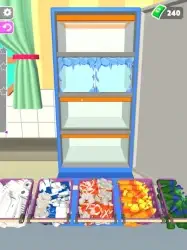 Game Description :
Now that you have completed your supermarket shopping, are you back home and ready to fill the fridge? Amazing! Start filling using different objects, groceries, beverages and many more items in fridge shelves and try to fit them all. Empty your shopping baskets one by one, find perfect spots to sort and fridge restock to play however you like!
Game Features :
Fill The Fridge! is a real life sorting game and a puzzle game with a fun kitchen team for you to play! Fridge organizing is a tricky business but extremely fun! This is
Brain teasing fridge organization
Unlock delicious foods and more items
Satisfying Refill Feeling
Amazing ASMR Experience
FILL IT ALL THE WAY UP!
This is one of the coolest organization games and after playing this game, you will love to restock, sort and boost up your refrigerator game!
Additional Information :
Age Rating 12+
Size 306.2 MB
Requires iOS 12.0 or later.
User Reviews :
I don't know if this is still going on
So this is five stars due to have much it calms me down to the point where I would never consider deleting it if I had to delete a mobile game, though there are many nitpicks I have, though I am writing this review BEFORE I check the update, I have noticed when I place a item down it will not go down in the place I'm clicking, then only after trying to remove it it will not go back into the bin but rather as in trying to take it down- it will make the stars go down and if I do it enough it will take me as a starter and NOT go up if i place another item. Another thing is if you remove items it takes your money which I think is incredibly annoying and frustrating seeing as the whole game is trying to fit stuff in a fridge and I can't magically tell how big a item will be, you have to remove things so seeing as removing things is taking off your money is just so annoying. Though one thing I do appreciate is the amount of ads going down, I don't know if this is them acting on the amount of ad reviews or them just simply not needing the money, but I'm still grateful! I'm going to check the update now but this game is so entertaining and calming for me and I can't wait to be there to see it grow, though I hope these two issues get fixed in the update, thank you for reading seeing as many don't read reviews like this. Bye!
Ads
Now I'm not one to really write many reviews unless I want to say something important and don't get me wrong I love this game and love this concept of the game. And I saw this game when I was hanging out with a friend and she showed me it and I've wanted to download it ever since, but I forgot over and over to look it up. Then finally, I got an ad about it and I ended up downloading it. Now to my point. There are way to many ads. Now it might seem like I'm over exaggerating about this because so many people write reviews about ads on other games but I don't think I am. This is because every time I start a new level, an ad pops up. And then as I'm 20 seconds into filling the fridge, it gives me another ad. Now I know ads are how company's make money or whatever, but I think the creator could possibly cut back on the ads just a little. And I'm not trying to say this in a rude way, but I think many of us can say the same in our heads, but don't end up writing reviews because they don't want to sound rude. Now I am one of those people, but I think it's important to reach out to people when there is a problem. I know this review was kind of long, but if you ended up reading up until here, I want to thank you for your time. Now I think the creator of this game has made a popular and fun game, but there is always room for improvement. Thank you and I hope you take my advice.
It could use some work, but awesome!
// Read to the end. // I have been playing this game for about a day or so. I am already starting to love it! But this app could use some more work. I mean I really love this game. I enjoy playing it in the car while my mom drives. It relaxes me, the organization. Also, there is a bonus when you play in a car with no cellular data or Wi-Fi. I didn't connect to my moms hotspot just so I could play this game without ads, which I really enjoyed. I only rated this a 3. Well, there is not many ads. There is only an ad after you get at least 2 times to fill the fridge with stuff. Ignore any bad reviews that are on here, (any ad parts I can understand but honestly really good app) this game is great. I don't usually do reviews on apps, you may see me, maybe not. But I really wanted to review on here. Thank you. This is a really great app. Also, here are some recommendations of what you could improve on this app. 1- Make sure you know what you advertise. Because if you don't, then people could see things they don't want to see, or not looking forward to seeing. I saw something inappropriate. 2- maybe at least have enough to fill just one bin and not many, it makes my head hurt cause I'm not like that. It doesn't fit right with me. Make sure 1 food/drink/condiment fits properly into one bin . Okay, again, thank you for this great app! Definitely recommend !
Get Fill The Fridge from App Store
What is your opinion about Fill The Fridge
Bitcoin
Ethereum
MetaMask (ETH)
Xrp
Polkadot
Binance coin
Stellar
Dogecoin
Tron
Elrond
Donate Bitcoin to this address
Scan the QR code or copy the address below into your wallet to send some Bitcoin
Donate Ethereum to this address
Scan the QR code or copy the address below into your wallet to send some Ethereum
Donate Xrp to this address
Scan the QR code or copy the address below into your wallet to send some Xrp
Donate Polkadot to this address
Scan the QR code or copy the address below into your wallet to send some Polkadot
Donate Binance coin to this address
Scan the QR code or copy the address below into your wallet to send some Binance coin
Donate Stellar to this address
Scan the QR code or copy the address below into your wallet to send some Stellar
Donate Dogecoin to this address
Scan the QR code or copy the address below into your wallet to send some Dogecoin
Donate Tron to this address
Scan the QR code or copy the address below into your wallet to send some Tron
Donate Elrond to this address
Scan the QR code or copy the address below into your wallet to send some Elrond