Clarity – CBT Thought Diary app by Inquiry Health LLC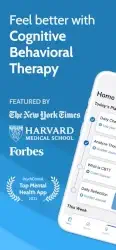 App Description :
Clarity is your all-in-one mental health app, designed to help you manage stress, anxiety, and negative thoughts through evidence-based Cognitive Behavioral Therapy (CBT) techniques and mood tracking. Develop healthier thought patterns, build resilience, and foster personal growth with Clarity's personalized programs and tools.
App Features :
CHECK IN FOR PERSONALIZED INSIGHTS
Clarity makes it easy to check in with yourself through mood, emotion, and activity tracking. Generate personalized insights to help you understand patterns in your mood and behavior. Empower yourself to make informed decisions and implement positive changes in your life, ultimately leading to a healthier, happier mind.
REFRAME YOUR THOUGHTS
Clarity's digital CBT thought record helps you identify and challenge unhelpful thought patterns (AKA cognitive distortions) to create lasting, positive changes in your mental health.
DISCOVER YOURSELF
Clarity's guided journals present thought-provoking questions to help you become aware, reflect, and grow emotionally. Take science-based assessments on mental health, personality, and much more to better understand your unique strengths and areas for improvement.
CBT-BASED PROGRAMS
Clarity offers a variety of psychoeducational programs tailored to your needs. Learn to reframe negative thoughts, overcome impostor syndrome, face your fears, and much more. Crash Courses provide quick, engaging lessons on essential mental health topics to help you find balance in whatever life throws at you.
AI CBT CHATBOT
Clarity's artificial intelligence-powered chatbot is your personal interactive mental health assistant. Available 24/7, it engages you in supportive dialogues, helping you challenge negative thoughts and guiding you towards healthier thought patterns. Experience personalized, real-time support, right at your fingertips.
AUDIO MEDITATIONS AND BREATHWORK
Clarity also offers audio mindfulness meditations and breathwork to help you find moments of peace and relaxation amidst the stress of daily living.
Experience the ultimate evidence-based mental health app today and embark on a path to a happier, healthier mind. Download Clarity now and unlock your full potential.
PRO MODE
Pro Mode is an optional subscription that unlocks additional Guided Journals, Assessments, Programs, Crash Courses, Insights, Custom Emotions & Activities, Additional Notifications, Export, and Data Sync features. Pro Mode is offered as a yearly auto-renewing subscription.
Pricing may vary depending on the country. Payment will be charged to iTunes Account at confirmation of purchase. 24 hours before the end of the monthly subscription period, the renewal fee will be automatically charged and the subscription renewed unless auto-renew is turned off beforehand. Subscriptions may be managed and auto-renewal may be turned off in the Account Settings after purchase.
Terms of Use: cbtthoughtdiary.com/termsofservice
Privacy Policy: cbtthoughtdiary.com/privacypolicy
Additional Information :
Age Rating 12+
Size 153.8 MB
Requires iOS 15.0 or later.
User reviews :
I finally feel seen
I always felt like therapy just didn't work for me and that I might never get better because nobody could understand how to help me. I didn't even know how to help me. I've tried to use many other apps but they all just felt cheap and commercial. I felt like I was being sold a nice little pamphlet that a school might hand out on five quick exercises to reduce anxiety. But then a couple of weeks ago I stumbled across this app in an attempt to gain some control over my mind. Now for the first time ever I am writing a review because I feel so thankful that the creators of this app actually knew how to help me. As someone with ADHD and anxiety I very much struggle with motivation and consistency in my journey to sanity. But the layout of the app, the gratification I get from the completion of tasks. The way the journals are actually guided all the way through make so much sense to my muddled brain. The way cbt is explained and utilized in the app has been monumental to my progress. And I love the new chatbot feature, I have really bad anxiety about texting real people but since it's completely judgment free I can actually ask for help and discuss how to work through my problems. I just felt like I needed to say something. I really hope the app will stay as amazing as it is as it expands.
Life Changing
Self-therapy is important too and this app helps to make that statement a reality. It's a shame more people don't know about CBT and how many of us are unaware how it can help us out of suffering and raise us from the deep pits of ANTs. So if your one of the people that have gained insight to what it is and how to use it to heal your mind, body, and soul, GET THIS APP. I downloaded this app when I was on a verge of a breakdown. My therapist was not available but her notes were and in them I saw "CBT," did a little more research and stumbled upon this app and my life has been steadily improving. I'm able to notice what triggers terrible moods and what makes me feel good or bad. I can easily write my negative thoughts down and confront them in this app with easy to understand definitions of the types of negative connotations that have been paralyzing me. After using it awhile I have been able to utilize the practices of the app in real time, and identify exactly what negative cognitive behaviors are trying to take over. My brain, my body, and my soul has improved dramatically because of this app. It's not a fix it all, let everything be gone type of thing, but it is a VERY VERY POWERFUL TOOL. It's worth the money as well! I feel fortunate that I get to track my life and see what is causing me misery for such a low cost. This app is amazing and I only gave it four stars, because the app can only get better even though it's already really great.
The only thing that has ever helped me
This app is the only app/journal/therapy thing that has genuinely helped me. Just using this app for 2 weeks has given me more insight and mental health help than my therapist of a year. I've never felt better after starting to use Clarity, and I genuinely don't think I would've been able to get here on my own. The app really helps me decipher and categorize my thoughts, easily allowing me to figure out what's actually true or not. Plus, everything said on the app is kept to myself. I can't really get full benefits from talk therapy, because I'm too embarrassed to talk to someone about such deep things. Plus, talk therapy has never really taught me how to work through the thoughts in my head instead of just talking about them.

I also really like how the app gives me prompts to follow instead of just expecting me to journal on a blank page. This really helps. Usually I can't pick and choose what to think/write about , so the prompts give me direction.

So if your struggling, or not getting benefits with talk therapy or other types of mental health help, then I strongly encourage you to try this app. I didn't think much of it when I first downloaded it, but it's definitely helped.
Get Clarity from App Store
What is your opinion about Clarity
Bitcoin
Ethereum
MetaMask (ETH)
Xrp
Polkadot
Binance coin
Stellar
Dogecoin
Tron
Elrond
Donate Bitcoin to this address
Scan the QR code or copy the address below into your wallet to send some Bitcoin
Donate Ethereum to this address
Scan the QR code or copy the address below into your wallet to send some Ethereum
Donate Xrp to this address
Scan the QR code or copy the address below into your wallet to send some Xrp
Donate Polkadot to this address
Scan the QR code or copy the address below into your wallet to send some Polkadot
Donate Binance coin to this address
Scan the QR code or copy the address below into your wallet to send some Binance coin
Donate Stellar to this address
Scan the QR code or copy the address below into your wallet to send some Stellar
Donate Dogecoin to this address
Scan the QR code or copy the address below into your wallet to send some Dogecoin
Donate Tron to this address
Scan the QR code or copy the address below into your wallet to send some Tron
Donate Elrond to this address
Scan the QR code or copy the address below into your wallet to send some Elrond