SmileDirectClub app by SmileDirectClub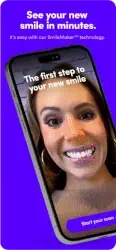 App Description :
Thinking about straightening your teeth and want to see how your future smile can look? You've come to the right place. We made it easier than ever.
Use the SmileMaker™ technology in our app to scan your teeth and see your new smile in minutes – and learn how long your transformation could take. Our innovative platform will create your Custom Smile Plan, an interactive 3D model that shows how SmileDirectClub aligners can straighten your teeth start to finish. Watch your teeth move into position from multiple angles … you might get goosebumps.
Continue by selecting treatment options that have been thoughtfully designed around you. From aligners you wear only at night to an easy monthly payment plan, SmileDirectClub's flexible system empowers you with choices that fit your schedule and budget.
Once you begin your doctor-directed treatment, this app will help you get the best results. It's the perfect companion for straightening your teeth.
App Features :
FIND SMART, TIMELY TIPS
We'll guide you comfortably through your Smile Prescription™.
TRACK YOUR PROGRESS
Always know where you are in your treatment, and get notifications when to switch aligners.
EASY ACCESS TO CARE
Connect with our dental care team via chat, phone, and video call. No regular office visits necessary.
SmileDirectClub aligners are custom-made, BPA-free, clear aligners that gently and gradually move your teeth into the desired position. Your Custom Smile Plan shows how SmileDirectClub aligners can straighten your teeth. Treatment and Plans subject to review and approval by a registered dentist or orthodontist.
SmileMaker™ Platform only available on iPhone XS and above.
Additional Information :
Age Rating 12+
Size 207.5 MB
Requires iOS 15.0 or later.
User Reviews :
App won't show progress
So I started this smile journey last year in May. According to my initial treatment plan, it would take 8 mos. About half way through, the aligners started to cave every time and I could tell it wasn't doing anything for the crowding in my bottom teeth. Instead of wasting time, decided to go for a touch up. Got a new set of aligns a month or two later. First couple months were okay, then again with the caving. Went in for a 3d imaging since the orthodontist I spoke to said it was probably me making errors with the molds… sure. Got a new set and new treatment timeline. It's been about two months again and I was advised that if the next aligner doesn't fit, to keep wearing the old one maybe another week or so then try again. So I did that and it's been working well, but that means I am behind. So for the checkin, I let them know about how I hadn't been able to progress along perfectly with the treatment due to fitting issues and they immediately want to schedule another mold/imaging. I just wanted to update my schedule to reflect I was a little behind. Got that sorted and a "smile expert" checked my aligner back in, but now my progress is gone from the app, I can't see my wear schedule, have tried contacting customer service again but all they say is to uninstall and reinstall the app. It's been over a year and a half of treatment now and I'm honestly starting to lose hope.
Developer Response,
We appreciate you sharing your experience with us so far and are disappointed to hear it. However, we'd like to help. If you could reach out to us at appsupport@smiledirectclub.com so we can better assist you. Thank you!
Not a happy customer
Overall, I am pleased with my finished results. However, I had some fillings removed and it's been a hassle trying to get a retouch. I constantly have to reach out to them about my next step. Through chat, a smile expert is rarely available and then when I call in the wait time is ridiculous ! The automatic system tells you you have 30 minutes before you can speak with a smile expert but you wait for about a hour. If you request a call back, your chances of receiving that call back is slim to none. I have done everything that was necessary on my end to start my retouch process, took assessment photos, sent in my photos, submitted an updated consent and dental history and I still haven't gotten anywhere. I feel like I'm chasing them to get an answer. When I finally get a chance to speak with someone, nothing get resolved. It's only escalated. This experience alone would reduce my chances of recommending Smile Direct to anyone. Don't make a promise to customers that you can't fulfill it. If customer service improved I'll consider my ratings. Throw away the current system and revamp!
Developer Response,
Please reach out to us so we can look you up and troubleshoot. Our email is appsupport[at]smiledirectclub.com
Get SmileDirectClub from App Store
What is your opinion about SmileDirectClub
Bitcoin
Ethereum
MetaMask (ETH)
Xrp
Polkadot
Binance coin
Stellar
Dogecoin
Tron
Elrond
Donate Bitcoin to this address
Scan the QR code or copy the address below into your wallet to send some Bitcoin
Donate Ethereum to this address
Scan the QR code or copy the address below into your wallet to send some Ethereum
Donate Xrp to this address
Scan the QR code or copy the address below into your wallet to send some Xrp
Donate Polkadot to this address
Scan the QR code or copy the address below into your wallet to send some Polkadot
Donate Binance coin to this address
Scan the QR code or copy the address below into your wallet to send some Binance coin
Donate Stellar to this address
Scan the QR code or copy the address below into your wallet to send some Stellar
Donate Dogecoin to this address
Scan the QR code or copy the address below into your wallet to send some Dogecoin
Donate Tron to this address
Scan the QR code or copy the address below into your wallet to send some Tron
Donate Elrond to this address
Scan the QR code or copy the address below into your wallet to send some Elrond