FanLabel  – Daily Music Contests game by Fan Label, LLC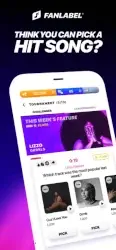 Game Description :
CAN YOU PICK A HIT?
Show the world you know music and win big!
Play "fantasy sports"-like challenges for music as the owner of your own fantasy record label. Create your label, sign songs based on song plays, earn points, rise to the top of the leaderboard, and cash in for merch and experiences.
Game Features :
Play Challenges > Earn Points > Level Up > Sign Songs > Win Prizes
PLAY CHALLENGES — connect to Spotify, or choose your favorite genres, to play contests featuring hit songs and music you love. Use your points to buy real merch drops and exclusive experiences.
SIGN HIT SONGS — each week your goal is to earn as many plays as possible (combined stream totals from Spotify, Apple Music, Tidal, Amazon Music, etc) on the songs you've signed to your label. By earning plays on your songs, you'll rank up and earn different rewards: from Silver, Gold, to Platinum.
Join the Discord for FAQ and announcements on new song drops: fanlabel.com/discord
To qualify for prizes each week, make sure you read the full Terms of Use: fanlabel.com/tou
Additional Information :
Age Rating 12+
Size 259.5 MB
Requires iOS 11.0 or later.
User Reviews :
Great and unique!!
Really unique concept and so well executed, the staff are also receptive to feedback and keep the app running smoothly. The bonus feed was such a great addition, I love playing it after my other challenges to pass some time and the song signing process is super fun and fun competition. I love music in all forms, and it's nice to have a game focused on my music tastes and the artists that I listen to, and allowing me the opportunity to trade in points I acquire for merch and whatnot. The Rolling Stones hoodie I got from FanLabel so far is just absolutely amazing and it came so quickly! All I had to do was pay shipping. Love love love it. Mick, you ate this. follow liviesexuals on fanlabel mwah
Could be a lot better
It started out great, it was easy to get up the leaderboard and contests were weekly. They took away the only reward that was worth saving up for, which was a $50 target gift card, they made it harder to even sign 5 songs and the contests now are 3-4 weeks long. Not to mention how glitchy this whole app is, you cant listen to music while playing because it pauses it every single time you choose an answer. I turned off sound effects but it still pauses my music. The graphics are too ambitious as they basically freeze the game. This is an amazing concept, but I think the devs need to get more beta testers and maybe not think only about the money they can get off of people. I recommend putting rewards people actually want and not vinyl records because not everyone has a record player. Gift cards to physical stores would be great, not ticket master because they already scam you out of your money in the first place. I really wanted to give this app a chance, but it is ridiculous how it went from amazing to barely playable.
A great way to discover new music and challenge your music knowledge
This is a great concept. It's a cool way to discover new songs and artists and a fun way to challenge yourself on how well you actually know music and streaming trends. I like the immediate results so that I get instant gratification on my picks. There are some delay issues when playing song clips in the app that need to be resolved, as this is especially a problem for the quick picks with a timer, but other than that, this is a fantastic app!
Great games, great music
I stumbled upon FanLabel a little over a year ago, and I've been a regular user since. I so appreciate that when there is a small problem/crash, it's fixed almost immediately. The updates also provide new features pretty consistently. I love the new fantasy contests! I consider myself a music maniac, and I feel like I'm actually being tested with this app. The music selection is GREAT!!
Best App for Music Lovers
As a college student pursuing a career in the music industry, this app is the perfect way for me to showcase my music knowledge and ear! I just redeemed my Virtual Royalties for a licensed Rolling Stones hoodie which i'm very excited about! My only wish is that that the Marketplace updated more frequently. Other than that, I love the app!
Get FanLabel from App Store
What is your opinion about FanLabel
Bitcoin
Ethereum
MetaMask (ETH)
Xrp
Polkadot
Binance coin
Stellar
Dogecoin
Tron
Elrond
Donate Bitcoin to this address
Scan the QR code or copy the address below into your wallet to send some Bitcoin
Donate Ethereum to this address
Scan the QR code or copy the address below into your wallet to send some Ethereum
Donate Xrp to this address
Scan the QR code or copy the address below into your wallet to send some Xrp
Donate Polkadot to this address
Scan the QR code or copy the address below into your wallet to send some Polkadot
Donate Binance coin to this address
Scan the QR code or copy the address below into your wallet to send some Binance coin
Donate Stellar to this address
Scan the QR code or copy the address below into your wallet to send some Stellar
Donate Dogecoin to this address
Scan the QR code or copy the address below into your wallet to send some Dogecoin
Donate Tron to this address
Scan the QR code or copy the address below into your wallet to send some Tron
Donate Elrond to this address
Scan the QR code or copy the address below into your wallet to send some Elrond