(App) EveryDollar : Budget Your Money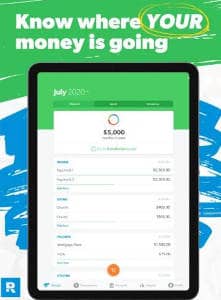 App Description :
At over 3,000,000 downloads, EveryDollar has helped millions of people take control of
their money, and it can help you too. Stop wondering where all your money goes every month and start telling it where to go with the world's best budgeting app.
EveryDollar takes the stress out of budgeting and makes it easy to make a plan for your money (and actually stick to it for once). Create your budget in less than 10 minutes.
Customize budget categories, track expenses, set up savings funds—and more.
Whether you're saving money, paying off debt, or just making sure all the bills get paid,
EveryDollar's got your back. Using a zero-based budgeting method, it gives every dollar a job (get it—every dollar) so you're getting the most out of your money. And when you start giving every dollar a job, you'll realize how much more money you really have—it'll feel like you got a raise. In fact, the average budgeter finds $332 in their first month of using EveryDollar! That's working smarter not harder.
Upgrade and Get the All-In-One Money Plan
Upgrade to the paid version to connect your bank to your budget, automatically
track transactions, get custom reports on your spending and more. Plus, you'll get access to all of the apps in Ramsey+, including the BabySteps progress tracker and the FinancialPeace learning app. Upgrade anytime or start a free trial.
App Features :
Budget
Create your custom monthly budget in minutes.
Set up savings funds for goals and larger expenses.
Access your budget through the app or a desktop browser.
Adjust or reset your budget throughout the month to keep up with real life.
Create custom budget categories.
Track Expenses
Track spending on the go.
Split expenses across multiple budget items.
Check on spent and remaining amounts at a glance.
Connect With Service and Savings Experts
Find trustworthy experts in real estate, insurance and tax services through our Endorsed Local Providers program.
Ditch third-party advertisements, because EveryDollar doesn't play that way.
Upgrade for Exclusive Ramsey+ Features:
Connect to your bank so transactions automatically stream into your budget.
View your account balance in the app.
Get priority and callback support.
Unlock access to the BabySteps app to track progress on your financial goals.
Unlock access to the FinancialPeace app and watch any of our personal finance courses, including Financial Peace University.
Show your money you're the one in charge. Download EveryDollar today.
Privacy Policy: policies.ramseysolutions.net/privacy-policy
Terms of Use: policies.ramseysolutions.net/terms-of-use
Additional Information :
Size 97.5 MB
Requires iOS 12.0 or later.
User Reviews :
I Use This App All The Time
I have been using every dollar since it launched. It replaced the other two or three budgeting apps that I had previously used and there has been no going back. It's updated very regularly and is produced by a good-sized company where their whole focus is helping people get control of their finances, so the regular updates are always going to be the case. I usually set up the budget for the month on my computer and then do updates throughout the month on my phone while I am on the go. I have set up new budgets on the phone and it works great too, I am just on a computer all day every day for work so it is habit I guess. The app is very intuitive and easy to use. There is an extra feature called EveryDollar Plus that is available for a fee each month to integrate your bank data and the expenses that your bank sees so that you can quickly categorize them with a few taps into the correct budget categories so that you don't have to manually enter each transaction. I did a trial of EveryDollar Plus when the app first launched and decided not to use it. So I have been using the free version for the last year and a half or two years since the app launched. It's probably about time I give every dollar plus another try since it's probably going to be a bit different since all of the updates that they have done since I used it last. Great app that I use all the time! This is one app that I could not do without on my iPhone.
This app is by far the best budgeting tool out there.
This app and corresponding desktop interface is by far the best out there. It's very customizable.

I've never been good at budgeting because I get paid bi-weekly and I have a variable income. I also travel unexpectedly for my job which throws off my budget by adding reimbursable expenses throughout the month. Through the help and suggestions of the everydollar support staff, I know now how to work this app as an effective tool with all those budgeting variables.

You work your current month budget with the paychecks from the previous month. Then I keep a "hill and vallley" account with just enough to cover any short months where my checks may not cover expenses. So far I haven't had to use that account. For the travel expenses, I created an expense and income category of reimbursable expenses. I know how much I get per day for meals while traveling and I simply add that to the reimbursable lines as the month/travel has gone on. This has been a huge money saver for me. I'm controlling every aspect of my finances by budgeting. It's the foundation for everything I'm doing with my money. And I highly recommend spending the $120 for financial peace university which as of now includes everydollar plus for a year. Worth. Every. Penny. (And no I don't work for Dave Ramsey but it's a great program for getting out of debt)
Get EveryDollar from App Store
What is your opinion about EveryDollar
Bitcoin
Ethereum
MetaMask (ETH)
Xrp
Polkadot
Binance coin
Stellar
Dogecoin
Tron
Elrond
Donate Bitcoin to this address
Scan the QR code or copy the address below into your wallet to send some Bitcoin
Donate Ethereum to this address
Scan the QR code or copy the address below into your wallet to send some Ethereum
Donate Xrp to this address
Scan the QR code or copy the address below into your wallet to send some Xrp
Donate Polkadot to this address
Scan the QR code or copy the address below into your wallet to send some Polkadot
Donate Binance coin to this address
Scan the QR code or copy the address below into your wallet to send some Binance coin
Donate Stellar to this address
Scan the QR code or copy the address below into your wallet to send some Stellar
Donate Dogecoin to this address
Scan the QR code or copy the address below into your wallet to send some Dogecoin
Donate Tron to this address
Scan the QR code or copy the address below into your wallet to send some Tron
Donate Elrond to this address
Scan the QR code or copy the address below into your wallet to send some Elrond