(Game) Diamond Diaries Saga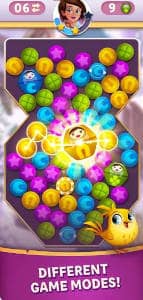 Game Description :
Download the new Diamond Diaries Saga, a brand new puzzle linker game from King, the creators of Candy Crush Saga.
Game Features :
Create precious items of jewelry by linking 3 or more charms of the same color and complete the goal before you run out of moves!
Travel to exotic cities with tons of fun, challenging levels and exciting new game modes.
Enjoy a sparkling new way to connect beautiful charms in this exciting puzzle adventure!
Easily sync the game between devices and access full game features when connected to the internet
Take on this epic saga alone or play with friends to see who can get the highest score!
By downloading this app on your mobile you are agreeing to our terms of service; king.com/termsAndConditions
Diamond Diaries Saga is completely free to play but some optional in-game items will require payment.
You can turn off the payment feature by disabling in-app purchases in your device's settings.
If you need help or support, you will find helpful and extensive FAQs in our in-game Help Center. Just click tap the settings button and choose the "i" to find it. You can also share opinions, take part in contests and meet other members of the Diamond Diaries Saga Community community.king.com/en/diamond-diaries-saga
Do not sell my data: King shares your personal information with advertising partners to personalize ads. Learn more at king.com/privacyPolicy. If you wish to exercise your Do Not Sell My Data rights, you can do so by contacting us via the in game help centre or by going to soporto.king.com/
Visit www.diamonddiariesgame.com to discover our game guides and a wealth of tips & tricks to satisfy any 24 carat cravings!
Additional Information :
Size 265.3 MB
Requires iOS 9.0.0 or later.
User Reviews :
Loved the game before the update
I have really enjoyed this game. It is one that I have stuck with longer than other games. When I first started playing the game, I didn't have to pay for the 5 pieces of gold. I had a choice to buy 20 pieces or tap for 5 pieces. I am more apt to purchase things from an app if the developers are willing to give in return. So when they stopped letting me tap for gold, I almost quit the game. Lastly is the trophies. I work hard to get my trophy to #5, but then if I leave the game when I need to sleep or work then all my hard work is taken away. I have to start at ground zero. I wish you would allow us to keep the trophies we have worked hard for and not penalize us for leaving the game for awhile. And please bring back the piggy bank tapping.
Disagree with whiners
I have tested so many matching games. I must say this is by far my favorite one, in my opinion the best King game, very well done! In every other matching game I hit a "wall" around level 50 or 70 like everyone else is complaining about, but in this game I don't. Currently I am on level 249, playing for just over a week, I haven't spent a single cent yet. I also barely use any boosters which I also accumulated plenty of. It does become challenging, otherwise where is the fun. But I still am able to pass the levels and it feels rewarding.

The design, sound and animations are beautiful. The travel through cities concept is awesome, very clever. It is also crucial which bonus you choose for each city.

Please keep up this wonderful work with many more levels to come. Thank you!
Fun at first
The game is cool similar to other linking games with a few twists and turns. There are some frustrating aspects to the game. The first is the movement of the balls doesn't always seem to make sense in what would happen in the real world. I do not know if this is just an intended aspect or bad design, but it is frustrating to expect a ball or two to drop only to have them seeming defy gravity or shift over and other balls to move down.

The second problem is the difficulty of the higher level, for me that means the mid 100's. I do not mind a level being difficult, but it seems like if the initial ball drop is not in the players favor then the level becomes next to impossible.

The last thing that is seriously annoying are the birds. Sometimes I am leaving the power ups alone to be used later, and the dam birds set them off to zero effect. Annoying, annoying, annoying.
Great game
I'm just beginning my quest and I'm enjoying it thus far. I love the design of this game. I like how the journey begins with a letter from the main character's aunt and how we keep finding new tidbits of information along the way. One issue I'm finding is that past level twelve, it's extremely difficult to collect three stars per level. I enjoy a great challenge, but on most levels, collecting three stars is nearly impossible, although the levels are easily winnable, just not with three stars. My only other suggestion is to come up with an update with more ways to collect boosters along the journey. Otherwise, this is a wonderful game. Keep the great ideas coming.
Get Diamond Diaries Saga from App Store
What is your opinion about Diamond Diaries Saga
Bitcoin
Ethereum
MetaMask (ETH)
Xrp
Polkadot
Binance coin
Stellar
Dogecoin
Tron
Elrond
Donate Bitcoin to this address
Scan the QR code or copy the address below into your wallet to send some Bitcoin
Donate Ethereum to this address
Scan the QR code or copy the address below into your wallet to send some Ethereum
Donate Xrp to this address
Scan the QR code or copy the address below into your wallet to send some Xrp
Donate Polkadot to this address
Scan the QR code or copy the address below into your wallet to send some Polkadot
Donate Binance coin to this address
Scan the QR code or copy the address below into your wallet to send some Binance coin
Donate Stellar to this address
Scan the QR code or copy the address below into your wallet to send some Stellar
Donate Dogecoin to this address
Scan the QR code or copy the address below into your wallet to send some Dogecoin
Donate Tron to this address
Scan the QR code or copy the address below into your wallet to send some Tron
Donate Elrond to this address
Scan the QR code or copy the address below into your wallet to send some Elrond