Ensemble Stars Music game by Happy Elements S.a.r.l.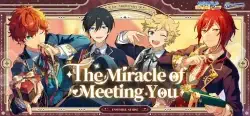 Game Description :
Ensemble Stars!! Music, the all-direction immersive mobile rhythm game, the essential sequel of Ensemble Stars! Basic, will be released soon! Idols from Yumenosaki Academy start their brand-new journey. You will surely find your ideal type among all 49 stylish, shining stars!
Elaborated 3D live scenes, engaging stories by famous playwrights, and a luxurious voice cast—enjoy everything about your idols here! Immerse yourself in a new experience!
The pre-registration starts now! Complete pre-registration on iOS to claim the exclusive rewards (Diamond×200) on the day of release! Explore more activities and bonuses on the official website!
Game Features :
Super Real 3D LIVE, Closer to the Stage
Switch on the 3D LIVE mode, enjoy the melodious music, and see the stylish MV performances unfold before your eyes. Four difficulty levels from Easy to Expert for Live Stages are available. The Live experience remains the same on all difficulty levels, so please enjoy the fabulous beats on whatever level you like!
You are free to set any idol as a Center for performance and change outfits for your idols. Center idols give mesmerizing Special Performances (SPP)!
Heart-Warming Bonds, Bitter-Sweet Story
Ensemble Stars!! Music is mainly written by AKIRA, the renowned Japanese light novelist, and it continues the story of Ensemble Stars! Basic. Young idols set out on their journey into the world and begin to explore the entertainment industry. Excitement, hesitation, joy, and tears await on their way toward a bright future. Every day, something new in Ensemble Square pulls at your heartstrings.
Top Voice Cast, A Feast for the Ears
Hikaru Midorikawa, Yuki Kaji, Tetsuya Kakihara, Showtaro Morikubo, Tomoaki Maeno… 40+ First-class voice actors are featured. This is an immersive feast for the ears you should never miss!
Exclusive Office, Design Your Own Idol Zone
Pick your favorite furniture, ornaments, and themed suites to create your own dreamy little idol zone. Find your idols' adorable reactions to special furniture! They may enjoy shaved ice on the beach, or sleep soundly with fluffy sleep masks on… discover more delicate, lovely reactions by yourself!
Multilingual Stories, Brand New Experience
Multilingual stories are available in the official English version of Ensemble Stars!! Music for a richer game experience. You can choose to read the stories in English, Simplified Chinese, Traditional Chinese, or Korean.
Additional Information :
Age Rating 12+
Size 577.2 MB
Requires iOS 11.0 or later.
User Reviews :
A fun and enjoyable idol/rhythm game
As an avid rhythm game fan, when I saw this in my recommended games section, I had to download it. I had vaguely heard of Ensemble Stars on the Internet, and it appeared to be your average idol rhythm game. However, this game was more delightful than I expected. The tutorial explains the games functions in a brief yet understandable manner, and the game's UI is very simple and clean. As for the characters, there are a multitude of idol groups to choose from, and the voice acting is pretty good. The songs are catchy and the 3D MV's are top tier (like seriously, the MV's blew me away with how smooth the animation was). The actual rhythm game part took me a bit to get used to, but is pretty fun when you get the hang of it. (I also like how you can customize the note look and sound) At the time of writing this, the game has only been released for a couple of weeks, so some parts of the game are still locked (like the Ensemble Live function). My only complaint (which is opinionated) is that there are a LOT of characters, like almost too many. It's hard to level up each card because there's a lot of them, but this is more of a personal problem for me because I'm a completionist and like having every card maxed out. Overall, a very fun game that every rhythm game enthusiast should play (or anybody, really).
Make Tatsumi Shut Up or Focus on a Different Group
Hiiii I hate Tatsumi. (All based on English translations for the game) I don't have a great love for Christianity as a very queer person and as a person who just generally doesn't like the majority of Christians and how they use their religion to pretend they're superior so Tatsumi constantly talking about God isn't fun. Like I would be fine with it if it came up here and there but omg he literally doesn't stop talking about it. Mayoi is an interesting character but I feel like he's like *too* self deprecating. Like my man won't shut up about how he's a pathetic insect who doesn't deserve life. Aira's fine. He can get really really whiney at times but I like his dynamic with Hiiro. I love Hiiro. He's my everything. I understand why they chose to focus on their group as they're a bunch of underperformers who are truly figuring it all out (giving the audience a great look into the world of this game.) Only issue is that compared to other idol groups, they're literally so boring and unlikable. Like maybe it's just me, but I would prefer the story focus on literally anyone else. That's why I tend to not touch the story unless a mission asks for it. But luckily the rest of the game is very enjoyable and we stan Mikashu.
Get Ensemble Stars Music from App Store
What is your opinion about Ensemble Stars Music
Bitcoin
Ethereum
MetaMask (ETH)
Xrp
Polkadot
Binance coin
Stellar
Dogecoin
Tron
Elrond
Donate Bitcoin to this address
Scan the QR code or copy the address below into your wallet to send some Bitcoin
Donate Ethereum to this address
Scan the QR code or copy the address below into your wallet to send some Ethereum
Donate Xrp to this address
Scan the QR code or copy the address below into your wallet to send some Xrp
Donate Polkadot to this address
Scan the QR code or copy the address below into your wallet to send some Polkadot
Donate Binance coin to this address
Scan the QR code or copy the address below into your wallet to send some Binance coin
Donate Stellar to this address
Scan the QR code or copy the address below into your wallet to send some Stellar
Donate Dogecoin to this address
Scan the QR code or copy the address below into your wallet to send some Dogecoin
Donate Tron to this address
Scan the QR code or copy the address below into your wallet to send some Tron
Donate Elrond to this address
Scan the QR code or copy the address below into your wallet to send some Elrond