iDaft Jamming game by Anders Svendsen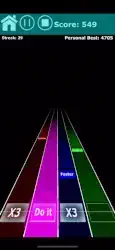 Game Description :
iDaft Jamming is a tribute to Daft Punk's "Harder Better Faster Stronger", "Aerodynamic", "Around The World", "Crescendolls", "One More Time", "Technologic" and "Robot Rock"
Game Features :
Make your own jam sessions in the "jamming modes"!
HARDER BETTER FASTER STRONGER (Apple Watch support)
AERODYNAMIC
AROUND THE WORLD
CRESCENDOLLS
ONE MORE TIME
TECHNOLOGIC
ROBOT ROCK
Choose whether you want to jam along to the beat or just go plain "acapella".
Try the game modes:
Guitar Hero style: Be a Daft Hero and nail those tiles!!!
"Beat Box" mode where you jump to the beat of Robot Rock to complete the game.
If you want the next-level experience try the newly added camera background feature… Dare we say perfect for social media sharing!?
Join the Facebook page "iDaft Jamming" and share your experiences!
Have fun!
(Daft Punk or their record label is not in any way affiliated with this app)
Additional Information :
Age Rating 4+
Size 79.2 MB
Requires iOS 11.0 or later.
User Reviews :
It's great ( just some recommendations )
It's great honestly, no WiFi needs. I can take this on the go.

But here's the thing, it has some stuff that should be deleted and added. For starters. Yea there is one person and they are totally correct. The dancing women do not fit it, not very family friendly. And in HBFS there's a thing in the rhythm game but not in the jamming one. Like it has the cool curvy voice, but not in the jammer. And since, I've played. If you are adding more songs. Create a list button. Like if you want to switch but not go all the way back. Also plz add something where you can mashup songs.
It's a good game
In my opinion I believe this is a well made game it is devastating that daft are splitting up however this app seems like a great idea it is simple and fun I hope in the future you could add some more songs like get lucky or maybe some other daft punk songs I love the game however I play it on a phone and furring the robot rock rbfs games their is an add over the optimal time to press the sound so it is unnecessarily hard to time it right when you can't see the correct time to tap a solution I propose is move the ad to the top that way you can keep it other than that the app is phenomenal and could be expanded upon I also love the interactive def who listens to and accepts criticism keep improving this game it definitely has potential!
Good, but has more potential
NEW PEOPLE READ

It is honestly a good game to play if you like music, and the mini games are good too (I missed one note and got 4730 on the harder better faster stronger giga chads only can beat me) but I feel this game can have a lot more potential (more songs, more mini games, etc) and can you calm it down with the adds? One click and ADD Two clicks and ADD. Great game with a lot of missing potential.
Cool app
Very cool app, fun to play around with but there's this one thing that bothers me. There's this game mode that's basically geometry dash which I like but…. How the f does that yellow diamond work. It says to hold it but every time I do I just die. I'd like to be told what I'm doing wrong. This is a me problem so I'm giving it 5 stars cuz there's nothing else to complain about. Maybe

Edit: so I meant my character goes right past it and dies to the spikes below. Anyways I was right about it being a me problem because it finally worked.
Developer Response,
Hi there,

When it says "hold" it just means from last jump you don't let go of your finger of the screen but keeps it down when the square hits the first yellow diamond and keep holding it down until the next yellow diamond. For clarification, you don't need to hit the diamond with your finger.

Thank you so much for all the stars even though this was not so clear… (and sorry about the late reply)
Honestly a Fun App
When I first started yawing this app I thought it was all right because there was only Robot Rock, H,B,F,S, and Technologic as was getting kind of board but then an update came out and made the game fun again and more and more songs have been added keeping the game fun for me and the cool thing is it doesn't need WiFi to world the only thing I would add is a way to mashup the songs to mare your own remixes like the developers other music app but besides that this is well made and a good tribute to daft punk!!!
Get iDaft Jamming from App Store
What is your opinion about iDaft Jamming
Bitcoin
Ethereum
MetaMask (ETH)
Xrp
Polkadot
Binance coin
Stellar
Dogecoin
Tron
Elrond
Donate Bitcoin to this address
Scan the QR code or copy the address below into your wallet to send some Bitcoin
Donate Ethereum to this address
Scan the QR code or copy the address below into your wallet to send some Ethereum
Donate Xrp to this address
Scan the QR code or copy the address below into your wallet to send some Xrp
Donate Polkadot to this address
Scan the QR code or copy the address below into your wallet to send some Polkadot
Donate Binance coin to this address
Scan the QR code or copy the address below into your wallet to send some Binance coin
Donate Stellar to this address
Scan the QR code or copy the address below into your wallet to send some Stellar
Donate Dogecoin to this address
Scan the QR code or copy the address below into your wallet to send some Dogecoin
Donate Tron to this address
Scan the QR code or copy the address below into your wallet to send some Tron
Donate Elrond to this address
Scan the QR code or copy the address below into your wallet to send some Elrond