Human to Dog Translator – Dogi game by Selim Karsanbas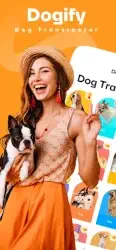 Game Description :
Dogi is a unique and innovative app designed for dog lovers everywhere. This app is designed to help users translate their sentences into dog sounds and understand the emotions behind them. With Dogi, you can experience what it's like to communicate with your furry friend in a whole new way!
Game Features :
In addition, the app features an extensive library of dog sounds, including emotions such as cold, hungry, sleep, and eat, allowing you to truly connect with your dog on an emotional level. The Dog Classifier feature takes things a step further by helping you to identify your dog's personality traits, such as protectiveness, barking, grooming, and how they interact with children.
Whether you're a proud dog owner or just love these furry creatures, Dogi is a must-have app that provides a fun and unique way to understand and connect with dogs. Download Dogi today and start your journey into the world of canine communication!
UNLIMITED ACCESS MEMBERSHIP SUBSCRIPTION
You can subscribe for unlimited access to all features within the app.
Subscriptions are billed weekly and annually at the rate selected depending on the subscription plan.
Terms of Use: sites.google.com/view/dogi-terms/ana-sayfa
Privacy Policy: sites.google.com/view/dogi-privacy/ana-sayfa
Support: karsanbas.wixsite.com/babi/contact-1
Additional Information :
Age Rating 4+
Size 190.5 MB
Requires iOS 13.0 or later.
User Reviews :
Best game ever!!!​  ‍    ‌
It is amazing it's really translates from human to dog is really amazing but the problem is that when it is translated from dog to human when your dog barks but things are also making have the app is really amazing chili translate for my dog and I really appreciate it I've been looking for apps like this but I never get some but today I actually got something thank you so much I really appreciate it and keep going on May the Lord bless you all may you live to you no see the goodness of the Lord
Nvm   ​​
There are so many little kids who are installing this app thinking its real. It clearly says in the description that it's fake and nevertheless I don't think humanity has come across that sort of technology yet. Don't have a go at the developers for 'making a fake app' it's in the name. SIMULATOR. NOT. REAL. Yall are so aggressive at them. Poor devs. I feel bad for them to be constantly abused and harassed by these kids. Looking at the reviews kids are calling the app retarded and swearing.
Not really good
This is much better than the other translater which I uninstalled because it wasn't free and it is very funny I don't have a dog so I just bark and it comes up with nothing I expected. But there's 1 ad that repeats every time but overall 5 stars
Not good     ‍  ‌
idk why my dog is broken now. whenever I say her name she runs away from me and when I use the app she starts barking and breaking everything. I translated it and it said hungry feed me and I swear I put down like 30 plates of dry food and my dog doesnt even leave her cage now
Only 5 stars so more people can see this     
I am talking dog but I install the app I think its better than other app its good I think alll of u its not to bad guys its just a nice app I love this app but when I will take dog then only I will understand how the app works
I don't like this ‌  ​‍
This is really helpful but everytime after i record my dogs amd my vouce its gives adds but its ok cuz its just pics and its helpful for me to understand‍
It is. Terrible   
guys this game doesn't really work I know it's supposed to be dog commands but it doesn't really work I don't know if I'm reading it wrong but I think it is supposed to be  ‌‌ ‌
Please read ‌    ‍ ‍
This worked so well I used the voice and said "let's go to bed" she layed right down then I said "you can play" and she played I was shocked! ‌
Get Dogi from App Store
What is your opinion about Dogi
Bitcoin
Ethereum
MetaMask (ETH)
Xrp
Polkadot
Binance coin
Stellar
Dogecoin
Tron
Elrond
Donate Bitcoin to this address
Scan the QR code or copy the address below into your wallet to send some Bitcoin
Donate Ethereum to this address
Scan the QR code or copy the address below into your wallet to send some Ethereum
Donate Xrp to this address
Scan the QR code or copy the address below into your wallet to send some Xrp
Donate Polkadot to this address
Scan the QR code or copy the address below into your wallet to send some Polkadot
Donate Binance coin to this address
Scan the QR code or copy the address below into your wallet to send some Binance coin
Donate Stellar to this address
Scan the QR code or copy the address below into your wallet to send some Stellar
Donate Dogecoin to this address
Scan the QR code or copy the address below into your wallet to send some Dogecoin
Donate Tron to this address
Scan the QR code or copy the address below into your wallet to send some Tron
Donate Elrond to this address
Scan the QR code or copy the address below into your wallet to send some Elrond