DEEMO II game by Rayark International Limited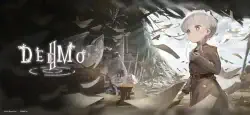 Game Description :
Just in time for Rayark's 10th anniversary comes a sequel to their classic IP, DEEMO.
 A kingdom created through music faces an uncertain future after a monster called 'The Ancestor' plagues the land with a destructive 'Hollow Rain'. This dangerous rain causes anyone it touches to 'bloom', turning into a flurry of white flower petals and ultimately vanishing from existence.
DEEMO II follows Echo, a girl who has bloomed but mysteriously re-appeared, and Deemo, an enigmatic station Guardian, as they journey through this rain-soaked world in hopes of finding a way to save it.
Game Features :
A Mysterious and Emotional Story:
Why did 'The Composer', the elusive being who created this world, suddenly abandon it? Why and how did Echo bloom and then come back to life? Accompany Echo as she uncovers the secrets behind these questions, journeying to uncover the truth and save the world.
A Combination of Rhythm and Adventure:
Explore Central Station with Echo, interacting with your surroundings as you get to know the many station residents while discovering clues and 'Charts', magical pieces of music with the power to clear away Hollow Rain. As Deemo you'll play those Charts, putting your musical skills to the test in fun and challenging rhythm sections, ultimately moving the story forward.
30 Core Songs + DLC Song Packs for a Total of 120+ Tracks:
Composers from around the world, including Japan, Korea, Europe and the Americas, have created an eclectic array of tracks for DEEMO II with an emphasis on acoustic instrumentation. Genres include Classical, Jazz, Chill Pop, J-Pop, and more. Infectious, emotive melodies will give music lovers dozens of fast favorites, and creative, syncopated rhythms will make sure rhythm-game aficionados have plenty to sink their teeth into.
Make Friends with Over 50 Station Residents:
Central Station is full of characters with their own personalities and stories. As Echo, you can chat with them as they walk about Central Station, living their lives, opening paths to different topics depending on the situation. As you talk with them and get to know them, you'll start to feel like you're part of an eccentric new community.
Storybook Graphics and Artstyle:
DEEMO II marries hand-drawn backgrounds with 3D models and a meticulous attention to detail that will make you feel like you're caught in a storybook, or an anime come to life.
Movie-Quality Animated Scenes:
DEEMO II is full of high-quality anime cutscenes, fully voiced by professional Japanese voice actors. Pair that with music composed by DEEMO and Sdorica vets, and you've got an audio and visual treat.
Rayark is well-versed in rhythm-game production, with popular titles like Cytus, DEEMO, Voez, and Cytus II under their belt. They are well-known for mixing fun and fluid rhythm gameplay with visual flair and deep storylines, providing full, rewarding experiences to get lost in.
COMPATIBILITY
Compatible with Phone 11, iPhone 11 Pro, iPhone 11 Pro Max, iPhone 12, iPhone 12 mini, iPhone 12 Pro, iPhone 12 Pro Max, iPhone 13, iPhone 13 mini, iPhone 13 Pro, iPhone 13 Pro Max, iPad Pro (2nd Generation) 12.9-inch, iPad Pro (2nd Generation) 10.5-inch, iPad Pro (3rd Generation) 11-inch, iPad Pro (3rd Generation) 12.9-inch, iPad Pro (4th Generation) 11-inch, iPad Pro (4th Generation) 12.9-inch, iPad Air (4th Generation), iPad mini (6th Generation)
Additional Information :
Age Rating 4+
Size 2.8 GB
Requires iOS 11.0 or later.
User Reviews :
Beautiful Game
DEEMO 2 is one of those rare mobile games which tries to break a few conventions when considering rhythm games. It is a free game so it has numerous in-game purchases which some people may not like, but considering the quality of the game as it is already, it is very justifiable. Beautiful 2D animation evoking the best of Ghibli, charming characters, a mysterious environment and of course, excellent music makes all of the wait for Deemo 2's official release worth it.

There are events, daily tasks, u can traverse and explore your surroundings and chat with the other creatures in the station, apart from playing the music charts. Deemo had a pretty touching, personal story which is a pretty high bar to surpass, considering it is one of my fav stories from Rayark and in a rhythm game in general. I am still at the beginning of Deemo II's story though, but I am excited to see where it all leads to.

Overall, one of the more unique rhythm games and anyone should try it at least once.
A Fall From Grace
As a player of all the other rhythm games by Rayark, even Voez, I have to say this title of the franchise is amazing in the art style, the gameplay (mostly because it calibrates well and has very well designed charts), and some parts of the story. But is lacking in the original setting and tone that others by Rayark have. I still enjoy playing it for about 5-10 minutes a week maybe but the energy bar, lack of starting songs without grinding, and battle-pass-like feature make it feel like a soulless cash grab instead of a masterpiece akin to that of other Rayark classics. I say this is an amazing game and it accomplished the release of a sequel to a story that had a definitive ending but, it's features in the execution of release, IE adding all these basically milking a of the franchise for money, have made the series feel over done and the series as well feel like it is dying due to these decisions. Still a somewhat good game (no ads, you don't have to pay if you really don't want to) but I'm hoping for Rayark to make a comeback with a game that isn't too much like the slight disappointment like this one as I don't want one of my favorite rhythm game companies to revive backlash from this.
Get DEEMO II from App Store
What is your opinion about DEEMO II
Bitcoin
Ethereum
MetaMask (ETH)
Xrp
Polkadot
Binance coin
Stellar
Dogecoin
Tron
Elrond
Donate Bitcoin to this address
Scan the QR code or copy the address below into your wallet to send some Bitcoin
Donate Ethereum to this address
Scan the QR code or copy the address below into your wallet to send some Ethereum
Donate Xrp to this address
Scan the QR code or copy the address below into your wallet to send some Xrp
Donate Polkadot to this address
Scan the QR code or copy the address below into your wallet to send some Polkadot
Donate Binance coin to this address
Scan the QR code or copy the address below into your wallet to send some Binance coin
Donate Stellar to this address
Scan the QR code or copy the address below into your wallet to send some Stellar
Donate Dogecoin to this address
Scan the QR code or copy the address below into your wallet to send some Dogecoin
Donate Tron to this address
Scan the QR code or copy the address below into your wallet to send some Tron
Donate Elrond to this address
Scan the QR code or copy the address below into your wallet to send some Elrond