D4DJ Groovy Mix game by Bushiroad International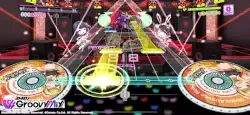 Game Description :
Hey, DJ!
Turn it up in D4DJ Groovy Mix, the next big DJ-themed Anime Rhythm Game!
Tap, slide and scratch to OVER 300 TRACKS!
Play a mix of GROOVY original songs, cover songs, anime and game OSTs!
Completely CUSTOMIZE the UI and difficulty to fit your desired skill level!
COLLECT various cute, cool and gorgeous members to form HYPE DJ Units!
Read hundreds of STORIES and get to know each girl in detail!
Game Features :
Meet D4DJ's Adorable Cast
Meet girls from all of D4DJ's units: Happy Around!, Peaky P-key, Photon Maiden, Merm4id, RONDO, and Lyrical Lily! Pay attention to each unit's unique sound and personality! Interact with them in fully-voiced, Live2D animated stories!
Groove to the Beat!
Experience fully customizable rhythm gameplay! Challenge yourself with difficult beatmaps or go completely hands-free with Audience Mode! You can play this game at any skill level!
Time-limited Events
Play in competitive Events against other players for a spot on the leaderboards! Get rewards and exclusive members for participating!
Raise the Bar with LIMIT BREAK
Level up your members with materials gained from performances! LIMIT BREAK certain members to get gorgeous, ANIMATED card art! Use high level members in units for amazing high scores!
D4DJ Groovy Mix Twitter: twitter.com/D4DJ_game_EN
D4DJ Groovy Mix Facebook: www.facebook.com/D4DJGroovyMix
D4DJ Groovy Mix Instagram: www.instagram.com/d4dj_game_en/
Terms of Use: en.bushiroad.com/terms-of-use/
Additional Information :
Age Rating4+
Size 375.4 MB
Requires iOS 12.2 or later.
User Reviews :
bandori's younger and more talented sister
TLDR; as a comparison to bang dream, this game is amazing. it's like the same game with slight different mechanics and a whole new set of characters. enjoyable, challenging, and most importantly, fun!

honestly, this game is just REALLY GREAT. i came to this game as a pretty decent bang dream player, expecting the exact same mechanics and similar features. however, my expectations were completely blown. now, i certainly didn't come to this game with no prior knowledge as i did watch the anime, and ever since i finished it, i've been waiting for the game to come to en servers. the characters are all just AMAZING (muni is obviously the best character), and i love being able to collect them in the gacha. just like bang dream. and that's also one thing i like. it's similar to bang dream, but it's not a clone. there are so many games that just have the same exact mechanics as bang dream with a little tweaking here and there, but d4dj is anything but! there are so many aspects of this game that just make it slightly more hard. in other words, slightly more enjoyable. overall, this game gives off the same feeling and satisfaction as bang dream, whilst being more challenging and having a different overall theme.
it's ok, but your better off just playing bang dream
I typically don't write reviews, but I have some thoughts I'd like to share.

the graphics are very meh for once, none of the cards are particularly jawdropping, + most of the characters seem to have as much personality as a stale piece of bread. The overall layout of the game is honestly very painful to look at. I understand they were trying to go for a certain theme, but I feel like it doesn't really work well, and to be blunt, is ugly. It's just not appealing to the eye. I also feel as if the game is overall very overwhelming, I feel like it has a bit too many features, and I was constantly getting popups when I was just simply just trying to play the live show. On that note as well, the option to customize ur own club is cool and all, but I feel like it's very lackluster and honestly not really necessary. The songs are also in my opinion, kinda bad.. some of them are really great! but the covers are very meh in particular and I feel as if most covers literally sound like they were made in garage band, I also had a lot of trouble with the live shows in particular, I feel with the way the live shows are designed, it makes it overall very difficult to play especially when your a thumb player, this coming from someone who can fc 27 songs on bang dream… I can however appreciate the fact that they made it to where even if you get a good, it counts towards ur combo.
Love it!
I wanna start off by saying, wow! This game is different from other rhythm games because not only do u have to click all the notes at the right time but u also do things that makes it like real DJ! But I'm wondering, one of the songs is Moonlight Densetsu, from Sailor Moon so that's interesting. I also think that it's a little too hard. There are so many things u need to do and I know we can change that to focus on just one thing but I preferred to do it all! That's all really cool game!

Ok I'm back and I wanna ask why not all of the LyriLily members have magical DJ outfits. I love LyriLily and I love magical girls so how come only Miiko has one? I'd love to dress each of the members in magical DJ outfits! My DJ unit is entirely made up of LyriLily members and I want to dress them in magical DJ outfits. I definitely would want Miyu in a pink outfit since I love the color pink and Miyu's hair is pink! Thank you!

One more thing! I want there to be a reward for getting all the songs in one DJ unit. I got all the songs in LyriLily since it's my fave and I was hoping for a reward. Like a title saying LyriLiliy Songs or something. Or a LyriLily things to put in my club. Anything that has to do with LyriLily! Bye thank u I hope u read all of my recommendations!
Get D4DJ Groovy Mix from App Store
What is your opinion about D4DJ Groovy Mix
Bitcoin
Ethereum
MetaMask (ETH)
Xrp
Polkadot
Binance coin
Stellar
Dogecoin
Tron
Elrond
Donate Bitcoin to this address
Scan the QR code or copy the address below into your wallet to send some Bitcoin
Donate Ethereum to this address
Scan the QR code or copy the address below into your wallet to send some Ethereum
Donate Xrp to this address
Scan the QR code or copy the address below into your wallet to send some Xrp
Donate Polkadot to this address
Scan the QR code or copy the address below into your wallet to send some Polkadot
Donate Binance coin to this address
Scan the QR code or copy the address below into your wallet to send some Binance coin
Donate Stellar to this address
Scan the QR code or copy the address below into your wallet to send some Stellar
Donate Dogecoin to this address
Scan the QR code or copy the address below into your wallet to send some Dogecoin
Donate Tron to this address
Scan the QR code or copy the address below into your wallet to send some Tron
Donate Elrond to this address
Scan the QR code or copy the address below into your wallet to send some Elrond