Cyber Surfer: EDM & Skateboard game by Badsnowball Limited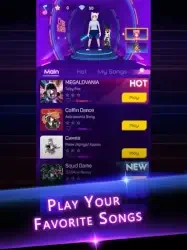 App Description :
Become a cyberpunk knight and experience different musical fun with your skateboard and lightsaber!
In Cyber Surfer, you can experience the music of different styles and different singers just like: Pop, Rap, EDM, Rock, JPOP, KPOP…Imagine Dragons, Justin Bieber, LiSA, BLACKPINK & BTS,FNF playlist and any song saved on your phone.
How to play
Move your finger to control the surfer moving from side to side.
Hit the ring of the same color as you
Colors may be changed sometimes!
Game features
Cyberpunk style music game
Various song styles including both global hit songs and your favorite independent music.
Change weapons and equipment to catch higher scores
Smashing experience with fun and delight.
More surprises waiting for you!
Access VIP Features now!
No Ads. No Disturb.
Unlock 200+ hottest songs 1
Free Revives. Nonstop playing.
If you love music, you love it.
Download now!!!
If any producer or label has an issue with any of the music used in the game, please send email to us and it will be deleted immediately if necessary (this includes the images used).
Contact us:
Are you having problems? Send an email to contact[at]badsnowball.com
Terms of Service: cybersurfer.s3.amazonaws.com/Resource/Terms+of+Use.html
Privacy Policy: cybersurfer.s3.amazonaws.com/Resource/Privacy+Policy.html
Subscription: cybersurfer.s3.amazonaws.com/Resource/Subscription.html
Additional Information :
Age Rating 4+
Size 219.7 MB
Requires iOS 10.0 or later.
User Reviews :
Has a lot of potential, but also has bugs
I will preface this by saying that the game has a lot of potential. I really enjoyed the mechanics, and I feel like I could waste a lot of time playing this game. It seemed like some of the beats didn't quite line up with the song, but that could be my imagination, and it wasn't too bad. However, there are some bugs that severely impact one's gameplay. For starters, after I watched an ad to unlock Squid Game, all of the notes disappeared after I hit the first one. They were still there, as I could still hear them and see the character go through the motions, but I could not see the notes themselves. It is also worth noting that there was a second character model visible near the top of the screen during this level. When restarted the app to try and fix it, the character was not in the center, but on the right side of the screen and tilted 90 degrees counterclockwise. I hope I have provided enough information to help you locate these bugs and fix them.
Needs more songs
So, I love this game. It is satisfying and it has great songs! I do have a few suggestions though. My first suggestion is that you should add a lot more songs. There is songs that I love but are not on here, like Simpa and A Party in the USA. My next is the time of the songs. The songs don't go to the very end so we can't play the whole song. Another reason is the graphics. The graphics are really good but the designs of the people aren't that good. I think you should fix this. Another big reason is because it is hard to get gems. I think you should put gems randomly in a song course rather then at the end. To sum up my reasons, all of the songs should be unlocked, rather than having to watch an add. The songs that cost money can stay that way, because that is how you make money. Thank you for reading this review and sorry that it was so long. Would you mind putting this on the main ones so I can see it, even for a few days would be fine. Thank you and have a good day!
It's fine but like one problem
OK so like everyone likes a different song and when you go onto the song you really love and you're in the best part of the song the background is like kind of distracting you and it's really hard to focus so you just randomly fail and that happens to me all the time for example old town Road I was in the best part until the background I was like about to finish the whole thing I was about to go to the lake jam psycho collector but in the best part the background started to like distract me and it was hard to focus so I just failed so please creator of the game please don't make the background really distracting I really like this game but not the distraction so I suppose you like fix the distraction background OK thanks for Reading this sorry that it's really long
Get Cyber Surfer from App Store
What is your opinion about Cyber Surfer
Bitcoin
Ethereum
MetaMask (ETH)
Xrp
Polkadot
Binance coin
Stellar
Dogecoin
Tron
Elrond
Donate Bitcoin to this address
Scan the QR code or copy the address below into your wallet to send some Bitcoin
Donate Ethereum to this address
Scan the QR code or copy the address below into your wallet to send some Ethereum
Donate Xrp to this address
Scan the QR code or copy the address below into your wallet to send some Xrp
Donate Polkadot to this address
Scan the QR code or copy the address below into your wallet to send some Polkadot
Donate Binance coin to this address
Scan the QR code or copy the address below into your wallet to send some Binance coin
Donate Stellar to this address
Scan the QR code or copy the address below into your wallet to send some Stellar
Donate Dogecoin to this address
Scan the QR code or copy the address below into your wallet to send some Dogecoin
Donate Tron to this address
Scan the QR code or copy the address below into your wallet to send some Tron
Donate Elrond to this address
Scan the QR code or copy the address below into your wallet to send some Elrond