(App) CustomKit – Icons & Backgrounds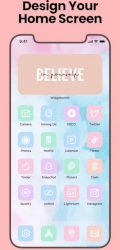 App Description :
DOWNLOAD BEFORE IT BECOMES TO PAID
Fantastic idea! 5 stars
by Sarahh2 – 12 Jan. 2021
Finally, I can change my boring Icons!
High quality, original and aesthetic Icons & Wallpapers for your iPhone. You'll get unique, free and thematic themes for your device every week.
Download it once and get new stylish themes for your iPhone/iPad with free updates.
App Features :
Icons & Wallpaper Packs:
Minimalist
Neon
Anime
Christmas
Many more!
Features:
Cool Icon Packs
Aesthetic Wallpapers
Full iOS 14 support
Amazing Themes
Convert your boring normal icons & background into an AMAZING iPhone Screen.
New Icons are added regularly
Try our trial with all FULL features available.
All personal data is protected in accordance with the Terms of Use and Privacy Policy:
Privacy Policy: vitalisapps.com/privacy
Terms of Service: vitalisapps.com/terms
Additional Information :
Size 9.2 MB
Requires iOS 13.0 or later.
User Reviews :
Actually pretty nice
I have been searching for a while for an app like this where I don't have to pay an abused amount of money for it, and this worked pretty nicely. But ofc, my only complaint is that I want more free icons and backgrounds because a lot of people can't afford to throw away money for something this small, but they still deserver that lil nit of fun to get to customize their phone! So even though I know you're just a company which needs money, please make more free icons and such.
Developer Response ,
Thanks for using us, we hope to add some in future updates. Enjoy
honestly not bad
I don't really know what to say it WORKS! just click click confirm and it's there in a few seconds. It has everything that I wanted but just be aware that in order to have access to ALL of the widgets and themes and stuff, you DO have to pay. I am currently upswing the limited version lol. I hate paying for stuff and even though I don't have to pay it still works!!! Over all, I LOVE this app and I definitely recommend
Developer Response ,
Easy to use, fun, aesthetic… Thanks a lot for supporting
Ok…
So listen up people this app only has like 5 templates and they do have like every app but allot does is give you pictures off the icons and takes you to settings to add them one by one there are a lot off apps that let you create them and the manually put them on but if you are like me and don't like searching up one by one pictures what I did is I got next icon and this app I downloaded all the pictures of the icons from this app then downloaded them off the app of next icon

Anyway bye have a great day
Developer Response ,
Hi dear customer! Thanks for reviewing and supporting! The installation process is pretty straightforward. Everything will usually remain in your "Photos" folder and the reason why you do it manually is because in fact you are the one who can choose what to customize, which apps you want to renew, etc, you are free to express your creativity If you have any questions let us know at support[at]vitalisapps.com
Good but….
Ok I downloaded this app thinking "even though you have to pay for some stuff maybe they'll have enough free themes" but um even tho I did find one I liked I still didn't like it as much y'all don't have enough free themes for me to give you a 5 star review fix this and your app will be even better besides that this app is amazing I love all the creative themes this app has
Developer Response ,
Hi! thanks for supporting, stay tuned since our free themes may change once in a while. Any themes suggestions?
Good but could be better
The app is good with a lot of apps that normal to people use. Of course you download the app thinking that it is free but if you want anything but white or a black theme you need to pay a monthly fee. This is a deal bracket for many people. It would be nice if the company would make icons for their other apps. For me I Use Alarmify daily but this app doesn't support app icon for it.
Developer Response ,
Hi!!! Thank you for that awesome review!! We're working very hard to add more and more Themes and FREE here and also in our other apps!!! Thank you!!
Review
I like how they give some free options if you don't want to pay but there are not a lot of selection. If you don't want to pay you only have four or three free and it is not worth it. Other than that they have super cute themes and I do recommend it if you are willing to pay
Developer Response ,
Hi! Thanks for recommending. We have 6 themes for free! Will be great that you can try them all
Get CustomKit from App Store
What is your opinion about CustomKit
Bitcoin
Ethereum
MetaMask (ETH)
Xrp
Polkadot
Binance coin
Stellar
Dogecoin
Tron
Elrond
Donate Bitcoin to this address
Scan the QR code or copy the address below into your wallet to send some Bitcoin
Donate Ethereum to this address
Scan the QR code or copy the address below into your wallet to send some Ethereum
Donate Xrp to this address
Scan the QR code or copy the address below into your wallet to send some Xrp
Donate Polkadot to this address
Scan the QR code or copy the address below into your wallet to send some Polkadot
Donate Binance coin to this address
Scan the QR code or copy the address below into your wallet to send some Binance coin
Donate Stellar to this address
Scan the QR code or copy the address below into your wallet to send some Stellar
Donate Dogecoin to this address
Scan the QR code or copy the address below into your wallet to send some Dogecoin
Donate Tron to this address
Scan the QR code or copy the address below into your wallet to send some Tron
Donate Elrond to this address
Scan the QR code or copy the address below into your wallet to send some Elrond