(Game) Crossy Road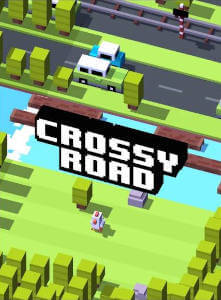 Game Description :
Why did the Chicken cross the road?
Game Features :
Why did the Pigeon leave THAT there?
Why did Unihorse eat all that candy?
Crossy Road® is the #1 viral smash hit you'll never stop playing.
Additional Information :
Size 108.4 MB
Requires iOS 11.0 or later.
User Reviews :
Good game
This game is the great! The only thing is that you shouldn't be able to get duplicates. I mean what do you even do with the extras?? It's not a very big problem though. The only thing about it is that you waste 100 coins on something you already have, and if you want to try again you have to watch a video or spend more coins. I was actually surprised that there aren't many ads at all. I like that you can get new characters for only 100 coins. Because in most games it would be a lot more than that. One time I got 2000 coins and bought 20 new characters. I like that there are daily challenges, so you can compete against other people without playing multiplayer. I don't understand why the daily challenges end before the actual end of the day. Like I can play 2 different daily challenges in one day. I also like the variety of characters. Like, there's pac man and ida. I like that there are different backgrounds when you play different characters. I know it sounds weird, but my favorite character is the toothbrush. I also like that the characters make sounds as they play. The baby animals sound like squeakers. It's so cute. It's honestly kind of sad seeing the baby animals get run over by cars, but it's not real so it's okay. So, the only problems (they're not big problems) is that you can play two different daily challenges in one day, and that you can get duplicates when you try to buy new characters. Thank you for making such an amazing game!!!
Best Game Mobile Game of all Time!
This is the first game that I ever downloaded on my phone about 6 years ago, and I have been playing it ever since. I usually download mobile games and play them for a couple of weeks until I'm bored and delete them, but I have legitimately played this game for 6 straight years. I have actually become one of the top players on the game(top 1% on the leaderboard), and this proves that the game isn't overly difficult. The characters give you a fun thing to do while trying to climb the leaderboard for highest score, and pecking order gives you an opportunity to participate in immediate competition. There is the complaint of getting to many duplicates, but I have collected every single character in the game without ever paying a dime of real money so it is possible. Anyway the only complaint that I have is that after you collect all the characters like I have, there is nothing left to do other than improve your high score(which is still very fun.) I would love to see a new feature where you can level of your characters even if it doesn't improve their performance(just as a way to continue progressing) or maybe like unlockable decoration and costumes for each character. Overall it truly is the best mobile game of all time.
Love it
I like this app a lot it's really fun the only thing about it is that it goes a little bit too fast for me but if you're like somebody who likes fast games or likes to go really fast it would be a great app for you and it has some bugs but I think the new update is going to really fix that yeah so I really like this app and it's really fun and my top is 69 and it's actually really nice and you can win different prizes for just playing the game and that is really nice so you don't have to buy anything you can buy different levels and stuff but I don't really see the need to do that because you could just earn up by playing the game so why would you buy something if you could just do it for free and so I really like it and But if you don't like fast games I think it would not be as fun and he would try a little bit harder to get it and yeah and you really get to Do you different characters like the witch or the pig or the chicken or any of them it's not just the chicken on there it's different levels different types different all of this stuff and it's really nice to just express you buy your character or you're setting of where you want to play your Crossy Road and I really like that there's a river there's a train there's grasslands you can get coins treated and that there's a hawk that goes if you don't use it all so it's actually really nice and I love this thank you
Get Crossy Road from App Store
What is your opinion about Crossy Road
Bitcoin
Ethereum
MetaMask (ETH)
Xrp
Polkadot
Binance coin
Stellar
Dogecoin
Tron
Elrond
Donate Bitcoin to this address
Scan the QR code or copy the address below into your wallet to send some Bitcoin
Donate Ethereum to this address
Scan the QR code or copy the address below into your wallet to send some Ethereum
Donate Xrp to this address
Scan the QR code or copy the address below into your wallet to send some Xrp
Donate Polkadot to this address
Scan the QR code or copy the address below into your wallet to send some Polkadot
Donate Binance coin to this address
Scan the QR code or copy the address below into your wallet to send some Binance coin
Donate Stellar to this address
Scan the QR code or copy the address below into your wallet to send some Stellar
Donate Dogecoin to this address
Scan the QR code or copy the address below into your wallet to send some Dogecoin
Donate Tron to this address
Scan the QR code or copy the address below into your wallet to send some Tron
Donate Elrond to this address
Scan the QR code or copy the address below into your wallet to send some Elrond