Coloring Match game by SUPERSONIC STUDIOS LTD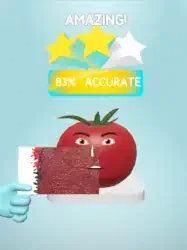 Game Description :
Match the color of the object by mixing from the palette!
The best COLORING GAME! Match the colors by mixing them!
Mix colors in the color palette and paint 3D objects to match the right color! You can also sell your painted objects at auction or display them in your home! Explore different themed rooms and paint over 200 objects to create masterpieces!
1. Garden: Apple, Banana, Eggplant, Orange, Cherry, etc.
2. Kitchen: Waffle, Pancake, Donut, Cupcake, etc.
3. Garage: BMW, Audi, Nissan, Dodge, etc.
4. Cubes: Cubes of different colors.
5. Greenhouse: Lots of flowers like Eucalyptus, Astrantia and also Christmas Tree!
6. Electronics: Console, Instax, Arcade, Drone, etc.
7. Sports: Balls of various sports like tennis, bowling, soccer.
8. Furniture: Chair, Bed, Table, Kettle, etc.
9. Animals: Cat, Cow, Dog, Sheep, and more!
10. Aquarium: Octopus, JellyFish, Shark, etc.
11. Vegetable: Watermelon, Tomato, Cucumber, etc.
12. Cosmetic: Blush, Bronzer, Lipstick, and more!
Game Features :
Simple and Easy to Paint: You can try to find the color of the objects and paint the object with the color on the canvas.
Learning Colors and Color Mixtures: Learn which color you will get by mixing colors. Experience it yourself and find out the best color! You can get back to what you did with undo button and also you can use hint button for some little help.
Auction or Collection: Auction your painted objects in order to get your fair value or keep them for yourself and display them in your home!
Developing Different Themed Rooms: You can improve the decoration of 12 different themed rooms and the main screen.
Share Your Objects on Social Networks: You can quickly send your objects to your friends and prove your friends you are the best at color matching by sharing your creations with them! (Instagram, Facebook, Twitter, Snapchat, etc.)
Build Your 3D Gallery: Create your unique objects by mixing color and painting the objects however you want!
Additional Information :
Size 321.4 MB
Requires iOS 11.0 or later.
User Reviews :
Relaxing… for the most part
I would have given this app 5/5 stars if it wasn't for a few major issues. I have been playing coloring match for a few months and just recently encountered an issue where a few of the items were not even remotely close to the color that makes it 100% complete. Just had a football looking object that appeared to be a perfect brown, so, I mixed the colors to make a brown. I kept getting 75%-86%. So, I clicked the video and watched an ad so it would give me hints. I followed the hints perfectly and ended up with a color that said 100% complete. The issue is the color that said it was a perfect match was not even remotely close to the color of the item. Not sure if this is a glitch on that particular object or what but that was the furthest thing from relaxing.

Per the usual, buy the ad free version. There are way too many ads in the free app that make it almost intolerable to deal with. With the ad free version you can skip the ads entirely or, watch a "video" (ad) for a bonus gift, double the money from auction, get a hint, etc.

Aside from the few bugs/glitches which everything has at some point, this is a very relaxing game/app. Would recommend.
Fun 🙂 If ur bored in quarantine I suggest this game 😀
My friend recommended this game to me and I got it since I didn't have loads of games to play. The ads are reasonable, I only get them after I complete a level. I do feel like they might be a bit too easy, hence why I rated it 4 stars. But my friend said that I'm good at matching colours when I helped her on some levels. I do always get 100% on each level after I try to match it a second time, as I'm a bit of a perfectionist. I go to try and match it if it's below 95%. I quite fancy the auction part though. I like seeing the NPC's ask crazy prices for painted objects. So yea, this game is definitely one you should download if you get bored. You also get to make money for a city and grow it. 🙂

To the developers: I would like it if you made the levels a tiny bit harder. I feel that it is too easy, and if I play it long enough, I might get bored. I am in Honours classes in my school (higher-paced lessons) and I like challenges. I read some other reviews before I downloaded this game and saw mostly 4 star rating, most talking about the easiness of this game. Otherwise, it is pretty fun!
Get Coloring Match from App Store
What is your opinion about Coloring Match
Bitcoin
Ethereum
MetaMask (ETH)
Xrp
Polkadot
Binance coin
Stellar
Dogecoin
Tron
Elrond
Donate Bitcoin to this address
Scan the QR code or copy the address below into your wallet to send some Bitcoin
Donate Ethereum to this address
Scan the QR code or copy the address below into your wallet to send some Ethereum
Donate Xrp to this address
Scan the QR code or copy the address below into your wallet to send some Xrp
Donate Polkadot to this address
Scan the QR code or copy the address below into your wallet to send some Polkadot
Donate Binance coin to this address
Scan the QR code or copy the address below into your wallet to send some Binance coin
Donate Stellar to this address
Scan the QR code or copy the address below into your wallet to send some Stellar
Donate Dogecoin to this address
Scan the QR code or copy the address below into your wallet to send some Dogecoin
Donate Tron to this address
Scan the QR code or copy the address below into your wallet to send some Tron
Donate Elrond to this address
Scan the QR code or copy the address below into your wallet to send some Elrond