Just Blocks – Wood Puzzle game by NewPubCo, Inc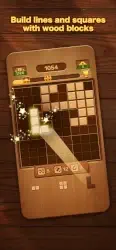 Game Description :
Wood block puzzle games meets sudoku grid. Get ready to elevate your puzzle skills with Just Blocks, the ultimate Tetris-inspired game. Sharpen your mind while having fun
Discover your inner block puzzle master with Just Blocks – install and play Just Blocks, the addictive classic brick block game with a sudoku twist!
Take a relaxing break from all the noise and stress and solve a Just Blocks classic puzzle instead – it's a great exercise for the brain that will also challenge your brain age and keep your mind sharp!
Just Blocks is an easy, fit-for-all brick puzzle game combining 2 types of block games – sudoku games and classic brick games. It's a completely free block puzzle game that comes with seasonal events, daily Just Blocks challenges and different modes to play – all designed to make you turn down stress and turn up the fun!
Install Just Blocks puzzle for free and get addicted to merging, dropping and joining brick blocks in your own time or in a timely manner – your choice!
Game Features :
Such combination of sudoku blocks, block classic games and puzzle blocks make up an ideal mind game you can play online or offline anytime, anywhere to train your brain and enjoy moments of complete relaxation.
Brick puzzle block games such as Just Blocks also involve a certain degree of strategy and easy logic – that is why it's a great free block puzzle game for all ages.
The Daily Challenges will keep you on your toes … or rather, fingertips… since you'll have to create puzzle blocks lines quite fast and make sure you finish the brick puzzle challenge in a predetermined time frame. Up for the daily puzzle challenges? Solve them all and win monthly trophies!
Seasonal Events in Join Blocks will keep you highly entertained by adding even more elements to the game you already love – there will be free puzzles to complete, diamonds and rubies to earn, colourful bricks to collect, beautiful and fun block merging gameplay that you'll enjoy time and time again.
Play and create puzzle bricks combos with no time limit with Standard mode or against the clock in Time mode for an extra adrenaline boost.
Enjoy various game options such as different colors of the puzzle board and bricks, sounds, modes to play and more.
How to play Just Blocks?
Tap on the available brick blocks, then drag and drop the bricks around in the grid to place them where they fit best.
Create full block lines on the grid vertically or horizontally, or whole brick squares in order to break bricks and score points.
Check out the app Settings for more gameplay options.
Just Blocks is a fun, addictive block puzzle that you'll want to keep playing every day – either for a fun pastime or for practice, to keep your mind sharp. Brick block puzzle games such as this, based on solving puzzles and matching bricks and even number blocks, help with brain training and development, so train frequently and keep track of your progress.
Install Just Blocks today, drag and drop those puzzle bricks, play the daily challenges, score high and win trophies. Sounds like fun? Drop us your feedback and let us know how you feel about the Just Blocks app – we're always happy to learn from our players!
Additional Information :
Age Rating 4+
Size 277.2 MB
Requires iOS 12.0 or later.
User Reviews :
What the Heck! Ruined my game
What have you done with my beautiful colorful Block Puzzle game! It MADE me update to the 2022 version wether I wanted to or not. And AWFUL! Replaced that colorful game with a crummy brown game of small ugly pieces. Even the game name changed. This is what I hate so bad about the Apple apps. Not only are they now ruined with ad after ad after ad you can't even keep ones you like.

Shame on you
Developer Response,
Dear alphaxp, we understand your frustration, change is sometimes difficult, especially when you're used to a certain version of the game. We kindly ask you to give it another try and spend some time playing, you may find that it's actually surprisingly fun! Thank you!
Oh What Fun…until…
This game was so easy and fun, at first. The game would have continued doing so if it were not for the confounding glitches!! Zipping along through seven thousand points and the game freezes. From then on, the blocks won't go where they have been intended to be placed. They drop wherever they want! The game is off balanced from then on. The blocks in the bottom of the screen won't move other than going minute in size and then breaking up for a few seconds. I had been happily toggling these blocks and going strong. But you know what? This app has been deleted from my screen with other disappointing time wasters.
Developer Response,
Hello! Sorry for the inconvenience! Our team is already working on a fix for this issue, it will be solved shortly. Please check again soon and if not please, contact our support team using this email: hello+justblock@newpub.co We will be happy to help!
Get Just Blocks from App Store
What is your opinion about Just Blocks
Bitcoin
Ethereum
MetaMask (ETH)
Xrp
Polkadot
Binance coin
Stellar
Dogecoin
Tron
Elrond
Donate Bitcoin to this address
Scan the QR code or copy the address below into your wallet to send some Bitcoin
Donate Ethereum to this address
Scan the QR code or copy the address below into your wallet to send some Ethereum
Donate Xrp to this address
Scan the QR code or copy the address below into your wallet to send some Xrp
Donate Polkadot to this address
Scan the QR code or copy the address below into your wallet to send some Polkadot
Donate Binance coin to this address
Scan the QR code or copy the address below into your wallet to send some Binance coin
Donate Stellar to this address
Scan the QR code or copy the address below into your wallet to send some Stellar
Donate Dogecoin to this address
Scan the QR code or copy the address below into your wallet to send some Dogecoin
Donate Tron to this address
Scan the QR code or copy the address below into your wallet to send some Tron
Donate Elrond to this address
Scan the QR code or copy the address below into your wallet to send some Elrond