(App) Coinbase Wallet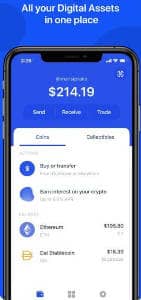 App Description :
Coinbase Wallet is the #1 mobile cryptocurrency wallet. Wallet makes it easy for you to securely store, send and receive Bitcoin (BTC), Bitcoin Cash (BCH), Ether (ETH), Ether Classic (ETC), Litecoin (LTC), XRP (Ripple), Stellar Lumens (XLM), and Ethereum-based ERC20 tokens.
App Features :
Coinbase Wallet combines several powerful capabilities:
 SECURE USER-CONTROLLED CRYPTO WALLET – securely store, send and receive Bitcoin (BTC), Bitcoin Cash (BCH), Ether (ETH), Ether Classic (ETC), Litecoin (LTC), XRP (Ripple), Stellar Lumens (XLM) and ERC20 tokens, and ERC721 collectibles. You remain in control of your private keys, which are stored only on your device using Secure Element technology. We never have access to your funds.
 CRYPTO PAYMENTS – Send cryptocurrency payments to anyone, anywhere in the world.
 BACKUP PRIVATE KEYS TO THE CLOUD – Backup your Wallet's private keys to iCloud to help avoid losing your funds if you lose your device or misplace your recovery phrase.
Other highlights include:
 Generate a new Bitcoin (BTC), Bitcoin Cash (BCH), Ethereum (ETH), Ethereum Classic (ETC), Litecoin (LTC) and XRP, Stellar Lumens (XLM) wallet in seconds
 Connect your Coinbase.com account and easily transfer crypto to your own custody
 See the current price of assets in your wallet in your local currency
 Automatically add popular ERC20 tokens and ERC721 collectibles to your wallet
 See your transaction history
 Backup and restore wallet using standard 12-word BIP39 recovery phrases (compatible with MetaMask and Cipher)
 Sign messages cryptographically with your private key
It's our mission to bring the power of cryptocurrency and decentralized applications to as many people as possible.
For feedback and assistance, you can reach us at wallet.support[at]coinbase.com You can also find us on Twitter: @CoinbaseWallet
Additional Information :
Size 140 MB
Requires iOS 11.0 or later.
User Reviews :
Newer
I've been using the wallet about a month now and I haven't really had a problem. I haven't found a way to "cash out" or send funds directly to my bank acct from the wallet but I don't think that's what it or the exchange was designed for. Remember this is a crypto wallet, so naturally the devs want your funds to remain crypto.

I've seen a lot of reviews that mention problems with transferring funds, non existent recovery phrases, and disappeared coins. I haven't lost any coins but I did get an insufficient balance message after I tried to move funds from the Coinbase exchange to my wallet once. I had enough to cover the fee and was a little worried after reading the error but I waited for the confirmation email you get when whatever coin you buy on the exchange is available, then I tried the transfer again and it worked no problem. I suggest familiarizing yourself with the wallet and the exchange before you add funds to either. Review your recovery phrase and save it to the cloud, write it down, or commit it to memory. Familiarize yourself with the associated fees because they can add up quickly when converting, buying, or selling if you aren't careful. Lastly, transfers to and from your wallet are not always instantaneous, but they are much faster and cheaper than traditional methods of sending and receiving funds.
Support
I would recommend live support phone or chat with someone to communicate with. Would also recommend a bit more information on the process of all the possible transactions. This isn't the pro app so more info and easier to access. Robo support has hard time clarifying the issue. I would recommend the app , it really is good. I'm trying not to mix up the app review with the coinbase support. Coinbase should definitely have customer service for us with the amount of revenue they generate. It would be cost effective because they would not loose customers do to inadequate support for the volume that they have to handle, we all are new at some level with crypto trades and if I lost all my coin for lack of information I would be outraged. Public traded company and I have an investment with the company as well as a account. Market share is going to be critical on the months to come and I don't want the company to loose traction with all crypto trade sites popping . Keep striving for more of the market share it be harder to get it later. So put the work in now guys and we will reap the dividends for years to come. Your success is my success!!!! Carpe Diem.
Developer Response ,
Hi there, this isn't our ideal support experience and we hear your frustration. We're currently experiencing a high number of inquiries, but we'll respond to your inquiry as soon as we can. Please reply back to the email we've sent you if you have any other issues.
Get Coinbase Wallet from App Store
What is your opinion about Coinbase Wallet
Bitcoin
Ethereum
MetaMask (ETH)
Xrp
Polkadot
Binance coin
Stellar
Dogecoin
Tron
Elrond
Donate Bitcoin to this address
Scan the QR code or copy the address below into your wallet to send some Bitcoin
Donate Ethereum to this address
Scan the QR code or copy the address below into your wallet to send some Ethereum
Donate Xrp to this address
Scan the QR code or copy the address below into your wallet to send some Xrp
Donate Polkadot to this address
Scan the QR code or copy the address below into your wallet to send some Polkadot
Donate Binance coin to this address
Scan the QR code or copy the address below into your wallet to send some Binance coin
Donate Stellar to this address
Scan the QR code or copy the address below into your wallet to send some Stellar
Donate Dogecoin to this address
Scan the QR code or copy the address below into your wallet to send some Dogecoin
Donate Tron to this address
Scan the QR code or copy the address below into your wallet to send some Tron
Donate Elrond to this address
Scan the QR code or copy the address below into your wallet to send some Elrond