(Game) Five Nights at Freddy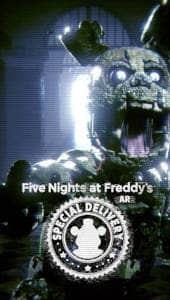 Game Description :
Five Nights at Freddy's AR: Special Delivery is the next terrifying installment in the FNAF franchise. Players will confront malfunctioning animatronics in their real world and attempt to survive these horrors come to life. Through the game, players subscribe to Fazbear Entertainment's brand new "Fazbear Funtime Service" and get their favorite animatronics on-demand. Due to unfortunate circumstances, the visiting animatronics malfunction and attack subscribers instead of entertaining them.
Players must confront an endless stream of hostile animatronics that will follow them wherever they go. The question is, how long can players survive? And just what is happening at Fazbear Entertainment?
Game Features :
IMMERSE YOURSELF in terrifying augmented reality audio-visual attack sequences exclusively designed for each animatronic
EXPERIENCE real-time location based gameplay, where FNAF animatronics will pay you a visit wherever you are and wherever you go
SURVIVE animatronic attacks by using your limited resources wisely (including battery, flashlight, and shocker)
COLLECT parts, CPUs, and plushsuits to ASSEMBLE, test, repair and deploy your own hotwired animatronics, and search & collect remnant in your environment
SEND ANIMATRONICS against your friends and other players, and get the highest spot on the leaderboard
Additional Notes:
Please note that FNAF AR: Special Delivery is free to download and play, but offers some game items for purchase with real money. If you don't want to use this feature, please disable in-app purchases.
Play recommendations:
Data connection required. (Mobile/WiFi)
Best played with headphones!
Compatibility:
Compatibility is not guaranteed for devices without GPS capabilities or devices that are connected only to Wi-Fi networks.
Privacy Policy:
illumix.com/privacy-policy/
Terms of Use:
illumix.com/tou/
Additional Information :
Size 321.9 MB
Requires iOS 11.2 or later.
User Reviews :
Great game! Needs some work tho
This game is absolutely amazing! I downloaded it the day it came out, and I still play it almost every day. The models are amazing, it's challenging and fun at the same time, and with new skins/characters every week, the game is never low on content. However, there are a couple bugs and things that are kind of annoying. 1: sometimes when I load up the game, it'll get stuck at 85%. I usually just have to wait 30 seconds and it'll resume, but it is kinda time consuming. 2: I don't get why the packs in this game are so expensive. It's like saying that if a pay 42$ ( yes, that's the in-game price for the toy chica pack) then I get to look at toy chica, and fight her three times. I get that since this a mobile game, there will be in-app purchases, but these are just not worth it. I recommend completing the daily challenges to get lures, and who knows, maybe you'll get toy chica for free. That's how I do it! And finally 3: the lack of characters. I get that it's hard to make up mechanics, and model things, and I just said how this game was never dry on content, but there comes a point where people aren't gonna want to fight the same character Over and over, with the only difference being that they look different. The last character to come out was golden freddy, and he was cool and all, but he came out in December! Hopefully the new DLC gives us new characters. If so, I'll change this to five stars
OK overall it's a great game and bugs solved
OK now what I need to say the game is been better since the time that I first started playing I'll get all the critics away and a good five stars OK and there's something like a bug that doesn't let me use like the game for some weird reason I was using the game regularly and then it says like I need to access the camera to just to play so I was looking to find a way to fix it I needed to delete the game and it and then download it again I don't know what happened but it's actually weird that happened because when I go to settings do you know like restore right I was looking for ways to fix the bug but when I go to settings so I need to put the cameras settings right on but when I go to search the settings and I pressed It didn't say anything about the camera so that's kind of a bug so I just want you guys to fix it five stars and the glitch that I was talking about you know the faz coin glitch OK I am since the last update it have been better like I didn't have that glitch anymore so I got five stars thank you oh yeah and a percentage of getting the animatronics yeah I think you need to do you know put more percentage because I I put my effort on beat that animatronic and you just didn't give me my reward just give me like three I don't know what's the name and just gonna call them Coins you just give me like three coins so I don't like it but in the overall for me five star because you fixed almost bugs so thank you
Developer Response ,
Thank you so much for your feedback and comments–we are always looking for ways to improve the app and the in-game experience!
Get Five Nights at Freddy from App Store
What is your opinion about Five Nights at Freddy
Bitcoin
Ethereum
MetaMask (ETH)
Xrp
Polkadot
Binance coin
Stellar
Dogecoin
Tron
Elrond
Donate Bitcoin to this address
Scan the QR code or copy the address below into your wallet to send some Bitcoin
Donate Ethereum to this address
Scan the QR code or copy the address below into your wallet to send some Ethereum
Donate Xrp to this address
Scan the QR code or copy the address below into your wallet to send some Xrp
Donate Polkadot to this address
Scan the QR code or copy the address below into your wallet to send some Polkadot
Donate Binance coin to this address
Scan the QR code or copy the address below into your wallet to send some Binance coin
Donate Stellar to this address
Scan the QR code or copy the address below into your wallet to send some Stellar
Donate Dogecoin to this address
Scan the QR code or copy the address below into your wallet to send some Dogecoin
Donate Tron to this address
Scan the QR code or copy the address below into your wallet to send some Tron
Donate Elrond to this address
Scan the QR code or copy the address below into your wallet to send some Elrond