(App) Clicker – Count Anythin‪g
 iphoneapps info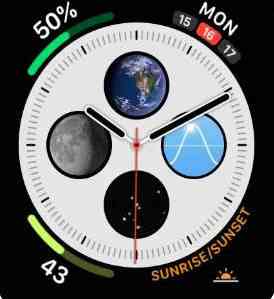 App Description :
Tapping anywhere on your watch face adds to your counter and gives you haptic feedback. You don't have to stare at your wrist while counting!
Includes a watch complication that lets you easily check and access the counter.
To decrement or clear the counter, force press on your watch face.
Records up to 2,147,483,647 taps. Knock yourself out.
App Features :
Count anything on your watch:
Laps while exercising
Days since you quit smoking
Number of people in your club
How much weight you've lost
Sheep
Additional Information :
Size 1.3 MB
Requires iOS 12.0 and watchOS 4.3 or later.
Compatible with iPhone, iPad, and iPod touch.
User Reviews :
Awesome app
It's such a simple app, but it works so well. I have not had it crash on me once and I use it several times a day. I use it to keep track of how much I vape because I am trying to cut back each day so someday I can eventually quit.

I would give it 5 stars if we had the option between showing the amount on the watch face OR just the plus icon that's in the app. Also if we had the choice to change the app to the same color choices as the watch faces so it would match better.

If these could be implemented it would easily be a 5 star app from me. I do realize these are just small aesthetic peeves I have. The productivity of the app I have no problem with at all. It's perfect in that department.
Works as it should
The app seems to work perfectly. I only wish I could choose to count by numbers other than 1.
Great for tracking water intake
I use this app to track how many ounces of water I drink a day.

At the end of the day, I enter that number in my fitness tracker app. It's much faster and easier to tap the complication on my watch face than going directly to a fitness app on my phone; I also don't get distracted by other apps and notifications on the phone.

Wish list: The *option* to track up to 4 different things, with a different colored counter in each corner.
Simple counter for Apple Watch
This app is great for my watch when I run laps on the track. The track is very small (1/12 mile) so I can easily lose track of my laps. With the watch app, a simple tap on the screen will log a new lap. There is also a 'compilation' for the watch that allows you to see from the face what your last count was.
Still works great in 2018
The app hasn't been updated in 2 years but still works great on my Series 3 Watch with iOS 4.3.

Really looking forward to using this to track just how many people come up to pet our friendly, happy pup when we walk her during our weekend events. 🙂
Works, but could use some new features
I'd like the ability to count more than one thing. Seems like a swipe feature and titling for each tally could work. The complication could probably even fit three counters. I would pay for this feature
Doesn't Open
Is this just a picture with no functional ability whatsoever? I click tap touch press swipe… All in vain… What a waste because the description appealed to me calling it "simple". This is so "simple" that I think the app is a facade because only thing that responded on the entire app face was the link to the icon factories webpage where they promote their services!
Perfect!
Having a complication is what makes this a winner.

Also, the design is great.

A paid version with multiple tallies would be awesome!
Needs updated!!!
I love the app, but I am unable to add complications for the watch faces I actually use. If they updated the app with many more complications I would say it's a 5 star app. Unless you like to dig into your apps to open this thing up constantly, it's borderline useless.
Excellent idea
Simple and useful. Clicker is the only third-party complication I keep on my watch face.
Decent app
Generally does what you'd expect! I wish it would be updated to work as a complication on some of the newer watch faces.
Get Clicker from App Store
What is your opinion about Clicker
Bitcoin
Ethereum
MetaMask (ETH)
Xrp
Polkadot
Binance coin
Stellar
Dogecoin
Tron
Elrond
Donate Bitcoin to this address
Scan the QR code or copy the address below into your wallet to send some Bitcoin
Donate Ethereum to this address
Scan the QR code or copy the address below into your wallet to send some Ethereum
Donate Xrp to this address
Scan the QR code or copy the address below into your wallet to send some Xrp
Donate Polkadot to this address
Scan the QR code or copy the address below into your wallet to send some Polkadot
Donate Binance coin to this address
Scan the QR code or copy the address below into your wallet to send some Binance coin
Donate Stellar to this address
Scan the QR code or copy the address below into your wallet to send some Stellar
Donate Dogecoin to this address
Scan the QR code or copy the address below into your wallet to send some Dogecoin
Donate Tron to this address
Scan the QR code or copy the address below into your wallet to send some Tron
Donate Elrond to this address
Scan the QR code or copy the address below into your wallet to send some Elrond