(Game) Johnny Trigger
 iphone games for free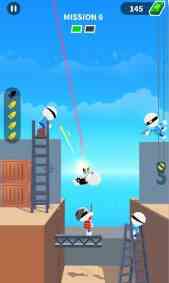 Game Description :
Johnny Trigger – International Man of Mayhem!
Stylish, deadly and smooth as a billiard ball, Johnny Trigger is a man on a mission in this non-stop platform shooter game where the action never ends. Do you have what it takes to bring down the underground world of the mafia? "Less talk, more bullets" – that's Johnny's motto as he runs, jumps, spins, slides and keeps on shooting till every bad guy's bitten the dust.
Game Features :
Trigger warning – Johnny's on his way!
Thousands of levels of murderous mayhem to fight through, each demanding a unique tactical solution and speedy trigger fingers! Johnny never stops moving, so when the bad guys line up in your sights, you've got just once chance to get shooting.
Be careful not to hit hostages, though. After all you're the hero of this game, not some crazed killer! Should you accidentally end the life of an innocent civilian, it's back to square one.
Hit those hard-to-reach scumbags with the power of physics! Trick shots, ricochets, explosions and gravity are all part of Johnny's crime-fighting arsenal…
…along with guns galore! Cause serious havoc with 57 unique weapons to collect – 11 pistols, 12 SMGs, 9 automatic rifles, 10 superguns and 4 Ultimate guns with fearsome capabilities guaranteed to give the bad guys a nasty shock. For the completist, there's also 5 base guns, 3 bundle guns and 3 VIP guns. Basically, a shedload of guns to collect, cherish and slaughter gangsters with.
On the subject of sheds, collect keys to unlock Johnny's 10 awesome base rooms and get hammering to turn them into luxurious hideaways. Turns out our action hero's quite the handyman in his free time.
Sweet graphics and a banging soundtrack – Johnny's world would be a great place to chill if it weren't for all those pesky gangsters lurking round every corner. Just think how nice it'll be once you've massacred every last one of them!
More than 20 different stylish skins to help Johnny go undercover in the murky underworld of organized crime, and then blast the living hell out of it!
Boss battles demand all of Johnny's wits and sharp shooting as you take down the lords of the underworld in a leaping, spinning storm of bullets.
Looking for action? Here's Johnny!
Subscription Terms:
VIP MEMBERSHIP Access offers a weekly subscription, you will have a 3-days FREE trial period, after this period you will be charged $5.99/week.
After buying this subscription, you will unlock following features: exclusive VIP guns, no ads, 100 gems and 10 hammers every day.
This is an Auto-renewable subscription. The payment is charged to your account after confirmation. The subscription is renewed unless you turn it off 24 hours before the period ends. Your account will be charged for renewal as well.
End of trial and subscription renewal:
The payment is charged to your account after a confirmation of purchase.
The subscription is renewed unless you turn it off 24 hour before the end of the current period.
The account will be charged for renewal within 24 hours before the end of the current period at the cost of the weekly subscription.
The user may manage the subscription and auto-renewal have to be turned off by going to the user's account settings after purchase in the Store.
No cancellation of the current subscription is allowed during the active subscription period.
Canceling a trial or a subscription:
If you want to cancel a subscription during its free trial, you have to cancel it through your account in the Store. This must be done at least 24 hours before the end of the free trial period to avoid being charged.
For more information, please visit support.apple.com/HT207865 for more information
If there is questions contact us info[at]saygames.by
Privacy Policy : saygames.by/privacy-policy/johnnytrigger
Terms of use : saygames.by/terms-of-use/johnnytrigger
Additional Information :
Size 415.7 MB
Requires iOS 9.0 or later.
Compatible with iPhone, iPad, and iPod touch.
User Reviews :
Good idea, mediocre execution
The idea of this game is great, it is simple and fun. However, it has problems. Let's talk about level design. The level's are, in my opinion, way too short. I like my games to be difficult. And having a checkpoint between every bit of danger makes me feel like the game is holding my hand. Now let's talk about weapons. The way you get weapons is fine, but pointless. The damage does not matter whatsoever as it only affects how much damage you do to bosses. And some weapons are just better than others. It is really down to personal preference what you like. The outfits are fine, however I noticed that the progress bar to get them goes up 20% instead of 10% when you are at 80%. I know that was a bit confusing, but it doesn't matter that much. Now let's talk about the most pressing issue, ads. The game, while not pumped full of them, has an ad every two or three levels completed or when you restart. These ada are skippable, but are annoying. But you can pay 3 dollars to disable them. Which is not gonna happen for me. I understand you guys need cash, but this is mobile, make a good paid game and then you can get cash by something other than ads. The skins are fine, I personally don't care about them. The game itself is fine, but the way it is designed is not the best. Also, no John Wick skin 0/10 bad game.
Some ideas
I started playing this game when it was around 20 levels on repeat so I will say the update definitely made this more playable, but there are a few things i think would be good to add. The levels themselves are a tad short, not much of a challenge. I love the aspect of "parkour" mixed in with the weapons, one of main reasons why i love mirrors edge (not comparing it to mirrors edge, but you get my point) I think it would be cool to see more variety of levels and more twists and turns, jumping through and around obstacles, etc. Also one more thing i think would make it immensely better is if you added a game-mode that challenged you to do it without the slo-mo, would be very difficult but challenging levels it what draws people to play. All and all i like what you guys are doing just implement more difficult things that doesn't make it feel like you're in tutorial mode the entire time. I honestly wouldn't even mind paying for this game if there was more to it. Not giving you less than 5 stars because this game has serious potential.
Get Johnny Trigger from App Store
What is your opinion about Johnny Trigger
Bitcoin
Ethereum
MetaMask (ETH)
Xrp
Polkadot
Binance coin
Stellar
Dogecoin
Tron
Elrond
Donate Bitcoin to this address
Scan the QR code or copy the address below into your wallet to send some Bitcoin
Donate Ethereum to this address
Scan the QR code or copy the address below into your wallet to send some Ethereum
Donate Xrp to this address
Scan the QR code or copy the address below into your wallet to send some Xrp
Donate Polkadot to this address
Scan the QR code or copy the address below into your wallet to send some Polkadot
Donate Binance coin to this address
Scan the QR code or copy the address below into your wallet to send some Binance coin
Donate Stellar to this address
Scan the QR code or copy the address below into your wallet to send some Stellar
Donate Dogecoin to this address
Scan the QR code or copy the address below into your wallet to send some Dogecoin
Donate Tron to this address
Scan the QR code or copy the address below into your wallet to send some Tron
Donate Elrond to this address
Scan the QR code or copy the address below into your wallet to send some Elrond