(Game) Cats and Soup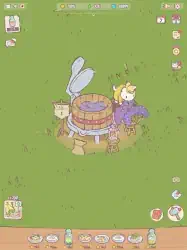 Game Description :
Looking for a cute cat game?
Here is a peaceful animal forest where cats boil their delicious soup!
An idle relaxing cat game perfect for cat moms and dads
Game Features :
1. Cat Raising Game in Cartoon Illustration
There has never been a cat game like this one!
Each cat's features are so distinct in cartoonish illustration, including Ragdoll, Norwegian forest cat, Birman, Himalayan, Maine Coon, Siberian, British Shorthair and more!
Meet the cats in the fairytale-like forest!
2. Interact With the Cut Cats
Dress cats with various costumes like hats, accessories, and clothes.
Take photos of your cute animals.
You can receive hearts by feeding them fishes caught from the mini-game!
Name your own cats just the way you like as well!
3. Relaxing ASMR Sound and BGM
Relieve your stress listening to the chilling sounds!
Prepare the ingredients and zoom into the cooking cats!
All the sounds from the animal restaurant can be heard~ Swish swish~ Blurp Blurp~
Set the BGM to the playlist you want.
4. Easy and Fast Animal Tycoon
Cats cook and collect resources once you go idle!
Play while you're eating, riding the bus, or working~!
Obtain new recipes and facilities from collected resources.
It's a perfect game for tycoon game and animal restaurant game lovers!
If you are one of these gamers, download the game now!
A cat lover wanting to raise cats
Cat moms and dads who wants more cats
Students or workers who need some rest right now
Those looking for cute animal games or cat games
ASMR lovers
Those looking for relaxing games, idle games or roleplay games
Those who can't stop saying "Cats are cute!"
Those who can't just walk past cats
Those into pocket camp games like Animal Crossing
Tycoon game experts with super fast clicking speed in restaurant games or food games
Everybody has cats but me……
Well, meet your own cats right now!
Let's go and check on your cute fluffy mittens
Additional Information :
Size 352 MB
Requires iOS 11.0 or later.
User reviews :
Absolutely adorable!
I got recommended this game by a classmate about a month ago. I wasn't sure what to expect, but I got hooked very fast. It has so much detail, and the art style is super cute! All ads are optional, which is a really nice and refreshing difference from most mobile games. You can go through the entire game and not watch a single ad. I like how the game gives you suggestions on what structures to upgrade, because if not I would probably forget to upgrade them lol. I think my favorite thing is that you can name and dress up your cats however you like. The accessories are all really cute, and most have a bonus effect. I do have a few suggestions though. First, and I've seen a few other reviews mention this, adding a few mini games to play while you're waiting for your cats to make soup would help pass some time when the game gets slow. Second, the way you draw for accessories can get frustrating. It's a bit difficult to get gems, so 300 gems is a lot for a single chest draw. And sometimes you won't even draw enough points to fill the bar and get the accessory. Third, and this is a very small one, I think adding a random name generator would be nice, since I sometimes have trouble coming up with names for my cats. Other than these little nitpicks, I've really been enjoying this game and I totally recommend it!
Such a cute app!!
this app is amazing! it's so cute, i love watching my little hardworking kittens whizz around and work together to create food! and watching them take little breaks under the tree or bouncing on the trampoline is just amazing! i even got my boyfriend to play the game and he loves it too! it really is so much fun to play and to watch! my only few recommendations would be to make an option for the "double working time" to last longer. like instead of 5 minutes maybe 10 or 15 or even 30 minutes. even if i have to pay a little to upgrade to that i would do it immediately. also, i think the wait time for fishing bait should be a lot shorter, or there should be different ways for us to get fish, like buying it with our earned coins, or watching we 3 videos and get all 5 baits replaced right then so we could get more fish to feed the cats. right now i have 8 cats and am getting 5 fish to feed them, and then if i waited for all the bait to be refilled it would take 10 hours and i think that's a little ridiculous. especially since most fish don't even fill one heart for a cat and the cats have like 10 hearts. And please add mini games too so we can do some things to keep ourselves occupied while we wait for the cats! maybe a fishing mini game as a way to get more fish! But other than these few suggestions that I hope are added soon, i love this game and please keep up the good work!
Get Cats and Soup from App Store
What is your opinion about Cats and Soup
Bitcoin
Ethereum
MetaMask (ETH)
Xrp
Polkadot
Binance coin
Stellar
Dogecoin
Tron
Elrond
Donate Bitcoin to this address
Scan the QR code or copy the address below into your wallet to send some Bitcoin
Donate Ethereum to this address
Scan the QR code or copy the address below into your wallet to send some Ethereum
Donate Xrp to this address
Scan the QR code or copy the address below into your wallet to send some Xrp
Donate Polkadot to this address
Scan the QR code or copy the address below into your wallet to send some Polkadot
Donate Binance coin to this address
Scan the QR code or copy the address below into your wallet to send some Binance coin
Donate Stellar to this address
Scan the QR code or copy the address below into your wallet to send some Stellar
Donate Dogecoin to this address
Scan the QR code or copy the address below into your wallet to send some Dogecoin
Donate Tron to this address
Scan the QR code or copy the address below into your wallet to send some Tron
Donate Elrond to this address
Scan the QR code or copy the address below into your wallet to send some Elrond