(App) Adobe Fresco – Painting Studio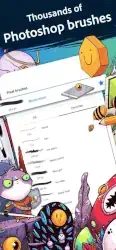 App Description :
Adobe Fresco is a free drawing and painting app built especially for iPad with Apple Pencil and iPhone. Designed for artists who draw professionally or paint for passion. Artwork syncs across devices so you can focus more on inspiration than where your files are.
Create beautiful digital art with three types of brushes:
Live Brushes: Paint with watercolors and oils that blossom, blend, smear, and smudge just like the real thing.
Pixel brushes: Use all your favorite Pixel brushes from Photoshop.
Vector brushes: Work with infinitely scalable vector brushes to create crisp lines, ready to print at any size.
Whether you prefer a canvas or a sketch pad, watercolor or oils, Fresco gives you flexibility as an artist. Turn your artwork into animation using our motion tools. With the premium version, you can also easily import .abr files of all your Photoshop brushes or choose from over a thousand unique brushes created by celebrated master Kyle T. Webster.
Adobe Fresco reimagines essential tools for illustrators, including modernized selection and masking, and a flexible UI so you can draw faster and without distractions. Brushes and projects follow you across devices so you can work wherever inspiration strikes. Enjoy seamless Photoshop integration, extra creative cloud storage, access to Photoshop on iPad with your subscription, and more. The premium offering adds Photoshop integration and extra creative cloud storage.
App Features :
FREE FEATURES
Paint with 50+ Photoshop paint brushes, vector brushes, and exclusive Live Brushes.
Draw using the sketch pad and experiment before finalizing your painting on a canvas.
Use powerful tools for creation, including selections, masking, layers, and layer groups.
Multicolor eyedrop — Sample, then paint with multiple colors at once with any pixel brush or Live Brush.
Magic wand and liquify — Easily select your artwork with the magic wand and then use liquify to brush adjustments for the perfect creative effect.
Color adjustment layers — These familiar layers from Photoshop allow you to easily change the brightness, hue/saturation, and color of your artwork.
Drawing aids — Familiar tools like a ruler, circle, square, and polygon allow you to quickly trace along the edge with a brush or fill inside/outside with the Fill tool.
Guides & grids — Quickly align your artwork or create natural-looking perspective artwork with easy-to-use drawing aids.
Access your custom brushes from Adobe Capture and other Creative Cloud libraries.
Motion tools — Create an animation from your artwork using frame by frame or with motion paths. Export your art as an animated GIF or MP4 movie file.
Your Adobe Photoshop Sketch and Adobe Illustrator Draw projects are automatically migrated the first time you sign into Fresco.
Export time-lapse videos that replay the creation of your artwork.
Use vector brushes to create vector art that you can scale up to any size.
Easily exports as PNG, JPG or layered PSD files.
Learn with step-by-step tutorials and built-in video tutorials.
Want to take your artwork to the next level? Subscribe to Fresco and get access to thousands of premium brushes, fonts, and shapes and increased cloud storage.
PREMIUM FEATURES
An expanded library of 1,000+ brushes
Access to over 1000+ premium fonts for use in Fresco
New quarterly brushes by Illustration evangelist Kyle T. Webster
Ability to import brushes (ABR files)
Increased cloud storage
Terms & Conditions:
Your use of this application is governed by the Adobe General Terms of Use www.adobe.com/go/terms_linkfree_en and the Adobe Privacy Policy www.adobe.com/go/privacy_policy_linkfree_en
Do Not Sell My Personal Information: www.adobe.com/go/ca-rights-linkfree
Additional Information :
Size 964.9 MB
Requires iOS 14.0 or later.
User reviews :
Another amazing Adobe app, that will become the standard.
I'm an amateur artist. Have been drawing/sketching since I was a kid. I got an iPad Pro a little a year ago, because I had become temporarily disabled, and needed something to keep me busy, for I would be confined to a bed for a long time. I of course got an Apple Pencil, and started doing the "paint by numbers" apps on here. Then of course, I downloaded the the Adobe Sketch app. It was okay. I literally have no idea what was/am doing, so I was very limited. Then Fresco was released. At first it still felt like the Sketch app, just a bit more customizable. Then when you guys finally released the big update after the 6 month trial, it opened a whole new world for me. Everything became more streamlined, and super easy to understand. Adding Brushes from PS super easy, but still limited. But over time, with more updates, it has become something special and unique. I bought and tried Procreate, several times, but I always end up going back to Fresco. Watching, and experiencing this app evolve, while I'm learning and evolving with it, has been amazing, and with so much time in the future to refine it, and better integrate PS with it, it will become the new standard. I'm so excited to see it happen, knowing I started from the very beginning. Thank you to the whole team over there!

SeanieDee
The best painting experience ( free version )
I am a student and learning painting as a hobby. I have been painting when I was 3 years old, I am not professional however drawing/painting has been part of my life for nearly 4 decades. I am trying to move to digital painting for sometime now and used different softwares like photoshop with stylus, procreate etc. I wanted an app which can provide real painting/drawing experience and adobe fresco fulfills that dream. The live brushes are just amazing. There are reviews which talk about not having many tools but I don't think we really need them unless you are working on a time constraint production. Real painting is not about having multiple tools, it's about the experience. I am glad that there is a eraser option as in real media you don't even have that luxury. I used procreate it's a great app for digital artists but does not mimic the experience of real painting. So don't go by the bad reviews and try out this app. I really really don't want adobe to kill this app just for bad reviews. Also there has been a lot of feedback on high prices, however I think they are just for professionals who are mostly already paying for creative cloud. I just have the free app ( didn't register for 6 months ) and I have access to all the tools I need to learn and practice. I believe adobe did a great job here and should be appreciated.
Get Adobe Fresco from App Store
What is your opinion about Adobe Fresco
Bitcoin
Ethereum
MetaMask (ETH)
Xrp
Polkadot
Binance coin
Stellar
Dogecoin
Tron
Elrond
Donate Bitcoin to this address
Scan the QR code or copy the address below into your wallet to send some Bitcoin
Donate Ethereum to this address
Scan the QR code or copy the address below into your wallet to send some Ethereum
Donate Xrp to this address
Scan the QR code or copy the address below into your wallet to send some Xrp
Donate Polkadot to this address
Scan the QR code or copy the address below into your wallet to send some Polkadot
Donate Binance coin to this address
Scan the QR code or copy the address below into your wallet to send some Binance coin
Donate Stellar to this address
Scan the QR code or copy the address below into your wallet to send some Stellar
Donate Dogecoin to this address
Scan the QR code or copy the address below into your wallet to send some Dogecoin
Donate Tron to this address
Scan the QR code or copy the address below into your wallet to send some Tron
Donate Elrond to this address
Scan the QR code or copy the address below into your wallet to send some Elrond