[Game] Bad 2 Bad Extinction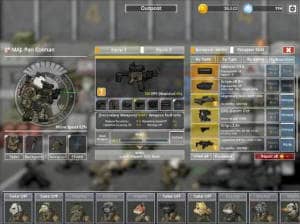 Game Description :
Bad 2 Bad: Extinction is a sequel of Bad 2 Bad: Delta, back with more stories and a variety of contents. Extinction covers the story after you defeat Gorat al-Llama's terrorist organization, Al-Qatala, and discover humans behind them. Here, you will engage in a war against the Tailless Legion – humans – as the B2B Delta Team.
Game Features :
Interesting characters and stories
Survival, open-world style
A variety of character decorations and gun modifications
20+ playable characters
60+ weapons and armors based on real-life references
Randomly generated maps and sub missions
Form and grow your troops
Futuristic combats using AI and drones.
Introducing the 5 forces
In Bad 2 Bad: Extinction, a total of 5 different forces are introduced as your new enemy – zombies called Wilders(WD), Purebloods(PS), Underdogs(UD), Amazoness(AZ), and the Tailless Legion(TL). Each forces have their own characteristics and stories.
Struggle for Survival
While searching for your main target in the mission field full of Wilders to proceed with campaigns by force, you can also play the game with more freedom in randomly generated maps and clearing sub missions to collect items and/or get rewards.
Character and Firearm Customization
You can modify your gun and decorate your character as much as you want. More weapons, equipment, costumes, and more characters are coming soon.
Form Your Own Special Force
In Extinction, you can organize and grow your own unit. Each enemies have different attack patterns and characteristics. If you get stuck, try upgrading your equipment and changing the tactics.
Weapon Skills and Proficiency
In order to use weapons other than your main weapon effectively, you must learn the respective weapon skills. Learn the skill and increase the proficiency levels to get buffs such as increased attack power, less durability, reload speed up, and headshot accuracy.
Intensive Converging Fire & Drone Attacks
Use the Converging Fire and Drone(DR-6L) attacks effectively to overcome the crisis. Air Drone(DR-2A) doesn't have an attacking feature, but it will difinitely come in handy.
Additional Information :
Size 261.8 MB
Requires iOS 10.0 or later.
User Reviews :
GREAT GAME
I'm not one to write a lot of reviews due to most games that I play doesn't keep my interest that long to invest time. This game is neat. I like the story and the animal soldiers . The gun customization is also cool and the sfx makes each gun unique. My only gripe with this game that it seems that it isn't optimized for an iPhone 11 Pro. My camera notch seems to overlap some buttons in-game. If they fix it then it'll be a top notch game.

Give it a try and maybe you'll like it too.
Very cool game, gets repetitive.
This game is really fun, has amazing art, a cool loadout costumization, and overall, just a cool atmosphere that feels like the developers really enjoyed what they were making. The combat does get repetitive a little down the line, but nothing too painful. In terms of difficulty, i found it to be pretty fair, if not a little on the easier side. The enemies move and attack as if they were in a turn based game which makes them pretty easy to exploit by just moving up or down after getting a few shots in. The game's format doesnt auite fit the newer i phones and some of the buttons it the corners or side are cut off halfway. I have not seen if its possible to map the buttons, but that would be a great addition. I was pretty disappointed to see the lion and other cool looking characters locked behind paywalls sk it would be niceto have at least some way to get them through gameplay, with payment being s timesaver but thats just a small gripe. Having the tiger available to be unlocked later on makes up for it.
One of my favorite mobile games to date
When I saw this game, I didn't think much of it but decided to give it a shot. And now I'm hooked on the story, gameplay, and weapons. If I could make two changes, it would be to give the characters a bit of backstory. It's a nice touch on any game, even if it's irrelevant. I would also add a "create your own" character. You choose the species, the gender, and their colors and all of that. Perhaps it wouldn't be a free option, but I would certainly love it if it were added. Overall, great game, very few complaints, and I look forward to playing more of it.
Could be the best game on the App Store
So anyways the title says it all there are more games on the App Store of course but this one is the best the only thing I have to complain about is how you can just grind in the level 1 area and get the same amount of money you would in the level 3 and 4 areas so I think it should give more gold in the higher level areas and that is it other than that the game is perfect
Get Bad 2 Bad Extinction from App Store
What is your opinion about Bad 2 Bad Extinction
Bitcoin
Ethereum
MetaMask (ETH)
Xrp
Polkadot
Binance coin
Stellar
Dogecoin
Tron
Elrond
Donate Bitcoin to this address
Scan the QR code or copy the address below into your wallet to send some Bitcoin
Donate Ethereum to this address
Scan the QR code or copy the address below into your wallet to send some Ethereum
Donate Xrp to this address
Scan the QR code or copy the address below into your wallet to send some Xrp
Donate Polkadot to this address
Scan the QR code or copy the address below into your wallet to send some Polkadot
Donate Binance coin to this address
Scan the QR code or copy the address below into your wallet to send some Binance coin
Donate Stellar to this address
Scan the QR code or copy the address below into your wallet to send some Stellar
Donate Dogecoin to this address
Scan the QR code or copy the address below into your wallet to send some Dogecoin
Donate Tron to this address
Scan the QR code or copy the address below into your wallet to send some Tron
Donate Elrond to this address
Scan the QR code or copy the address below into your wallet to send some Elrond