Calming Night Sounds app by AirShape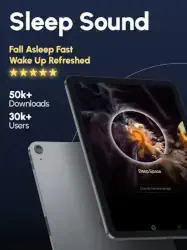 App Description :
Can't Sleep? How do we know that Sleeppezz will help you fall asleep?
Firstly, we used the latest clinical research of Sleep Scientists and supplemented nature's surroundings with white, brown, pink noises, solfeggio frequencies and brain waves.
Secondly, all the development team and their friends and relatives tried it on themselves! Sleeppezz combines beautiful nature and science-proven methods to help you fall asleep, stay asleep, and wake up refreshed. So you surely will get into the perfect natural soundscape to settle down at night or power naps during the day.
Our ultimate goal is to provide you a perfect sleep experience, allowing you to harness the power of the nature's greatest surroundings whenever you need.
Join us on a sleep journey with a perfect combination of Nature and Science, so you can quickly quiet your mind, diving into the greatest soundscapes.
App Features :
WE PUT SCIENCE BEHIND YOUR DEEP SLEEP
We used science to help you have deep and healthy sleep. We took the most beautiful and peaceful nature sounds and supplemented it with white, brown, pink noises, solfeggio frequencies and brain waves.
Brain waves (delta, theta) — binaural bits, that are helping your brain to "turn on" the waves it is producing in a "sleep mode";
Solfeggio frequencies — refer to specific tones of sound that help with and promote various aspects of body and mind health. These tones were widely used by the Gregorian monks in their chants because of the rhythmic pulse that had healing quantities;
White noise — a soft, soothing hum refers to a noise that contains all frequencies. It is helping to fall and stay asleep, especially if you are anxious, have insomnia or live in a noisy, urban setting;
Pink noise is more soft version of white noise. Think of a steady rainfall or the rise and fall of the tide;
Brown noise contains even more bass than pink noise, more like the rumble of strong winds, a rushing river or pounding surf.
MAKE YOUR OWN ATMOSPHERE
There's over 100 relaxing sleep sounds you can mix to create your own perfect atmosphere for sleep:
Rain sounds
Birds sounds
Water sounds
Fireplace sounds
Gently swaying trees
Zen monk chants
Singing bowl sounds
Relaxing melodies
Calming sleep music
ASMR sounds
Alpha, delta, theta waves
Solfeggio frequencies
White noise
Brown noise
Pink noise
GENTLE WAKING UP
Our smart gentle alarm sounds can wake you up naturally and gently in the morning.
SUBSCRIPTION PRICING & TERMS
Sleeppezz Premium offers our most immersive experience with unlimited access to our entire content library with gentle alarm, the greatest science-based soundscapes and all different sounds to create your own calming place for sleep.
Our subscription options include: monthly subscription at $9.99/month, yearly subscription at $59.99/year and lifetime subscription at $99.99, which is paid for by a one-off upfront payment.
Please note: monthly and yearly subscriptions will automatically renew unless turned off in your iTunes Account Settings at least 24 hours before the end of the current subscription period.
Terms of use: sleepsounds.club/termsofuse/
Privacy policy: sleepsounds.club/privacy/
Additional Information :
Size 39.1 MB
Requires iOS 14.0 or later.
User Reviews :
Amazing!!
This app is great for taking a nap it made me fall asleep in a instant!! Would definitely recommend
Developer Response,
Hello! We are really grateful to you for this review, it makes our team work harder! We hope you'll have wonderful dreams!
The white noise is nice. Had a good night's sleep.
Skep
Calming sound means great sleep
Developer Response,
We are happy to know how you love working with our app!
White noice
Made this purchase that did not tell my any cost. I don't want it. I get no sound from it!
Developer Response,
Hello, we are really sorry that our app left you with such an impression. We guess you've taken a trial and eventually the subscription, which comes after the trial. While taking a trial, you give consent to use the subscription features after the trial if you don't decline the subscription before the last day.
Great app to fall asleep
Beautiful sleep music and I can create my own mix of sounds
Get Calming Night Sounds from App Store
What is your opinion about Calming Night Sounds
Bitcoin
Ethereum
MetaMask (ETH)
Xrp
Polkadot
Binance coin
Stellar
Dogecoin
Tron
Elrond
Donate Bitcoin to this address
Scan the QR code or copy the address below into your wallet to send some Bitcoin
Donate Ethereum to this address
Scan the QR code or copy the address below into your wallet to send some Ethereum
Donate Xrp to this address
Scan the QR code or copy the address below into your wallet to send some Xrp
Donate Polkadot to this address
Scan the QR code or copy the address below into your wallet to send some Polkadot
Donate Binance coin to this address
Scan the QR code or copy the address below into your wallet to send some Binance coin
Donate Stellar to this address
Scan the QR code or copy the address below into your wallet to send some Stellar
Donate Dogecoin to this address
Scan the QR code or copy the address below into your wallet to send some Dogecoin
Donate Tron to this address
Scan the QR code or copy the address below into your wallet to send some Tron
Donate Elrond to this address
Scan the QR code or copy the address below into your wallet to send some Elrond