Tap Away 3D game by Popcore GmbH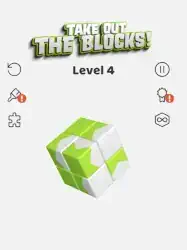 Game Description :
Tap Away 3D is brought to you by Popcore, makers of hit puzzle games with more than 250 million combined installs!
Tap Away 3D is a fun and addictive 3D puzzle game, but it's more than just that – it's a brain teaser that will take you to the next level!
Tap the blocks to make them fly away and clear the screen. But the blocks will only fly in one direction, so you've got to approach this brain teaser carefully! Slide your finger around the screen to rotate the shape and attack the blocks from every angle! As you progress, the blocks form bigger and bigger shapes, and the blocks themselves change form, so you'll need to get your thinking hat on to solve the puzzles in this 3D puzzle game. And that's not it! There are skins and themes you can unlock as you get further, as well as challenges to keep you on your toes. In this fun and colorful game, you challenge your logic, critical thinking, and precision. Do you have what it takes?
Game Features :
WITH TAP AWAY 3D YOU CAN
PLAY the full 3D puzzle game experience offline and on the go.
SWIPE to rotate the shape and choose your next move.
TAP the blocks to clear the level.
CUSTOMIZE your blocks with different skins and themes.
REACH the top!
WHY PLAY TAP AWAY 3D?
RELIEVE your stress.
TEASE your brain with the satisfying taps.
PRACTICE your critical thinking!
LEARN the tricks to ensure Tap Away glory!
ENJOY cool skins and themes to customize your journey!
What are you waiting for? Challenge your brain with this tricky game right now!
TALK TO US
Join your TAP AWAY 3D crew on
Web:  popcore.com/
Instagram:  www.instagram.com/popcore
TikTok:  www.tiktok.com/@popcore
Twitter:  twitter.com/PopcoreOfficial
Youtube:  www.youtube.com/channel/UCq1BDUD72Rv7dXov7WtR9Og
Terms & Privacy
popcore.com/privacy
DOWNLOAD AND PLAY NOW – Join this fun and satisfying puzzle game and tap away the blocks!
Additional Information :
Size 398.3 MB
Requires iOS 11.0 or later.
User Reviews :
Please develop a "no interruptions" option!
I'm glad I finally figured out where to purchase the add free version, but that hasn't stopped the annoying game interruptions. The "special blocks" pop up non-stop and you have no choice but to click on them to get rid of them or they'll get in the way of the game play. Then they bring you to an option to watch an add for more coins and it takes several seconds before you can just select to collect the coins you earn and get back to the game. The rank increases are also frequent but slightly less annoying since they're quicker to dismiss away.

I'd rather collect no coins than have the constant interruptions. All you can buy with coins are the skins anyway and I personally prefer the one the game starts you with, so the coins are useless to me. Alternatively, if you could just have a mode that was no interruptions you could still click on the special blocks and they could automatically deposit into your coin account. Those that like the option to watch an add for more could have no interruptions off and it would allow for the best of both worlds. Your rank could also just update discretely on top without creating a pop-up for every new level.

I really hope the app developer reads these because it seems that many others who otherwise love this game have the same qualm with it!
Unhappy with update
In the beginning, I enjoyed the game but not the ads so I paid to play the ad free version. Like other players have mentioned, quite a few skins are hard on the eyes and some puzzles are too small and don't enlarge well. But, I was ok with those quirks as the fish variation is easy on the eyes and the small puzzles are few and far between. I really just wanted a mostly mindless game to enjoy so the features were fine.

However, with the update, if you are playing the standard levels there is an incredibly annoying feature that changes playable blocks to gold. When you click them it takes you away from the game for a few coins or the option to watch an ad to get more coins. There does not currently seem to be a way to turn off the special gold blocks and I hate it. Not only can you not ignore the gold blocks but more and more gold blocks appear during the game. This in turn takes you out of the gameplay each time. I paid for the ad free version so I could play the game uninterrupted but this new feature is almost more annoying. If the developers don't offer an option to opt out of that feature, I will consider uninstalling the game. I'm currently only playing the endless feature but that is dull as the puzzle is only a cube.
Get Tap Away 3D from App Store
What is your opinion about Tap Away 3D
Bitcoin
Ethereum
MetaMask (ETH)
Xrp
Polkadot
Binance coin
Stellar
Dogecoin
Tron
Elrond
Donate Bitcoin to this address
Scan the QR code or copy the address below into your wallet to send some Bitcoin
Donate Ethereum to this address
Scan the QR code or copy the address below into your wallet to send some Ethereum
Donate Xrp to this address
Scan the QR code or copy the address below into your wallet to send some Xrp
Donate Polkadot to this address
Scan the QR code or copy the address below into your wallet to send some Polkadot
Donate Binance coin to this address
Scan the QR code or copy the address below into your wallet to send some Binance coin
Donate Stellar to this address
Scan the QR code or copy the address below into your wallet to send some Stellar
Donate Dogecoin to this address
Scan the QR code or copy the address below into your wallet to send some Dogecoin
Donate Tron to this address
Scan the QR code or copy the address below into your wallet to send some Tron
Donate Elrond to this address
Scan the QR code or copy the address below into your wallet to send some Elrond