Minion Rush game by Gameloft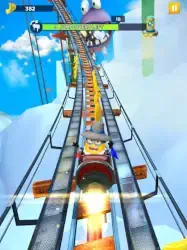 Game Description :
It's time to take a run on the wild side with the incredibly fun and despicably daring Minions!
Illumination, Universal, and Gameloft bring you Minion Rush, an endless running game that can be enjoyed offline, anytime! Run through lots of cool locations, dodging devious traps, battling vile villains, and collecting loads of bright, beautiful Bananas!
Game Features :
DRESSED TO IMPRESS
Now that Gru's gone good, the Minions have a new goal: to become the ultimate Secret Agents! So they've created dozens of fun Costumes that don't just look slick, but have unique skills, such as extra running speed, grabbing more Bananas, or turning you into a Mega Minion!
A WIDE WORLD OF MINIONS
You'll run through crazy locations, from the Anti-Villain League HQ to Vector's lair, or the ancient past. Each location has its own unique set of obstacles to overcome, so keep your eye(s) peeled! And once you're ready, you can enter the Top Bananas Room to compete against players from all over your region—or even the world—in an endless running mode to unlock tons of prizes!
OFFLINE ADVENTURES
All this fun can be played offline without Wi-Fi, so you can enjoy the main features of the game anytime, anywhere.
You can download and play this game for free. Please be informed that it also allows you to play using virtual currency, which can be acquired as you progress through the game, or by deciding to watch certain advertisements, or by paying with real money. Purchases of virtual currency using real money are performed using a credit card, or other form of payment associated with your account, when you input your iTunes account password. You will not be asked to re-enter your credit card number or PIN. Once your iTunes account password is entered, your account will allow in-app purchases for 15 minutes. To restrict or disable in-app purchases, you can change the settings on your device.
This game contains advertising for Gameloft's products or some third parties which will redirect you to a third-party site. You can disable your device's ad identifier being used for interest-based advertising in the settings menu of your device. This option can be found in Settings -> Privacy -> Apple Advertising.
Certain aspects of this game will require the player to connect to the Internet.
Visit our official site at gmlft.co/website_EN
Check out the new blog at gmlft.co/central
Privacy Policy: www.gameloft.com/en/privacy-notice
Terms of Use: www.gameloft.com/en/conditions-of-use
End-User License Agreement: www.gameloft.com/en/eula
Additional Information :
Size 424.7 MB
Requires iOS 10.0 or later.
User Reviews :
I REALLY LOVE THIS GAME
I love this game so much, that I just want more! The thing I really want next is a new update! In this update, the yawning sound from the Classic Minion is unmuted, after all Minion Festivals have ended, the rest of the costumes that I didn't unlock will automatically be unlocked and I can choose any stage I want, and, also, a new feature – Power-Up Practice, which means there will be levels to show you how to use power ups. Also, when you click on a power up stage, your character will be in the power up lab, with many workers, trying to interact with the power up(for example, the Mega Minion from a level in Gru's Lair in the old version). And, if the hit TV show, ''Dave and Lizzy'', is out, the Classic Minion will be renamed as ''Dave'', and there will be a female Minion, also known as a Miniette, out, and her name will be ''Lizzy''. She will also have her pink bow, red high heels and magenta dress along with her, plus her eyelashes, her beautiful Miniettian voice(which is the same as Madison's voice from Minecraft's Astronaut Training Center) and the same animations as the Classic Minion. I really want those updates, plus, you can make your own level for other players to play. Even other players can make their own level for you to play. That's all I have to say, so please add that update. Oh! And I almost forgot! Maybe you can mute the music playing from the Leotard Minion. Please add this update to the game! PLEASE!!!
Developer Response,
Hello! Thank you for sharing your point of view. We do pay attention to our game community's mood and strive to make sure our games better match our players' expectations.

We assure you that your comment has been duly noted and will be passed on to the development team directly.

Meanwhile, the team is constantly working on new features, content & variety of improvements, which we hope will bring you only joy from playing the game in the future.

Minion Rush Team
Best game some suggestions
This is a very cool game. My suggestions are optional for the creators of minion Rush you do not have to use my suggestions they are just suggestions. I have four suggestions. My first one is you can create your own run for other players to play. You can add bosses, add more obstacles, What the goal is, and how to pass it. My second suggestion to you have characters from the movies. We need a Gru minion. We could have a Lucy minion. But we could have a Lucy human in a Gru human. My third suggestion is we can create our own minions. We could have a minion that looks like a unicorn or a minion that looks like us. My fourth suggestion is that on Christmas all characters are free. No paying coins no trying to earn them they're all free. I mean Christmas is around the corner. Is it my suggestions creators of minions read them you don't have to use any of them I would love if used one of them and I love this game. Just realized I want to add another suggestion that we can actually run in the Arctic and one more that the power ups last until we hit something and that the rocket turns into a jet pack in the shield stays on until we get something freeze gun runs out of ice. So power ups last longer.
Get Minion Rush from App Store
What is your opinion about Minion Rush
Bitcoin
Ethereum
MetaMask (ETH)
Xrp
Polkadot
Binance coin
Stellar
Dogecoin
Tron
Elrond
Donate Bitcoin to this address
Scan the QR code or copy the address below into your wallet to send some Bitcoin
Donate Ethereum to this address
Scan the QR code or copy the address below into your wallet to send some Ethereum
Donate Xrp to this address
Scan the QR code or copy the address below into your wallet to send some Xrp
Donate Polkadot to this address
Scan the QR code or copy the address below into your wallet to send some Polkadot
Donate Binance coin to this address
Scan the QR code or copy the address below into your wallet to send some Binance coin
Donate Stellar to this address
Scan the QR code or copy the address below into your wallet to send some Stellar
Donate Dogecoin to this address
Scan the QR code or copy the address below into your wallet to send some Dogecoin
Donate Tron to this address
Scan the QR code or copy the address below into your wallet to send some Tron
Donate Elrond to this address
Scan the QR code or copy the address below into your wallet to send some Elrond