(Game) Air Support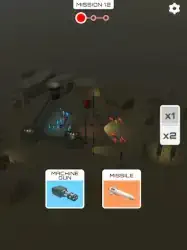 Game Description :
Protect your troops and defend your base
Game Features :
You are controlling an aircraft equipped with different weapons. Your mission is to prevent the enemy from conquering your base. You can destroy buildings and bridges and make cars and gas tank explode!
Additional Information :
Size 613.8 MB
Requires iOS 11.0 or later.
User Reviews :
Surprisingly Fun
I was scrolling through Facebook when I got the ad for this and just for some reason installed it, played it and found it really wasn't as bad as some of the other games advertised on Facebook. Only thing I wish I could do was have a small purchase of like $0.99 for ad removal and it would actually be a good time killer. GG to the dev/devs.
Adds
I got the game because it looked super cool. After figuring out that it had literally add after add after add, I decided to buy the small purchase of removed adds figuring I'd probably still love to play this game for a while. BUT, even AFTER buying the option for removing the adds, it worked for the first night and everything was great without the adds until the next day when all of them started flooding in again!!! I didn't realize why this was happening so I tried pressing the "restore purchase" button…didn't work. I pressed it multiple times with still the numerous adds coming in round after round. If any of the developers see this please fix this problem. I didn't use my money on your game for nothing.
The game itself is great!
The game itself is awesome super addictive. But you guys have to do some thing about these ads. I hate to be that guy that says this but it would've been a five star review if there wasn't an ad after every single level. On average it takes about 10 seconds To complete each level in the beginning and then an ad. It's not good if you're spending more time watching 30 second ads and what it takes to actually play the game.
Ads..
This game has a lot of potential and is a fun time killer, until you actually try to play it. Literally every round, and multiple times DURING the round, it's just ad after ad after ad. There's more ads than there is playing. Not to mention when the ads pop up randomly during the round, the game doesn't stop. The enemies keep moving and take out the soldiers you're trying to protect while you're stuck in an ad. It's so frustrating and annoying that it's unplayable. Nice job dev, you've made a bottom feeding ad money generator that I now refuse to play.
Fun game but contains too many mood killing bugs
Before writing this review i spent over an hour grinding on this game to buy the best gun in the game and I had racked up a little over 30 thousand dollars all for it to be taken away after I open the game again. All of my money was gone but the level and the weapons stayed. A day before this happened another bug occurred, for some reason i wouldn't open the game and i had to delete it and reinstall causing me to loose all of my items rank and money.
Ads, ads, ads, ads unlimited.
If you love watching minute long ads this is the game for you.

Wouldn't recommend 2/10

Game has potential but clearly it's an ad revenue generator. Even if you purchase the remove ad feature, some missions are behind ad lock and maxing out weapons leaves nothing but a husk of a "game"
Cyborgs ruin everything
With the cyborgs, I don't need to fire a shot. They take care of everyone which makes this less fun. I can't remove them from my base. The enemy is not strong enough. Without the cyborgs I had accumulated over 300,000 coins so I bought and upgraded everything. No need to purchase coins because I get the max every time. The game is fun when I delete it and start over but once I have the laser canon and the big bomb, fun time is over
PLEASE FIX! Nice until today
The game is fun but it stopped working today: the ad comes in the low part of the screen and doesn't go back or I just get a black screen after "loading…"message.

The weapons are getting upgraded too fast. Machine guns are the same except Plasma Boy. Otherwise it is a good game. Please fix it.
honestly really fun game
I really like military a lot and saw this ad on tiktok I thought it was gonna be a boring mobile game like always but instead this games addicting, I gave this 4 star because ads and also because I think they should add a mode where you can see the plane your using and add different planes
Get Air Support from App Store
What is your opinion about Air Support
Bitcoin
Ethereum
MetaMask (ETH)
Xrp
Polkadot
Binance coin
Stellar
Dogecoin
Tron
Elrond
Donate Bitcoin to this address
Scan the QR code or copy the address below into your wallet to send some Bitcoin
Donate Ethereum to this address
Scan the QR code or copy the address below into your wallet to send some Ethereum
Donate Xrp to this address
Scan the QR code or copy the address below into your wallet to send some Xrp
Donate Polkadot to this address
Scan the QR code or copy the address below into your wallet to send some Polkadot
Donate Binance coin to this address
Scan the QR code or copy the address below into your wallet to send some Binance coin
Donate Stellar to this address
Scan the QR code or copy the address below into your wallet to send some Stellar
Donate Dogecoin to this address
Scan the QR code or copy the address below into your wallet to send some Dogecoin
Donate Tron to this address
Scan the QR code or copy the address below into your wallet to send some Tron
Donate Elrond to this address
Scan the QR code or copy the address below into your wallet to send some Elrond