Bejeweled Classic game by PopCap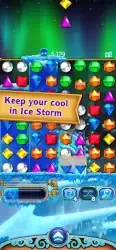 Game Description :
Discover your perfect match with 6 breathtaking modes in this classic gem-matching game, from the fast-paced, time-based Lightning, to the gem-driven Flushes and Full Houses of Poker Mode. Create electrifying special gems like Flame gems, Star gems, Hypercubes, and Supernova gems, collect flashy Bejeweled badges and achievements, and soar to dazzling heights in the Game Center leaderboards – all while enjoying fantastic Retina-display graphics! This is the Bejeweled you've loved for years, and it's still delivering amazing high-carat excitement!
This app offers in-app purchases. You may disable in-app purchasing using your device settings.
Game Features :
CLASSIC GEM-MATCHING
Play the most popular puzzle game of the century with powerful new gems. You'll find cascades of fun as you test your gem-swapping ability!
MODES FOR EVERY MOOD
Enjoy the original in Classic, race against time in Lightning, dig deep for treasure in Diamond Mine, discover your own relaxing retreat in Zen, match gems to save Butterflies from a hungry spider in Butterfly, keep the cold out in Ice Storm, and make top hands with gems in Poker.
BOOST YOUR WAY TO BIG SCORES
Each mode has two Boosts, one regular and one Super Boost, which help you make even more matches and set even higher scores. Whether it's pulling all the Butterflies to the bottom row with Reset in Butterfly mode or shuffling the board in Classic mode, Boosts take your game to a whole new level!
PROVE YOUR SKILLS, CLIMB THE RANKS
Earn flashy Bejeweled badges and Game Center achievements to prove your multifaceted skills, and compete against the world and your friends in Game Center leaderboards for the top score! Gloat over your scores for total matched gems, all-time best moves, and top 10 personal bests in Classic and Diamond Mine.
HINTS ON DEMAND
Can't quite spot the next match? Use the "Hint" button for a quick tip.
Stars mode will open a separate, free Bejeweled Stars App.
Important Consumer Information. This app requires acceptance of EA's Privacy & Cookie Policy, TOS and EULA; includes in-game advertising; contains direct links to the Internet and social networking sites and the Internet intended for an audience over 13.
Additional Information :
Size 152.3 MB
Requires iOS 9.0 or later.
User Reviews :
Too busy and freezes
It would be nice if the game did like the old days where you could play one game to the end or timed or continuously earning shuffles and gem deletes to keep going. This one has levels with graphics so flashy and busy I don't want to watch and frustrating to wait for next level to come up. Watching an ad to continue after reaching a no-more-move point isn't so bad, they gotta get $ support some where. Also right in the middle of a move the app freezes (funny how ads still stream across top) forcing you to swipe it off and reopen, select which type you were playing, press continue, and play till next time it freezes. There is no timing of the freezing, could be minutes or seconds. I am not one who plays all day long usually just while waiting on an appointment or for someone so the freezing is very frustrating for me. And yes, I do have the latest iOS.
Too many ads
Look, I get it, they gotta get their revenue from somewhere. But the amount of ads I run into is absolutely ridiculous. I get an ad as soon as the game opens. Fine. But then I get another ad as soon as I click which type of game I want to play. Pretty annoying to get a double ad when I haven't even played yet. But it gets worse. If I lose/time runs out/no more moves, it offers to let me watch an ad to keep going. That on it's own isn't so bad. Where it gets bad is when if I click no, it makes me watch an ad anyways for no reward, and then makes me watch ANOTHER ad after I get back to the home screen and click on another game option. Not to mention that every time I think I close an ad, it forces me to wait another 5 second to click another x to close it, and each ad will do this multiple times. It makes me click 3 or more separate arrows/x's to close one ad. I understand they need revenue, but this is too much.

Oh and the sounds and music glitch often. Sometimes the sounds and voice will stop playing, or the music will play when it's not supposed to. What I've mainly encountered is sounds and voice not playing if I pause and in zen mode I'll have the ambient sounds on, pause, and then the music will overlap the ambient sounds.

I would really love this app if it weren't for the highly intrusive ads. There are more user-friendly ways to get revenue.
Bejeweled – A true hidden 'gem' of the AppStore!
Bejeweled is a fun time wasting game that quickly made me glued. I do have some issues however, that sometimes when I game over, the screen freezes and i have to exit, loosing all the high scores and badges I may have earned that particular round, but, it's only happened once or twice in the 5 years I've been playing this. I am a fan of the new ice mode, to say the least. And, although some said the adds were distracting, jeez people loosen up! It's a FREE game with all but one of the modes! The only REAL issue I have is with Poker. It's not that fact that you only get 3 plays, rather, it's the fact that between versions, poker has seemed to skyrocket in difficulty. And it's not me being a noob, either. I've seen many reviews complaining about this too. But who can't go wrong with a game of bejeweled?
Get Bejeweled Classic from App Store
What is your opinion about Bejeweled Classic
Bitcoin
Ethereum
MetaMask (ETH)
Xrp
Polkadot
Binance coin
Stellar
Dogecoin
Tron
Elrond
Donate Bitcoin to this address
Scan the QR code or copy the address below into your wallet to send some Bitcoin
Donate Ethereum to this address
Scan the QR code or copy the address below into your wallet to send some Ethereum
Donate Xrp to this address
Scan the QR code or copy the address below into your wallet to send some Xrp
Donate Polkadot to this address
Scan the QR code or copy the address below into your wallet to send some Polkadot
Donate Binance coin to this address
Scan the QR code or copy the address below into your wallet to send some Binance coin
Donate Stellar to this address
Scan the QR code or copy the address below into your wallet to send some Stellar
Donate Dogecoin to this address
Scan the QR code or copy the address below into your wallet to send some Dogecoin
Donate Tron to this address
Scan the QR code or copy the address below into your wallet to send some Tron
Donate Elrond to this address
Scan the QR code or copy the address below into your wallet to send some Elrond