[Game] BanG Dream – Girls Band Party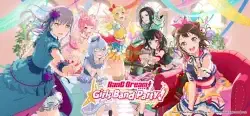 Game Description :
Collab with hololive production is ongoing until May 5th!
Play new Collab Song, log in daily & complete Missions to get various Limited Items exclusive in the EN Ver.!
Popular rhythm game in Japan!
Tap to the rhythm of 400 songs to choose from!
Play both original and cover songs from popular J-Pop artists and anime songs!
Play your favorite songs on a level of difficulty that suits you!
Game Features :
Anime rhythm games
Popular rhythm games
One of best free anime rhythm games
Best rhythm music games for mobile phones
Rhythm games with simple controls
Anime song covers
Playing rhythm games with people all across the country
Losing yourself in the song and rhythm
Anime music
Japanese anime songs
Tap anime music game
Japanese anime voice actors
Play as a staff member of live house "CiRCLE"
Create the best live concert together with the 7 charismatic girl bands in the game! Featuring Poppin'Party, Afterglow, Pastel*Palettes, Roselia, Hello, Happy World!, Morfonica, RAISE A SUILEN.
Real-time cooperative gameplay
Enjoy real-time cooperative gameplay with friends and players across the world with up to 5 members!
Story
Enjoy fully voiced stories with high quality animated Live2D band members.
Immerse yourself in each band's exciting journey towards stardom through their individual band stories.
Characters
Train band members to improve their music performance.
Interact with cute band members, and enjoy their rhythmical actions and conversations.
Discover and explore the town to peek into the daily lives of the band members.
Let's get started! It's a Live that is not to be missed!
Support:
Visit bang-dream-gbp-en.bushiroad.com/faq/ for FAQ or contact us in game by going to Menu > Support.
Follow for news and updates:
Facebook: www.facebook.com/BanGDreamGBP/
Twitter: twitter.com/bangdreamgbp_en (@bangdreamgbp_en)
Instagram: instagram.com/bangdreamgbp_en (@bangdreamgbp_en)
YouTube Channel: www.youtube.com/channel/UCPityslSknKsWUq9iy8p9fw
Website: bang-dream-gbp-en.bushiroad.com/
Legal:
Privacy Policy: en.bushiroad.com/privacy/
Terms of Use: en.bushiroad.com/terms-of-use/
Additional Information :
Age Rating 4+
Size 421.6 MB
Requires iOS 11.0 or later.
User Reviews :
10/10
I normally don't write reviews, but this game is phenomenal! I've been playing it for a little less than a year, but it doesn't get boring. There are always new events, songs and characters to try and get in the gacha. On the note of the gacha, it is pretty fair. You don't always get exactly who you want, but if you save your stars for the 10 plays, you can get some pretty cool/powerful members. And you don't even have to spend money to get stars! There are plenty of opportunities to gain stars, so as long as you know how to spend them wisely, getting stars shouldn't be a problem (although it does take some time to save them up).

The only issue I have with it is it drains my battery. I don't know if it's just cause my phone is kind of old, but playing for about 20 minutes takes at least 40 percent of my battery, sometimes more. But that might just be my phone being terrible XD.

But even with the battery problem, everything else just outways it. It's a ton of fun, and even if you aren't the best, you aren't at a major disadvantage to other players. When you play with others, you tend to get matched with players of your level, so you won't get placed with the experts unless you want to. Overall, it's a great game; you can actually play for free and still have fun, and it's entertaining. Highly recommended!
Fun, rewarding experience
I'm just going to go ahead and say that this is one of the best rhythm games on the appstore. The gameplay during live shows feels tight and responsive, and also challenging. There's also the addition of visual novel elements with a story being told, but it's not an integral part of the game if all you want to do is play some songs, which I'm sure some will appreciate. The graphics – of course, depending on whether or not you like the anime art style – are pretty phenomenal. The backgrounds and settings are well drawn, and the characters use the whole "Live 2D" thing that REALLY makes them pop out and gives them more personality. I also really respect the fact that this can stay a free game as long as you want it to. Sure, you could buy a whole bunch of stars and do a ton of gachas to get the perfect band, and you could consider that pay-to-win, but it really doesn't feel that way when playing. I'm not barred from any GAMEPLAY because I choose not to pay for things, which was a pet peeve of mine when I tried to play other games like Harry Potter Hogwarts Mystery or Sims FreePlay. The new characters and bunch of stars become goals for you; they're things to look forward to. Overall, I've had a blast with this game in the several hoirs that I've played it, and I'm most likely going to continue playing.
Get BanG Dream from App Store
What is your opinion about BanG Dream
Bitcoin
Ethereum
MetaMask (ETH)
Xrp
Polkadot
Binance coin
Stellar
Dogecoin
Tron
Elrond
Donate Bitcoin to this address
Scan the QR code or copy the address below into your wallet to send some Bitcoin
Donate Ethereum to this address
Scan the QR code or copy the address below into your wallet to send some Ethereum
Donate Xrp to this address
Scan the QR code or copy the address below into your wallet to send some Xrp
Donate Polkadot to this address
Scan the QR code or copy the address below into your wallet to send some Polkadot
Donate Binance coin to this address
Scan the QR code or copy the address below into your wallet to send some Binance coin
Donate Stellar to this address
Scan the QR code or copy the address below into your wallet to send some Stellar
Donate Dogecoin to this address
Scan the QR code or copy the address below into your wallet to send some Dogecoin
Donate Tron to this address
Scan the QR code or copy the address below into your wallet to send some Tron
Donate Elrond to this address
Scan the QR code or copy the address below into your wallet to send some Elrond