Baby Games – Balloon Pop game by Xiangyi Liu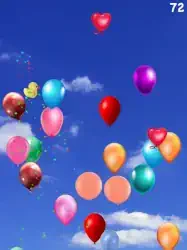 Game Description :
Classic balloon popping game for kids, with colorful graphics, cute animals, and full of tiny stars! Tap, tap, tap…
Everyone likes balloons but popping them is even more fun! This is a simple yet addictive and challenging balloon popping game that offers you a lot of excitement.
Your goal is simple: pop as many balloons as you can.
There are numerous colorful balloons to pop in this game.
Balloon Pop is a simple and attractive game suitable for all ages and fun to play in any case – whether you want to just take it easy and relax, or play it seriously and test your tapping skills.
Game Features :
Everybody has this classic game in their phones.
It's easy to play. Just pop it.
beautiful HD graphics
Balloons with special-effects
Multiple touch supported.
Plain, simple fun for toddlers
REVIEWS:
I would definitely suggest this game to my young niece and nephew, they will enjoy it, because even I enjoyed playing it.
My granddaughter who is eight months really loves this game. She already knows how to pop the balloons. It makes her very happy.
Additional Information :
Age Rating4+
Size 30.6 MB
Requires iOS 8.0 or later.
User Reviews :
Wow, pretty good app
Ok, to start off, I was looking though a lot of baby apps (even though I'm 17) I was challenged to play some baby games, and I downloaded this and a Peppa pig game, I read the reviews on this balloon game, and sounded kinda fun, when I got on the screen it had a play button, which I taped it. I popped one balloon then another, and it actually was pretty satisfying! Then I remembered that someone said there was a add, so I looked at the bottom of the screen there was a add, I accidentally taped it, I went back to the ballon game by exiting the add, And I didn't think there would be a add on a BABY game! I totally would recommend to take away the add, creators that might make a lot of people happy such as me, I also would recommend to download this game if your 3 or 4. Because your probably smarter then a 1 year old!
Best For Baby
Very cool application even though it's simple. Many babies are now growing up in a smartphone era. This app can let them play with the phone without making a mistake. Locking a phone because of too many wrong password attempts, making a purchase by mistake or erasing an important item can cause allot of problems. No buttons to close the app so it stays on the screen and lets people play until the phone battery runs out. This app can definitely keep mishaps from happening. The only things that would make this app much better is background music, different shaped balloons and much cuter sounds when they explode. Also, please remove the balloon with the inappropriate message. Too many foreign apps using random English they don't understand is quite annoying. However our 10 month old doesn't understand it and and just enjoys the stimulation. Please make the application more "kawaii". Thankyou
OMG 
Amazing app!

Kudos to whoever made this because it is exactly what I was looking for. My sister is only one year old and I thought that she really just needed a plain but fun app that will keep her busy in the car. Even though this is MY phone, I have a bunch of sisters and being the oldest means sharing. So pretty much we all have a game on here and I thought that finding one for the youngest would keep her busy in the car, or at church, and this game was eXaCtLy what I was looking for. So I say that whoever made this really had a good idea and made me really happy with this app. Even I myself play it sometimes because of how satisfying it is. Honestly I have no idea why the ratings are not very high, but this is and amazing app. Very plain but fun!
The best so far!
I wanted something very simple the baby could understand without having ads pop up everywhere and this is it. He started using his whole hand, then fist and now he is starting to use the finger to pop the balloons. I wish I could lock the screen, somehow the baby manages to get out of the app, that is my only complaint.
I LOVE IT
i really enjoyed this game. it helped with stress bc i have a lot of that. even i dont have a baby i still liked this game, it can be made for all ages. i recommend. but dont tell people about it bc then they more about that game then you. jus saying so :(. this game ruined my relationship. now im living on the streets alone with no one. well thats it SCREW THIS GAME. just kidding i loved it
Get Balloon Pop from App Store
What is your opinion about Balloon Pop
Bitcoin
Ethereum
MetaMask (ETH)
Xrp
Polkadot
Binance coin
Stellar
Dogecoin
Tron
Elrond
Donate Bitcoin to this address
Scan the QR code or copy the address below into your wallet to send some Bitcoin
Donate Ethereum to this address
Scan the QR code or copy the address below into your wallet to send some Ethereum
Donate Xrp to this address
Scan the QR code or copy the address below into your wallet to send some Xrp
Donate Polkadot to this address
Scan the QR code or copy the address below into your wallet to send some Polkadot
Donate Binance coin to this address
Scan the QR code or copy the address below into your wallet to send some Binance coin
Donate Stellar to this address
Scan the QR code or copy the address below into your wallet to send some Stellar
Donate Dogecoin to this address
Scan the QR code or copy the address below into your wallet to send some Dogecoin
Donate Tron to this address
Scan the QR code or copy the address below into your wallet to send some Tron
Donate Elrond to this address
Scan the QR code or copy the address below into your wallet to send some Elrond