(Game) Tennis Champs Returns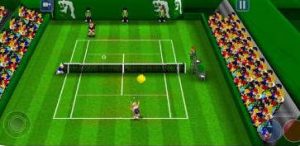 Game Description :
One of the greatest mobile games released EVER – Jared Nelson, TouchArcade 24/8/2018.
The world's best Tennis game is back!
Deep Career mode, with 200 opponents
Touch Tennis mini game
Retro or Touch controls. (+Control Pad Support)
GameCenter 2 player
Game Features :
20 years after the original Tennis Champs and Super Tennis Champs hit the Amiga, this is the "King of Tennis Games" brought up to date.
Remade completely for iOS by the original Amiga version programmer, using the original characters and retouched animation, combined with all new physics, AI, new controls, Daily Challenges, and a great new Career mode.
Daily Challenge serves up a mixture of modes, tennis games, opponents and mini games each day, with completion yielding rewards to help you in your career.
Career mode pits you against a field of 200 Tennis Pros on a full world tour packed with Events. Can you climb the rankings, win the major titles and be declared the True Tennis Champ?
Included in TouchArcade's "10 Best Games of 2016" Lists!
GAME OF THE WEEK : TouchArcade 20th Feb 2016
Tennis Champs Returns is my favorite game of 2016 so far… – Jared Nelson of Touch Arcade
Best tennis game I have ever played – Mr Charley – TouchArcade Forum
This had to be one of the very best sports' games on iOS ever made! – DJStout – TA Forum
Winning my first major.. Has to be one of the most satisfying moments in my sports gaming history! – Mikiesque – TA Forum
Additional Information :
Size 62.7 MB
Requires iOS 8.0 or later.
User Reviews :
I love this game, just not the mini games.
This is probably the best tennis game in the App Store. However, I have two serious complaints. The first one is the mini game. I hate touch tennis mode, and the fact that you are promoting it through the only reliable way to get clothing is terrible. The second complaint is how when I unlocked everything on the game and got a replacement phone, I had my progress in story mode, but none of my clothing or clothing colors. I had to pay for the clothing to be unlocked and worked hard to get back my clothing. Now I got a second replacement phone (both phones were defective) and I have to work for the clothing again. This really annoys me because I love the game, but I don't feel that I have to keep paying for something I already bought. If you could just change the mini game to something better, I would be very appreciative. This is my favorite tennis game in the App Store.
Good game but can get a bit annoying
I downloaded this game and instantly fell in love with it! However, as I played on, some things began to irritate me. First, the prevalence of ads seems to have gone way up, even popping up at the start of matches (so the opponent gets a free point while you're forced to watch the ad). I made a purchase to remove ads and gameplay has gotten far better and fairer from that point on. On the other hand, Jeff is incredibly irritating. I have a 29-1 record against Jeff, and yet he still appears in virtually every single tournament I play in. I wish rivals were determined based on your record against them (as I have a 9-2 record against Drew, so that would be a better rivalry), rather than making Jeff the universal rival. Otherwise, a great game!
Great but sometimes annoying
I love this app. It's my favorite game at the moment and it's my go-to whenever I'm bored or have nothing to do. The controls are simple and you learn quickly. However, it seems that once you start to really get good and improve, the game doesn't want you to win. For instance, if you're playing a 2 game set against a player worse than you and you're one point from a perfect game, it will make your opponent drastically better so that a perfect game is very hard to achieve. And I think some of the calls they make are not accurate because I've screen recorded a couple of games and seen where the ball goes. Also, I'm sick of playing Jeff because I've won like 10 games against him and he hasn't beaten me once. He still is in every tournament that I enter and with my luck, I somehow manage to play him every single time. It's annoying and I'm over it. Other than that, it's pretty addictive and very fun! 🙂
good but please stop putting s and v players as #1
definitively the best tennis game on mobile and in some ways better than most console games-good amount of challenge and career mode is amazing. i've played the game since its release, and have loved it all except for one issue: the s&v players as number 1 ALL THE TIME. i think the game is amazing as is, but it would be phenomenally better if pete and boris and mac were not the top #1. in season 1 i was 25-0 against mac, including really early appearances. serve and volley players can just be lobbed away really easy. players like drew and greg are drastically more fun and players like pete and mac would be much more fun to play against as baseliners. also please add one more difficulty mode because one you get 3+ stars becomes kinda boring. , and pete kind of wins everything. thank you, however, because the game is still great as is, just some improvements would make it the best game on the app store, imo
Get Tennis Champs Returns from App Store
What is your opinion about Tennis Champs Returns
Get more free apps & games daily
Subscribe to our mailing list and get free apps & games daily to your email inbox.
Thank you for subscribing.
Something went wrong.
Bitcoin
Ethereum
MetaMask
Xrp
Polkadot
Binance coin
Stellar
Dogecoin
Tron
Elrond
Donate Bitcoin to this address
Scan the QR code or copy the address below into your wallet to send some Bitcoin
Donate Ethereum to this address
Scan the QR code or copy the address below into your wallet to send some Ethereum
Donate Xrp to this address
Scan the QR code or copy the address below into your wallet to send some Xrp
Donate Polkadot to this address
Scan the QR code or copy the address below into your wallet to send some Polkadot
Donate Binance coin to this address
Scan the QR code or copy the address below into your wallet to send some Binance coin
Donate Stellar to this address
Scan the QR code or copy the address below into your wallet to send some Stellar
Donate Dogecoin to this address
Scan the QR code or copy the address below into your wallet to send some Dogecoin
Donate Tron to this address
Scan the QR code or copy the address below into your wallet to send some Tron
Donate Elrond to this address
Scan the QR code or copy the address below into your wallet to send some Elrond